Lentils - 6 Reasons You Want Them
Always on Hand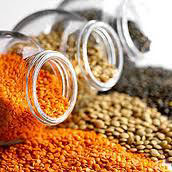 A friend emailed the other day, encouraging me to use lentils on a regular basis. She said it's the "go to" bean for stockpiling and gave 6 convincing reasons why:
1. FAST COOKING TIME: Lentils only take about 20 minutes to cook and a big plus is that unlike most dried beans, they don't have to be soaked ahead of time - perfect when you need a speedy meal.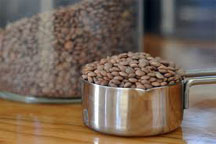 To cook: Use a 2 to 1, or 3 to 1 ratio of water to lentils. Add desired amount to boiling water; simmer for 20 minutes or until they reach desired consistency. Lentils also do well in a slow cooker.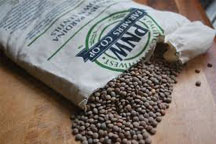 2. LONG SHELF LIFE and PORTABILITY: All beans keep well and lentils are no exception. They are also easily portable - you can move them, pack them, or stuff them in a full bag without having to worry about smashing or breaking them.
3. NUTRITIONAL VALUE: The following stats are from Wikipedia:
"With about 30% of their calories from protein, lentils have the third-highest level of protein, by weight, of any legume or nut, after soybeans and hemp. Proteins include the essential amino acids insoleucine and lysine. They are an essential source of inexpensive protein in many parts of the world, especially in West Asia and the Indian subcontinent, which have large vegetarian populations. Health Magazine selected lentils as one of the five healthiest foods."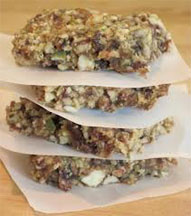 Naturalnews.com says this, "Though hardly used in western diets, lentils are perfect for high nutritional yields on a budget. They are so high in protein and energy producing nutrients that a Canadian firm is working on putting a lentil sports energy bar together. Canadian studies on athletes proved they performed better with more endurance after eating lentils dishes than pasta." [My comment: More and more great brownie and cookie recipes calling for cooked lentils and beans are showing up!]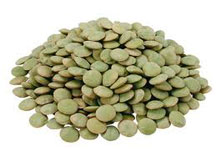 Green lentils have a fiber concentration of 31%. Fiber acts like a little scrub brush that cleans out the digestive system - all fiber keeps prevents constipation. It also helps with glucose and cholesterol levels. Lentils are also a good source of iron and folic acid (one cup of lentils has 90% of the RDA of it). This is especially helpful to expecting mothers. Here's a more specific (using relative percentages) nutritional listing per 100 g (3.5 oz):
Carbohydrates.........60 g
Sugars.....................2 g
Dietary fiber............31 g
Fat........................1 g
Protein..................26 g
Water..................10.4 g
Thiamine (vit. B1)...(76%)
Folate.................(120%)
Calcium.........56 mg (6%)
Iron...........7.54 mg (58%)
Magnesium...122 mg (34%)
Phosphorus...451 mg (64%)
Potassium.....955 mg (20%)
Sodium............6 mg (0%)
Zinc...........4.78 mg (50%)
These numbers mean they are an exceptional source of protein, especially when meat or eggs are in short supply. They are a great energy food and are easily digested. And for a very quick meal, they are a much better alternative than processed packaged foods, which are usually outrageous in sodium content.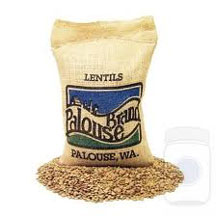 4. PRICE: Lentils, like other beans, are very affordable. It's common to see them for about $1.10 per 1 lb. bag. And they can also be bought in bulk. A good bulk-buying co-op to look at is Azure Standard (http://www.azurestandard.com/). Sam's Club sells 40 pounds for $51.12 on their web site. Mannaharvest.net sells 25 lb. for $24.70. The Palouse Brand (http://www.palousebrand.com/lentils.html) is one I'm familiar with (I'm from Spokane, WA) and I love this company's products and customer service.
Price might be affected a little by variety. Lentils come in brown, black, orange, yellow, red, and green. Most U.S. crops are brown and green (which retain their shape better when cooked).
5. TASTE: Similar to cooked pinto beans, lentils aren't strong or overpowering. They blend well with other flavors, so they accommodate a variety of taste preferences. As with other beans, the ways you can flavor them are unlimited. And since they absorb moisture while cooking, they soak up a great deal of the flavor of the water they are cooked in. So I like to cook them in chicken and beef broths. I've also had super results cooking them in salsa! And a smoked ham bone is hard to beat in a pot of beans.
6. FILLING: Lentils provide a high satiety point - you feel fuller longer. And without being indelicate, there are no gas issues that are typical with other beans.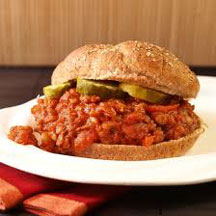 Lentils are also an excellent extender. Just mix some lentils into sloppy Joe filling, meat loaf, chili, hamburgers, casseroles, soups, and so on. Cooking this way not only makes your meal go farther for a very small cost, it also adds important fiber and extra nutrition.
Finally, lentils can harden in long term storage, just like beans, so this limits their practical shelf life to about 8 years. But even hard lentils can be softened if you cook them in a pressure cooker, or grind them to a fine paste before cooking. And don't add salt to the cooking water because the softening time slows way down - salted water actually toughens beans and lentils. Add the salt after they've reached desired consistency.
To top it off, here's an easy lentil recipe my Aunt Annie used to serve as a tasty side dish during the winter:
---
Brown Rice & Lentil Casserole
A nice break from potatoes as a side dish, this casserole is not only easy to make, it's packed with fiber and nutrition as well!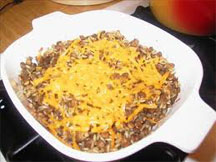 Ingredients:
3 1/2 cups

chicken broth

or vegetable
1 cup
lentils
1/2 cup
brown rice
3/4 cup

chopped

onion
1 1/2 teaspoons
Italian seasoning
1/4 teaspoon

garlic powder

(more is better)
1 1/2 cups

grated sharp

Cheddar cheese

(this adds a nice zing)
Directions:
Preheat the oven to 300 degrees F. Mix all ingredients except the cheese, in a baking dish (I use an 11 x 7). Cover with foil and bake for 1 hour 10 minutes. Then remove the foil, add the cheese, and bake for an additional 20 minutes.

Recipe formatted with the Cook'n Recipe Software from DVO Enterprises.