I Love Fall!
While spring is pretty and summer is fun, I love the fall! Changing colors and weather the wind in my face- here's my top reasons that fall is the best season of all!
First- I love the cooler temperatures. Summer in Utah is hot. And dry. While that makes for great swimming weather, I much prefer the cooler temperatures. Not freezing like winter, not burning like summer. Just in the middle. Just perfect.
Second, and kind of connected to the first one, I love the fall weather patterns. A little more rain, the wind in my face. I like sunshine too, but fluffy clouds make my day. Rain droplets sprinkling the ground. Wind chasing the fallen leaves around.
Next, I love when the leaves start changing colors. Green is great, but Utah doesn't stay green. We go tan/brown by the end of July. But once the mountains start changing colors- reds, oranges and yellows- it's so much fun! I love to hike or go for drives in the mountains to see the aspen trees in yellow. See the contrast of the evergreens with all the changing colors. It's beautiful!
While I don't have to go back to school, I've always loved learning and the fall makes me want to learn something new. The spirit of learning is something great to carry with us throughout our lives. We are never too old to learn new skills and tricks, or to just sit down and read a book!
Which leads to another great love of mine- reading! Fall is the perfect time to curl up by a window and listen to the rain while reading, or curl up in front of a fire (as long as it's not too close!) and read. I LOVE books, and love being able to slow down a little to read after the frantic pace of the summer.
One extra perk of the fall- my anniversary is in the fall! We had fantastic weather for our wedding day- over a decade ago! While not every anniversary has sunshine, I love to celebrate it. I've been incredibly lucky to have found a wonderful man that supports all my habits and loves me!
Another thing I love: pumpkin spice! I love the smell of it, I love the taste of it! The cinnamon and cloves and pumpkin all mixed together is wonderful. Pumpkin spice cookies are some of my favorite! Or Pumpkin bread! Yum!
Another fall food that I love is soup. The warmth spreads through you on those cool nights. It always makes your house smell good, and fills you up so well. Yum! One of my favorites is chicken and rice. I can't do most the stuff from the can because of food allergies, but this recipe makes up for any of that!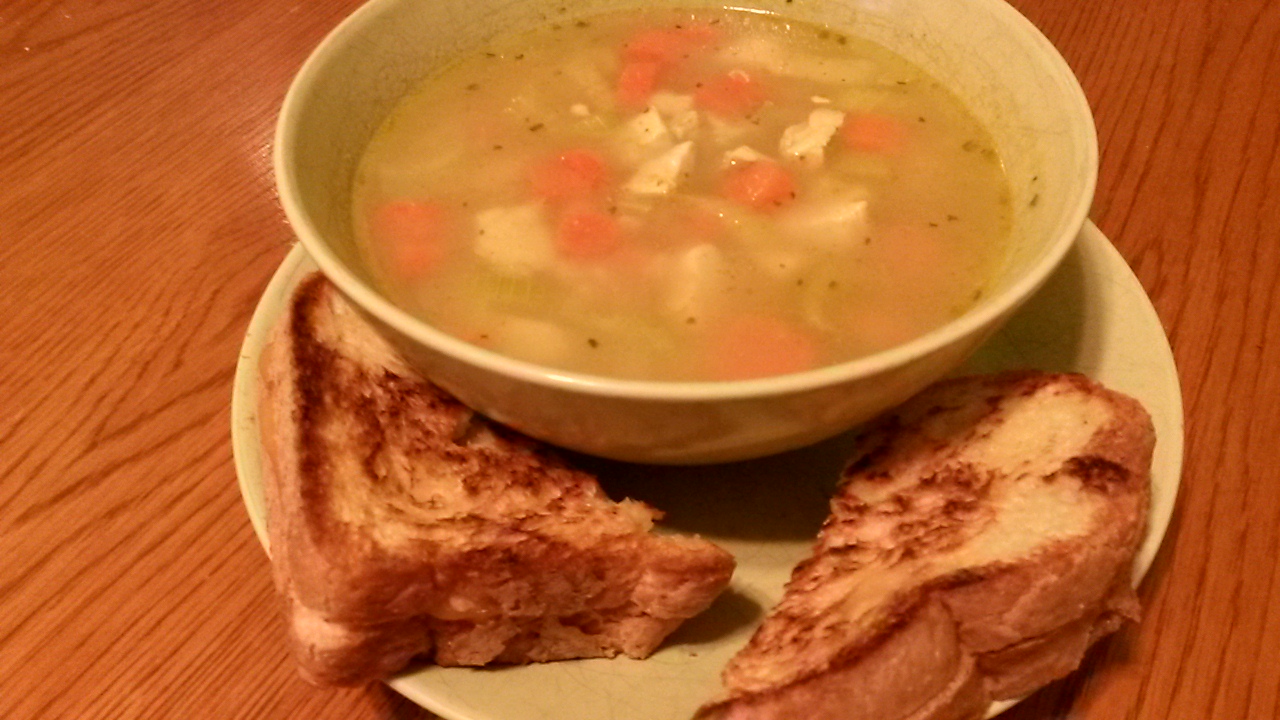 Brenda's Awesome Chicken and Rice Soup
My husband named this after his third helping of it! Great for those cooler fall and winter nights, it's also super easy to make with leftovers!
Serves: 6
Prep Time: 10 minutes
Cook Time: 20 minutes
2-3 tablespoons butter
1 1/2 cups diced carrots
3-4 ribs celery diced
1/2 cup diced onion
2 cups cooked chicken diced
2 cups cooked brown rice
5-6 cups chicken broth
1 teaspoon sage
1/2 teaspoon garlic powder
Salt and pepper to taste
Melt the butter in a large pan. Add diced carrots, celery and onion. Sauté until soft. Add the chicken, and sauté until warm. Add the rice, chicken broth, and seasonings. Bring to gentle boil and simmer for a few minutes, until warm through. Taste for seasoning. Don't cook it too long, or the rice and go mushy! Enjoy! Fantastic with cheese sandwiches!
Add Recipe to Cook'n

Brenda Lower
Monthly Newsletter Contributor since 2015
Email the author! brenda@dvo.com