Vegetarian Meal Ideas for a Meat Loving Family
I remember reading years ago about the concept of "Meatless Monday." It sounded good to me- I didn't have to worry about preparing and cooking the meat, or buying the most expensive portion of dinner with our small budget. But I didn't get past my first week without some serious resistance, "Where's the meat?" "That was good, but what's for DINNER?" "I'm confused… what is the actual food we are eating?" My fancy salad and fruit dish wasn't going to cut it. Since then, I've better learned how to prepare a meatless meal that my family will enjoy without wondering where the real dinner is!
The key to eating meatless is to eat enough of the right foods to help your body feel full, energized and satisfied.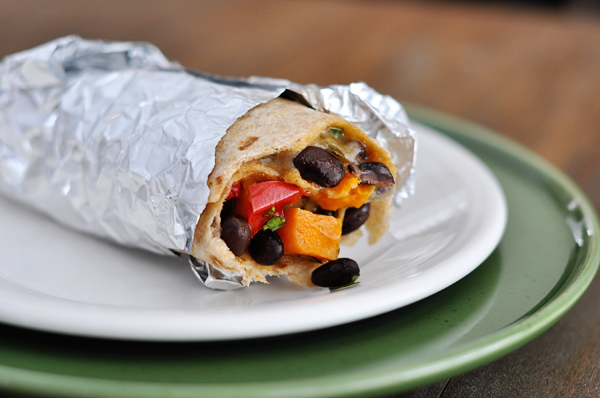 One meal that always satisfies me, and my meat-loving husband is a good burrito! While we absolutely enjoy a good carne asada burrito, a meatless burrito still packs a punch and leaves both of us happy and full. Below is a recipe for Black Bean and Sweet Potato Burritos that are hearty enough to fill you up and flavorful enough to leave your taste buds happy!
Add Recipe to Cook'n
Ingredients:
| | |
| --- | --- |
| 2 | sweet potatoes, peeled and cubed small (about 3-4 cups) |
| 1 | jalapeno, seeded and finely diced |
| 1 | red pepper, diced small |
| 1 | small red onion, diced small (about 1/2 cup) |
| 2 teaspoons | olive oil |
| 1 teaspoon | cumin |
| 1 teaspoon | chili powder |
| 1/2 teaspoon | salt |
| 1/4 teaspoon | black pepper |
| 1 (15-ounce) can | black beans, rinsed and drain |
| 1/4 | - 1/2 cup chopped cilantro (depending on your taste) |
| 2 teaspoons | fresh lime juice (from about 1 lime) |
| 1 cup | shredded Cheddar cheese |
| 1 cup | shredded monterey jack cheese |
| 6 8 | 6-8 burrito-size tortillas (whole wheat, white or other favorite variety) |
Directions:
Preheat the oven to 425 degrees F. In a large bowl, toss together the sweet potatoes, jalapeno, red pepper and red onion with the olive oil, cumin, chili powder, salt and pepper. Dump the coated veggies onto a large rimmed baking sheet and roast for 18-20 minutes, tossing halfway through. The vegetables should be tender but not mushy at the end of cooking time.

Let the vegetable mixture cool. Scrape the mixture into a large bowl and toss with the black beans, cilantro and lime juice. Taste the mixture and add additional salt and pepper to taste, if needed. Refrigerate the mixture until ready to assemble the burritos or use immediately.

Place 3-4 tortillas on a microwave-safe plat and cover with a damp paper towel. Microwave for 15-20 seconds until the tortillas are pliable. Place 1/4 cup or so of the vegetable mixture in the center of the tortilla and top with a sprinkle with shredded cheese, a little of each kind.. Fold in the sides of the tortilla and roll up. Place seam-side down on a baking sheet. Repeat with the remaining tortillas until you have all the burritos you need (the filling can be refrigerated and used for 3-4 days).

Bake in a 375 degree F oven for about 10-15 minutes, until heated through and the top of the tortilla is golden brown. Adjust the baking time as needed depending on if the filling has been refrigerated or not. For a softer tortilla, wrap each burrito in tin foil and heat through. Serve immediately.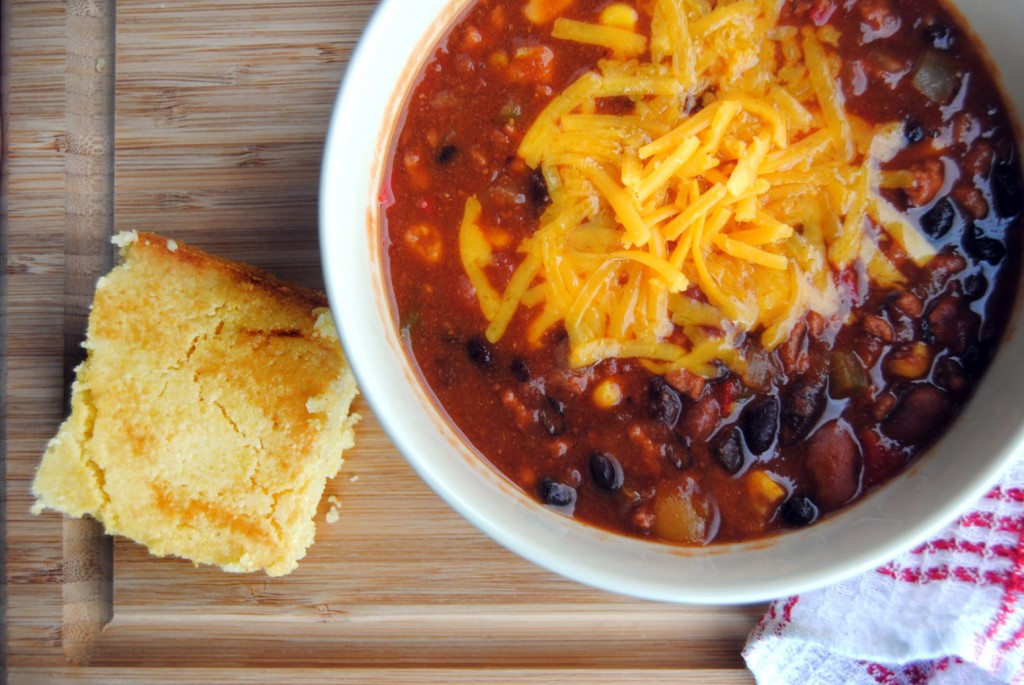 A few other meatless meal victories at my house include:
Chili and Cornbread
Homemade pizza topped with veggies
Potato Leek Soup and a hearty bread
Thai curry loaded with colorful vegetables and rice
Manicotti with a roasted vegetable and green salad
What are some of your favorite vegetarian dishes that leave you feeling full, energized and satisfied? Let me know in the comments!
Sources:
http://www.melskitchencafe.com/black-bean-and-sweet-potato-burritos/
http://chubbysoul.com/2014/11/21/turkey-chili-and-buttermilk-cornbread/

Stefanie Hathaway
Monthly Newsletter Contributor since 2016
Email the author! stefanie@dvo.com