Veggie Burgers Galore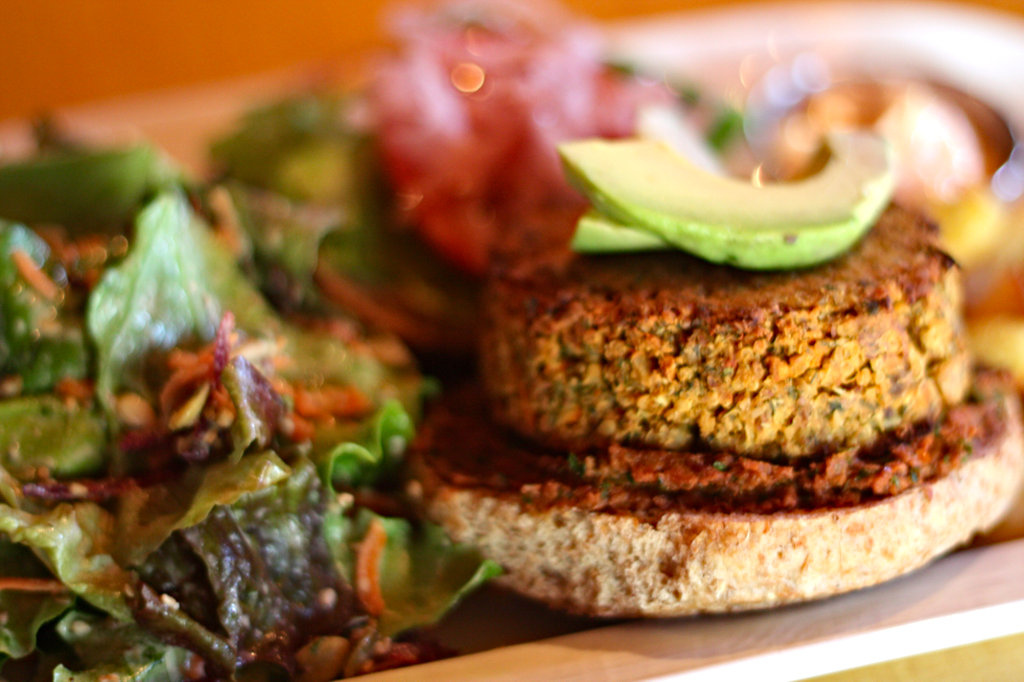 I ate a lot of veggie burgers as a young adult. I was really into convenience back then and would buy the veggie burgers that were sold in the frozen section at the grocery store. The two main brands I bought were Gardenburgers and Boca Burgers. The original Gardenburgers are primarily made of brown rice, mushrooms, and rolled oats. Boca Burgers are made with soy protein and wheat gluten. Both kinds of burgers contain other vegetarian ingredients and come in different varieties.
Until recently, I had no idea there are so many different kinds of veggie burgers. You can make veggie burgers out of black beans, chickpeas, sweet potatoes, beets, quinoa, lentils, butternut squash, roasted red peppers, cauliflower, zucchini, walnuts, eggplant, corn, and the list goes on… There are hundreds of recipes! There are recipes for Thai veggie burgers, Greek veggie burgers, Tex-Mex veggie burgers, Italian veggie burgers, pesto veggie burgers, spicy barbeque veggie burgers, Jamaican jerk veggie burgers, Indian curry burgers, and I even found a recipe for a peaches and cream veggie burger.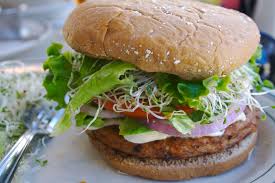 I also did not realize that it is relatively easy to make your own veggie burgers at home. Many of the recipes just blend all of the ingredients into a food processor until you get a thick puree. Then you combine the puree with oats or some kind of bread crumbs to help it hold together. Next you form patties, sometimes refrigerate the patties for a couple of hours, and then fry them like you would a regular burger. Doesn't sound too hard, right?
To get the best flavor out of your veggie burgers, you have to dress them right. There are recipes for delicious sauces you can make to put on your burgers. You can pile them high with other toppings too. Some popular veggie burger toppings include avocado or guacamole, red onions, hummus, cheese, onion rings, sprouts, mushrooms, tzatziki sauce, tomatoes, and fried eggs. Basically, anything that you think tastes good on a regular burger, can taste great on a veggie burger too!
Have I convinced you to take a leap of faith and experiment with cooking more veggie burgers? Another point to consider is that in addition to being healthier for you, homemade veggie burgers are usually more cost effective than buying meat. So, what are you waiting for? Add veggie burgers to your menu plan and you won't be disappointed. Here is one recipe for you to try.
Black Bean Veggie Burgers
1 can black beans, drained and rinsed
½ green bell pepper, chopped
½ onion, chopped
½ cup shredded carrots
3 garlic cloves, peeled
1 egg
1 T chili powder
1 T cumin
1 t chili or hot sauce
½-1 cup breadcrumbs
4 hamburger buns
Optional toppings - lettuce, tomato, avocado, red onion, ketchup, salsa, cheese, etc.
Directions
1) In a medium bowl, mash black beans with a fork.
2) Put the bell pepper, onion, carrots, and garlic in a food processor until finely chopped and combined.
3) Stir the food processed veggies into the beans until thick and pasty.
4) In a separate bowl, combine the egg, chili powder, cumin and hot sauce.
5) Add the egg mixture to the bean mixture and stir until well-combined.
6) Start with a half cup of bread crumbs and add it to the mixture. Keep adding bread crumbs until the mixture is sticky, but holds together.
7) Form 4 patties.
8) Grill them over medium-high heat for about 8 min on each side. Or if you prefer baking, they can be baked in the oven at 375 degrees for 10 min on each side.
9) Place the cooked patties on hamburger buns and dress them how you like!
Add Recipe to Cook'n
Sources:
http://www.gardenburger.com/product.aspx?id=11630
https://en.wikipedia.org/wiki/Boca_Burger
http://thecottagemarket.com/2015/05/100-fantastic-veggie-burger-recipes.html
http://www.cleverlysimple.com/black-bean-burger-recipe/#_a5y_p=1687711
http://www.huffingtonpost.com/2012/04/24/16-ways-to-improve-your-v_n_1446541.html
http://allrecipes.com/recipe/85452/homemade-black-bean-veggie-burgers/

Cristina Duke
Monthly Newsletter Contributor since 2014
Email the author! cristina@dvo.com