Quick and Easy Cinnamon Rolls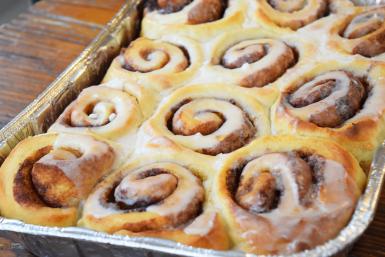 Serves:
30
What is better than waking up to the smell of cinnamon baking in the oven?
The rising time takes a little while, but the hands on time is very quick and easy! This recipe makes a large batch, so you can make several trays. Share them with a friend!
Prep Time:
Cook Time:
Total Time:
Ingredients:
1

quart

whole

milk

1

cup

butter

1

cup

sugar

1 1/2

tablespoons

yeast

8 to 9

cups

flour

2

teaspoons

baking powder

2

cups

melted

butter

1/4

cup

ground cinnamon

2

cups

sugar

ICING:

1

pound

.

powdered sugar

1/4

cup

whole

milk

2

tablespoons

maple syrup
Directions:
1 Heat the milk, butter and sugar in a saucepan over medium heat. Just let it simmer, not boil. Remove from the heat and let it cool to lukewarm. This may take ten minutes or so. You can transfer it to the fridge in another bowl if you need to speed up the process!

2 Pour the yeast over the top of the milk mixture and then stir to combine.

3 Add about 7 cups of the flour and stir together gently. cover with a towel and put it in a warm place to rise for about 1 hour.

4 Add the rest of the flour and the baking powder and stir to combine. Divide the dough into two or three large pieces.

5 Roll out one piece at a time into a large rectangle. Leave it relatively thick, about 1/2 inch. Make sure the rectangle is long, width-wise. Think hot dog, not hamburger.

6 Pour about 3/4 cup of butter over the dough and sprinkle about half the cinnamon and sugar over the top.

7 Roll the dough away from you in a tight roll until it is completely rolled up. Pinch the seam together and then cut into 2 inch slices.

8 Pour 1/2 cup of butter into each baking dish. Place the rolls on top. Make sure they are not too close together as they will rise quite a bit in the rising and cooking process.

9 Cover the tray with a towel and repeat with the remaining dough.

10 Let the rolls rise for about 20 minutes.

11 Whisk together all icing ingredients until smooth.

12 Bake rolls at 375 for about 15 minutes, do not over bake. They should be lightly brown and slightly firm to the touch.

13 Remove rolls from the oven and if you can manage let them cool a bit and then drizzle icing over the top.

Source: breakfast.about.com

Add Recipe to Cook'n
---