Mallow Madness
Who ever knew the fun you could have with a bag of marshmallows? Recently, my sisters and I converged on my mother's home for a week of family fun (or total chaos, depending on how you see things). My brother and his family were in the country for their annual company-paid trip "home" and we all wanted to be together so we could spend time together and the cousins could get the chance to spend some good time together. Sounds blissful, right? Oh, wait, I forgot to mention that in addition to the eight adults staying at the house there were 14 children ranging in age from 1 to 16. Less blissful now, isn't it?
We had lots of fun, lots of drama, some wrestling, and even some good old fashioned silent treatments! After the first day or two my sisters and I decided that we needed to come up with some inexpensive but fun crafts or activities for the masses that could keep kids of varied ages entertained and engaged together. Pinterest anyone? Yep, that's where we turned when we had exhausted our somewhat pathetic brainstorming. It was there that my sister got the idea of marshmallow building.
You would not believe how the kids loved this fun activity! From the one year-old that mostly ate marshmallows to the 14 year-old nephew that fully enjoyed building a huge tower until it fell over... and then he ate it! Of all the things we did in that week, my kids will tell you that it was marshmallow building that was the best. It was so simple and so inexpensive, but they loved it and have asked to do it several times since. Now we have even come up with some fun variations to help my preschooler learn her letters and start spelling words! And all that, with silly little marshmallows.
Since our first building day I have found other blogs posts and ideas using marshmallows and I wanted to share some we love!
Good Old Fashioned Marshmallow Building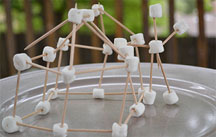 Bag of marshmallows (small)
Box of toothpicks
Endless creativity (the kids will provide this!)
You can also use short straw pieces instead of toothpicks, but I like that I can buy 1500 toothpicks for $1! Just get creative and build, build, build... and eat a mallow here and there along the way!
Word Building Marshmallows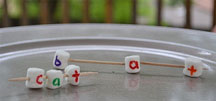 Bag of marshmallows - any size
Toothpicks or pieces of drinking straw as above
Food coloring or food coloring markers
Letter stamps
Carefully stamp the letters on to the marshmallows using the food coloring. Once you have the letters on them, build words by connecting your letters together with the toothpicks. Build a word, sound it out, and then pull it apart and eat it!
Talking Marshmallows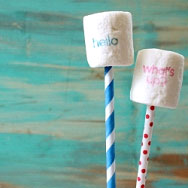 Bag of large marshmallows
Straws
Small stamps
Food coloring or those great food coloring pens
Make a fun snack or even centerpiece with talking marshmallows. Using the food coloring and rubber stamps stamp words on your marshmallows to make a fun little treat. They could say "happy birthday", "I love you", or just something silly, but they are sure to add a fun touch to the table.
(Thanks to craftgawker.com and thedecoratedcookie.com for this idea and photo)