Creative Crock Pot Caramel Apples!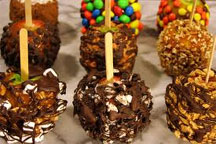 As I am sure you may have noticed, I LOVE crock pots for their easy food preparation and small amount of clean up. I try to convert as many of my recipes to the crock pot as I possibly can from main courses and soups to breads and desserts. Well, I decided to try to convert one of my favorite Autumn treats to the crock pot-caramel apples!
I think that making caramel apples is a big hassle in a lot of ways, melting the caramel and then trying to dip it by the stove top is such a pain, and makes a mess! (Or is that just me?) This year, we made our caramel apples, the first batch of many I am sure, in the crock pot! Rather, we made the caramel in the crock pot, and then dipped the apples there too and it was SO much easier! Plus, it was much easier for everyone to dip their own apples since I could have it in the middle of the counter in my kitchen. I have included a recipe below for crock pot caramel sauce, and I am sure that you won't go back to trying to cook it over the stove again!
---
Crock Pot Caramel Sauce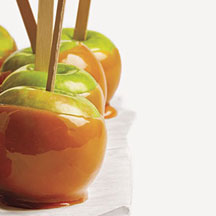 Ingredients:
2 (14-ounce) packages
caramels
1/4 cup
water
8

medium

apples

(McIntosh, Gala, Fuji, or Granny Smith)
sticks for apples
Directions:
In slow cooker, combine caramels and water. Cover and cook on high for 1 to 1 1/2 hours, or until caramels are melted, stirring frequently. Meanwhile, line a baking pan with buttered wax paper.
Wash and dry the apples. Insert a stick into stem end of each apple. Reduce crockpot heat to LOW.
Note: If the caramel does happen to scorch, put it through a mesh strainer and discard any dark particles. Put the sauce back into the cleaned slow cooker and keep warm while you dip the apples.
Dip apple into hot caramel; turn to coat entire surface. Holding apple above pot, scrape off excess accumulation of caramel from bottom of the apple. Place coated apples on prepared wax paper in pan. As you near the bottom of the pot, use a spoon to spoon hot caramel over apples. Put the pan of coated apples in the refrigerator to set thoroughly.
Use caution if children are helping as the crockpot can get quite hot to the touch and the caramel could scald.

Recipe formatted with the Cook'n Recipe Software from DVO Enterprises.
---
A few helpful tips to making caramel apples: cut a very thin slice off the bottom of the apple so it has a flat surface to rest on while the caramel cools, set the apples on lightly buttered waxed paper while they cool so they will come up easily when ready to eat, and if you are using toppings, you will want to roll or coat the apples in topping fairly soon after coating caramel to coat evenly. If you want to dip the apples in chocolate after the caramel, wait for the caramel to cool completely to prevent the caramel from sliding off into your other coating.
Now for the REALLY fun part of caramel apples: toppings! I have included a list below of some really fun topping ideas, both individual toppings as well as a few topping combinations. If you are making these for neighbors and friends, a creatively topped apple placed in a clear cellophane bag and tied with a festive ribbon makes a great presentation!
TOPPING COMBOS:
Ballpark Apples: Roll each caramel apple in salted or honey roasted peanuts and caramel popcorn.
Oreo Delight: Roll each caramel apple in crush Oreo cookies, then drizzle the sides with chocolate sauce.
"Healthy" Treat: Roll each caramel apple in chopped walnuts or pecans and dried cranberries, cherries (chopped), or raisins.
Colorfully Sweet: Roll each caramel apple in crushed vanilla wafers and colorful sprinkles.
Apple Pie: Roll each caramel apple in a cinnamon/sugar mixture, then roll again in crushed vanilla wafers. You can also just add a little bit of cinnamon to taste straight to the caramels as they are melting.
Peanut Butter Goodness: Roll each caramel apple in crushed Butterfinger candy bar and chopped Reese's Peanut Butter Cups. You can also use the mini peanut butter cups and Reese's Pieces candies instead of chopped pieces.
S'more Apples: Roll each caramel apple in crushed Golden Graham cereal, then roll in mini marshmallows, and finally drizzle chocolate sauce around the sides.
Tropical Apples: Roll each caramel apple in toasted or shaved coconut and macadamia nut pieces. You can even add dried tropical fruit if desired.
INDIVIDUAL TOPPINGS: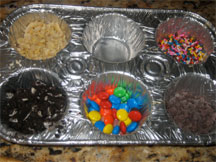 Candy Corn, whole or chopped
Mini M&M candies
Mini chocolate chips, try using milk, dark, white, or a combination
Nerds candies
Pretzels, crushed or chopped
Toffee, crushed or chopped
Red Hots (red cinnamon candies), crushed or chopped-this is a favorite of mine!
Image Credits
Toppings: stayingclosetohome.com
Decorated Apples: uglychocolates.com
Regular Caramel Apples: myrecipes.com