5 Extreme Pumpkin Carving Tools
Carving pumpkins has to be one of the real food craft classics! I have fond memories of carving pumpkins as a child, and many of them involve my silly dad grumbling about the mess (mostly for the humor of it all) and carving some odd looking jack-o-lantern that we could all laugh after. Every year was about the same. He was always involved, that is just the kind of dad he was, and he always did the same funny things like try to gross us out with the "guts", roll his eyes about the mess, and basically do all the dirty work that the kids didn't want a part of.
The highlight of all our family pumpkin carving parties happened just a couple of years ago when, despite being very sick, Dad refused to be left out of the carving fun. He started out simply enough, but before long he decided that he knew the perfect tool for the job. He disappeared to the garage and all of us in the house were certain that we would get a good laugh about whatever he came back with. Well, we were not disappointed when he walked back in with a chainsaw! Yes, you read that right, a chainsaw.
Perhaps you can imagine the look of pride on his face when he finished his chainsaw Jack-o-lantern. It was hilarious. I must admit that it didn't look as bad as I would have expected and nobody had been injured (which seemed a miracle). I think the adults among us were even more impressed and entertained than our children. It made for lots of laughs and amazingly fond memories that will last me a lifetime.
On that thought, I wanted to come up with a list of unique (and maybe crazy) tools to use for pumpkin carving and decorating this year.
The chainsaw: Certain to be a hack job, but always good for a laugh! Needless to say, be careful! This can give you some fun results, but safety is key.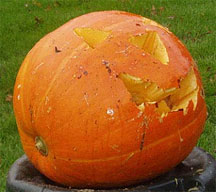 (Photo courtesy www.2dorks.com)
Cookie Cutters: Metal cookie cutters can make for some very cute pumpkins! Pretty simple to do, you just pound them through the pumpkin with a rubber mallet. Be sure to have your muscles and elbow grease ready.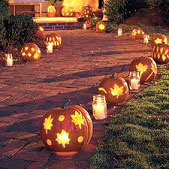 (Photo courtesy southernliving.com)
The drill: Back to the garage for another power tool. This time you can let your muscles rest and let the drill do the work. I recommend drawing a pattern on the pumpkin or taping a printed pattern on so you have a guide.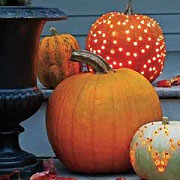 (photo courtesy www.fitsugar.com)
Dremel: This power tool can make some amazing designs and patterns. Again, pay close attention to safety.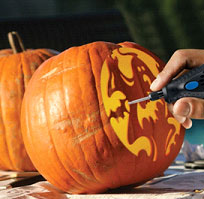 Nails: Similar to the drill, but a good option for those that aren't ready for the power tools just yet.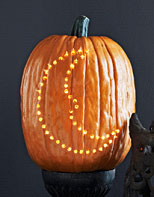 (photo credit countryliving.com)
However you choose to carve that pumpkin make sure to save a few yummy recipes for those seeds in Cook'n so they don't go to waste! Your pumpkin will be as delicious as it is adorable.
---
---
An unbeatable value with exclusive benefits for members only.
Get a newsletter like this each week when you join the Cook'n Club.