Caramel Apple Crazy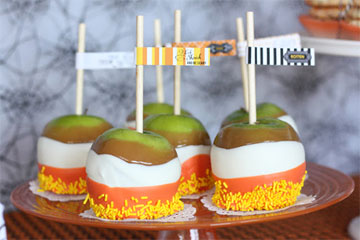 I LOVE caramel apples. I mean love, seriously. If it wasn't for my sweet husband, I would say I love them so much I would marry them... but alas, I am already taken. I love them so much that I forbid myself from making them, except during special times of the year, like NOW!
Fall is a special time of the year, especially where we live in So Cal, where we only get about 2 weeks of fall a year. The lack of fall time is sad, but it prevents me from having all that caramel round me out like the apple it belongs on.
There are so many options for making caramel apples; big, little, chocolate, no chocolate, candy pieces, sprinkles, and on and on. Here are a few ways for you to take this simple little treat to dazzling places!
The title image shows a triple dipped caramel apple. It looks to have a caramel base, once cooled it was then dipped in candy melts (I am guessing here, but I have used Wilton melts with the same results, simply melt as the package indicates and dip), dipping first in white melts, then in orange melts and finally dipping the bottom in a healthy dose of yellow sprinkles. Who can resist such a cute, little, drool worthy treat? Not I.
Here is another drool worthy option. The first part of this recipe can be used for beginning caramel apple makers, you can stop with just the caramel addition for a more traditional caramel apple (Follow steps 1-5).
---
Apple Pie Caramel Apples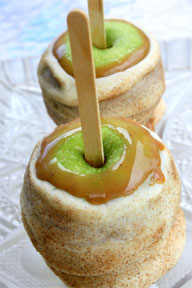 Ingredients:
1 bag

Kraft

caramels
4

to 5 large, tart

apples
1 bag

white chocolate chips

or white chocolate candy melts
cinnamon sugar
Directions:
1. Wash, scrub, and dry apples. This is important or your caramel won't stick because of the coating stores put on apples.
2. In a medium saucepan, melt caramel according to package directions.
3. Put popsicle stick in the apple. Dip in melted caramel making sure to fully coat it.
4. Place on parchment or wax paper that has been sprayed with cooking spray.
5. Cool in the fridge until caramel is set up. If you want a thick caramel layer, add another layer of caramel here and let it set up again.
6. Melt chocolate chips in the microwave in 30 second intervals. You can add a little shortening if the mixture is too thick.
7. Coat the apple with the chocolate.
8. Let it set up a little bit before sprinkling it with the cinnamon sugar mixture.
9. Cool completely in the fridge.
10. Cut into slices and serve.
These can be made up to one day ahead of time. Store in the refrigerator.

Recipe formatted with the Cook'n Recipe Software from DVO Enterprises.
---
There is also the option of making your own caramel. Lots of people prefer making their own caramel, probably because they don't want to unwrap all those caramels. You might need an extra bag if you are like me, because some of those caramels end up not making it to the melt stage.... Because they uh... disappear.
Here is an additional photo to get your creative caramel apple juices flowing!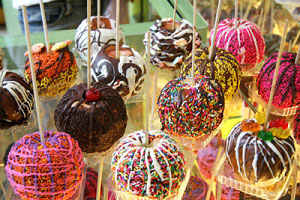 I typically have a fall craft party every year, where a bunch of us girls get together and do fall crafts of some sort. Mostly it's just an excuse to get together and drink cider and eat yummy food. This year, I am thinking of doing gourmet caramel apples as the craft. Here are some ideas for mixing and making and topping your apples, but first a few tips.
When making caramel apples several sizes of apple can be used, try the mini lunchbox apples, or the biggest ones you can find, in red or green. I personally prefer green apples because the tart taste balances all the sweetness I glom all over it. You can also cut large apple slices and dip them in lemon lime soda (prevents apple from browning) or make mini apple bites, dug out of larger apples with a melon baller (also dipped in soda to prevent browning). When making the mini apple bites, attach the stick through the skin side of the apple, and let that part be exposed.
Handles-
Popsicle sticks
Small pieces of tree branch
Cut dowel rod
Sucker sticks
Toothpicks (for the mini apple bites)
Bases-
Caramels, melted (add a teaspoon of water to vary caramel consistency), the stores are now selling caramel in little balls, in the baking aisle. I am guessing that these would be faster to melt and they don't have wrappers to unwrap.
White Chocolate
Dark/Milk chocolate
Wilton Melts
Toppings- This is where things get crazy
Sprinkles
Crushed cookies- oreos, nutter butters
Crushed Candies- mm's, crushed butterfingers, nerds, poprocks, candy corn, crushed crunch bar... Nuts
Cereal- cocoa crispys, fruity pebbles
Coconut- sweetened, shredded
More chocolate
Marshmallow, graham crumbs, and chocolate chips
There are a million combinations that you can use to make unique, gourmet versions of caramel apples. They are great for parties and gatherings, handing out to trick or treaters, sold at bake sales and can be made smaller for portion control. Caramel apples are delicious and beautiful gifts when wrapped in cellophane. Whichever toppings you choose, or if you decide to go traditional, you are going to have a yummy treat that beckons to be eaten, right away.
Title Image- http://wantsandwishesdesign.blogspot.com/2011/10/eek-shriek-and-be-scary-halloween.html
Apple Pie Caramel Apple Recipe Link and photo- http://www.the-girl-who-ate-everything.com/2009/09/apple-pie-caramel-apple.html
http://4.bp.blogspot.com/-SNOX2ywjpyo/TqAgbcccEzI/AAAAAAAAAI8/b8kJtDN6ssA/s400/Brilliant%2BEvent.jpg
---
---
An unbeatable value with exclusive benefits for members only.
Get a newsletter like this each week when you join the Cook'n Club.