Frightfully Fun Family Meal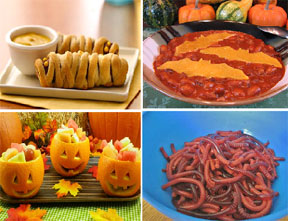 Growing up as a girl with four younger brothers, things often got gross at the dinner table. Talk of slugs, worms... other gross things came up quite regularly. October is the perfect opportunity to embrace all those creepy crawleys and whip up an easy, but frightfully fun family meal.
---
MAIN DISH
Mummy Dogs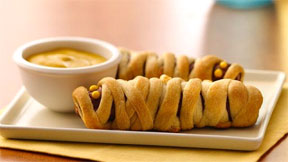 These cute little babies are made using hot dogs, and crescent roll dough, that can be bought in the fridge case with the premade biscuits. To make these, roll out the dough and cut in thin strips. Wrap the strips around a dog, leaving a little room for the face. You can add cheese, or you can choose to leave the cheese out.
Ingredients:
1 (8-ounce) can

Pillsbury

refrigerated crescent roll

or 1 (8-ounce) can Pillsbury Crescent Recipe Creations refrigerated seamless dough sheet
2 1/2 slices

American cheese

quartered (2.5 oz)
10

large

hot dogs
Cooking spray
Mustard or ketchup, if desired
Directions:
Heat oven to 375 degrees F. If using crescent rolls: Unroll dough; separate at perforations, creating 4 rectangles. Press perforations to seal. If using dough sheet: Unroll dough; cut into 4 rectangles. With knife or kitchen scissors, cut each rectangle lengthwise into 10 pieces, making a total of 40 pieces of dough. Slice cheese slices into quarters (1/2 slice cheese, cut in half). Wrap 4 pieces of dough around each hot dog and 1/4 slice of cheese to look like "bandages," stretching dough slightly to completely cover hot dog. About 1/2 inch from one end of each hot dog, separate "bandages" so hot dog shows through for "face." On ungreased large cookie sheet, place wrapped hot dogs (cheese side down); spray dough lightly with cooking spray. Bake 13 to 17 minutes or until dough is light golden brown and hot dogs are hot. With mustard, draw features on "face."

Recipe formatted with the Cook'n Recipe Software from DVO Enterprises.
---
SIDE DISHES
Jack O'Lantern Fruit Salad & Bat Chili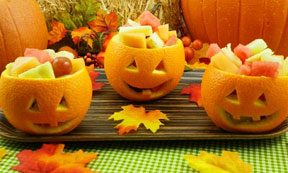 Make fruit salad and serve it in hollowed out oranges, with cut out faces.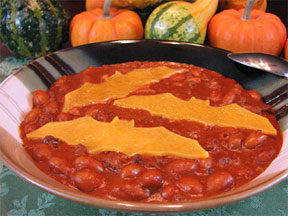 Chili already looks gross to me, but its yummy and sure to fill up your little monsters. It can be a warm and filling if they have a night out in the cool weather planned. Serve it with some cutout cheese bat shapes to enhance its creepiness. You can use canned chili or your favorite recipe. Search Cook'n for chili recipes, and use the software to prepare a shopping list to make your shopping even easier!
---
DRINK
Eyeball Punch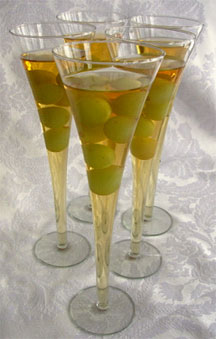 To make a creepy drink, simply add a drop of green food coloring and a few frozen red or green grapes to clear liquid, like lemon lime soda, apple juice or water. Tell your family the grapes are eyeballs.
---
DESSERT
Jello Worms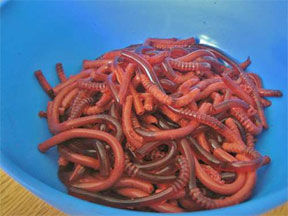 This is probably the most macabre of all of the frightening ideas so far! Using Flexi Straws you can make these disgusting little friends out of gelatin and some food coloring. Here's how you do it.
Ingredients:
100

flexible plastic straws

(The straws with a bendable neck make the most realistic worms by adding ridges to the worm. Place bendable necks of straws at the bottom of the container).
An empty, cleaned 1-quart milk or orange juice carton to hold straws.
1 (6-ounce) package

raspberry or

grape jello
3 envelopes

unflavored

gelatin
3 cups

boiling

water
3/4 cup
whipping cream
12 drops

to 15 drops green

food coloring
waxed paper
Directions:
1. Combine gelatins in a bowl and add boiling water; stir until gelatins completely dissolve. Chill until lukewarm, about 20 min.
2. Meanwhile, gently pull straws to extend to full length; place in tall container. Wrap together with a loose rubber band to hold straws together.
3. Blend cream and food coloring with the lukewarm gelatin mixture. Carefully pour into container, filling straws.
4. Chill until gelatin is firm, at least 8 hours, or cover and chill up to 2 days.
5. Pull straws from container or, if you're using a carton, simply tear the carton away from the filled straws. Pull straws apart. Run hot tap water for about 2 seconds over 3 to 4 straws at a time. Starting at the empty ends, push worms from straws with rolling pin, or use your fingers.

Recipe formatted with the Cook'n Recipe Software from DVO Enterprises.
---
Mummy dog link http://www.pillsbury.com/recipes/crescent-mummy-dogs/d52a57d7-ab8a-4a1c-8dae-f9f90d03b912'
Orange Link- http://www.momswhothink.com/halloween/jack-o-lantern-fruit-salad-recipe.html
Chili Link- http://cbsop.com/recipes/spooky-silhouette-chili/
Drink photo link- http://www.blossomedge.com/wp-content/uploads/2010/12/ice-drinks-062.jpg
Dessert https://lh4.googleusercontent.com/-5gx_Te_9Bgw/UAk7b3Q_XTI/AAAAAAAAHhE/wy38YXk0zD0/FUW0ZY9GT19NK8M.MEDIUM.jpg
Dessert directions
http://www.theidearoom.net/2009/09/jell-o-blood-worms.html
---
---
An unbeatable value with exclusive benefits for members only.
Get a newsletter like this each week when you join the Cook'n Club.