Terrifying Halloween Treats
With the Halloween season approaching, there is a scary excitement in the air! Halloween costumes, decorations, and delicious food items add to the excitement and ensure a fun filled time for everyone involved. For all you foodies out there, Halloween is another opportunity to try mouth-watering, and sometimes chill-inducing foods. Why not come up with some devilishly spooky food ideas to add an element of fear and anxiety to the occasion? Creative food craft ideas that are easy-to-make and yummy will add a perfect touch to the festive celebrations!
Here are four creative food crafts, that will captivate the essence of Halloween:
Send a chill down your spine with...
---
---
Thrill the kids with...
---
---
Let the kids get their hands (and faces) dirty with Witch's Hats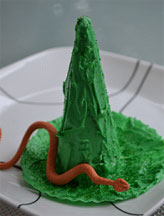 ---
---
Add these super-simple Spider Cubes to any drink to bring the creep out factor way up!
(photo credits www.noblepig.com)
---
---
Now that you have a few spooky recipes to get started (and I am sure you have more of your own), make a "Halloween" cookbook in Cook'n and you will have everything you need to make your table extra creepy or host an eerie night of entertainment for your friends right at your fingertips. Happy Halloween and I hope you enjoy far more treats than tricks!
---
---
An unbeatable value with exclusive benefits for members only.
Get a newsletter like this each week when you join the Cook'n Club.