Thickening Soup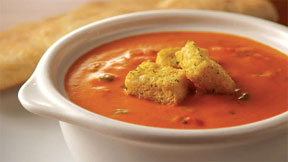 It's getting to be fall, and along with the falling leaves, cooler temps, and sweater season, it's SOUP SEASON! If a bowl of thin soup has ever left you wanting however, here are some ideas for pumping up that soup and making it a little more filling and robust.
Keep in mind that not all methods of soup thickening will work for each soup. Adding additional ingredients to any food or recipe, will change the taste of the food as well as the texture (of course that is what we are going for here). Pick the method that best meets the needs of your soup.
Pureed Vegetable Method
Adding a pureed vegetable is an easy technique for thickening soup. Cooked carrot, cauliflower, potato or yam are easy solutions for thickening soup this way. To use this method, add the desired cooked vegetable (removed from your soup) to a blender, or mash by hand. Mashing by hand may yield a more rustic and less uniform, or chunky thickening and using a blender will result in a more uniform and creamy addition.
Instant (FAKE) mashed potato Method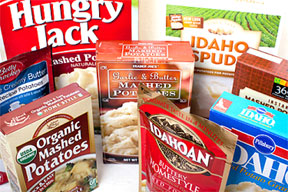 Sneaky tip alert- Using a small amount of dehydrated (we call them FAKE in this house) potatoes, the kind the store refers to as instant potatoes, is a sneaky tip for thickening a soup when it doesn't come out as thick as you would like. If using the instant mashed start with a small amount, prepare as directions indicate substituting soup base for the liquid called for on the mashed potato package, then add back to original soup. Start small if using this method, as a little will go a surprisingly long way. The awesome thing about this method is that instant potatoes come in so many varieties, cheese, roasted garlic, sweet potato, and butter, and all these can add richness to your soup.
Cream method
Adding dairy products, such as a heavy cream, or the lighter half and half can make a soup taste velvety and smooth and delicious while adding some thickness. If you want to go even lighter, evaporated milk, or a combination of cream and milk can do the same thing. Add to still hot soup, stir, and allow a bit of time, as it will thicken as it sits.
Flour Method
Using regular flour, rice flour, and even tapioca flour can be a great way to thicken soup. To use this method, mix one part flour with twice as much liquid and mix until smooth. Add this mixture to your soup, and continue to cook the soup for a few additional minutes to take away the raw flour taste.
Ground Oatmeal Method
One thickening method, particularly yummy when used in meat based soups and stews is the ground oatmeal method. To do this, add oats (start with a tablespoon or two), to your food processor, grind until it looks like flour consistency, then add that to still simmering soup. Not only does it add a yummy taste, its healthy (I guarantee, when used in small amounts, your kids/picky spouse won't even know it's in there!). You can use either quick cooking oats or rolled, but I would not recommend steel cut, as I have never tried that type. If you have, and its worked for you let me know by commenting on this article.
Cornstarch Method
Adding small amounts of cornstarch to cold liquid and mixing well before adding to still cooking soup is a fast way to thicken a soup. When doing this it is important to add a cold liquid and combine well before adding to a hot soup, as the cornstarch will curdle, which will give you gross, bumpy, lumpy results.
Additional Additives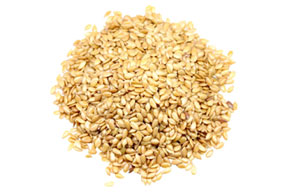 Other ways to thicken soup include adding rice or pasta (this will yield a thicker soup, which is more a stoup than a soup, meaning it's halfway in between a soup and a stew, and oh so delicious!) Bread crumbs can be added to thicken. Other healthy grains can be added such as ground flaxseed, or chia seed which will also thicken up your soup.
There are many, many ways to thicken soups and stews. Do you have an unlisted thickener you would like to share? Leave a comment to let us know how you thicken things up.
Title Image- http://www.getcosi.com/images/tomato_basil-wCroutons_000.jpg
Mashed image- http://www.seriouseats.com/images/20111102-MashedPotatoes-Group.jpg
Flax image- http://whatthehealthmag.files.wordpress.com/2011/11/flaxseed_400.jpeg