Party Pleasing Punches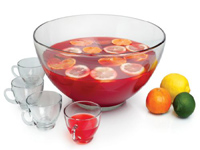 Punch (Panch) is a Hindu word meaning five, because the first punch consisted of five ingredients. When punch arrived in England in the seventeen hundreds from India, as with many recipes, changes started to occur in the recipes.
Today we call any concoction that consists of juices, sparkling sodas, fruits, teas, sorbet or any other liquid you can think of being mixed together and served in a large bowl or pitcher as punch. The recipes are never ending and new ones are constantly being invented.
I enjoy having punch served at a party. If the punch is original and delicious, I always want the recipe. Many times when I ask someone for the recipe they will simply reply, "Oh, just add a bottle of this and a can of that." But there are some great recipes that are worthy of saving.
Serving punch often symbolizes a celebration is in progress. When I see that punch is being served I think to myself "hot diggity! We're having a party!" With Christmas parties and the New Year just ahead, you might be asking yourself, what kind of punch to serve? Here are a few recipes that might tickle your fancy.
Punch is even more interesting if you float have some slices of fruit or ice cubes made from juice on top.
---
Cranberry Orange Punch
2 (32 ounce) bottles of cranberry juice
1 cup lemon juice
2/3 cup sugar
1 liter orange soda
In a large punch bowl, combine cranberry juice, lemon juice and sugar; stir until sugar is dissolved. Add orange soda just before serving. Don't forget the ice. Float orange slices on top of the punch.
---
Christmas Slush
1 small package lime Jell-O
1 large can pineapple juice
1 quart boiling water
1 cup sugar
3 lemons (juiced)
3 (2 liter) bottles of Sprite
Dissolve Jell-O and sugar in boiling water. Add juice from lemons and pineapple juice. Pour into any kind of plastic cartons and freeze. When ready to serve, defrost for 30 minutes. Put into punch bowl and cover with Sprite.
---
White Christmas Punch
1 (12 ounce) can frozen limeade
3 cups sugar
8 cups water
2 liters Sprite
Sliced limes
Maraschino cherries
Dissolve sugar in the water. Add limeade and freeze in large pan or bucket. Two hours before serving, remove from freezer. One hour before serving, pour 2 quarts of Sprite over the top. Float lime slices and maraschino cherries.
---
Frosty Fruit Punch
1 (6 ounce) can limeade
1 (12 ounce) can orange juice
1 (6 ounce) can lemon juice
1 large can pineapple
1 gallon vanilla ice cream
2 liters ginger ale
Mix together all juices and ice cream. Pour ginger ale over the top and garnish with slices of orange, lemons and limes. Serve in punch bowl.
---
Easy Holiday Punch
4 quarts Cranapple juice
12 ounce (frozen) lemonade
2 quarts Club soda
Mix and serve garnished with orange slices.
---
Christmas Punch
1 (32) ounce cranapple juice
1 (46 ounce) pineapple juice
2 cups orange juice
½ cup lemon juice
½ cup of sugar
2 Teaspoons almond extract
1 (2 liter) bottle of ginger ale
Combine first six ingredients; chill. Add ginger ale just before serving.
It's always a treat to try a new punch for a party or holiday gathering. Presentation can make all the difference. Garnishes such as citrus slices, cherries, or ice cubes make from fruit concentrate are always a hit.
---
---
An unbeatable value with exclusive benefits for members only.
Get a newsletter like this each week when you join the Cook'n Club.