Savor-Later Gifts!
It is only the first week of December and already I am on a sugar overload and if this December is anything like those of the past, I think it is safe to say I will not be losing any of that pesky, though well-earned "baby weight" before the new year.
Yesterday we nibbled on cookies as we decorated the tree. Today it was a chocolate bundt cake that the neighbor brought by, followed by a glass of eggnog. It has certainly been a delicious month already, but I feel like I need to start sleeping on the treadmill in hopes of burning all this sugar by osmosis!
While most of us gripe now and then about the sweets, I think it is fair to say that we love them! I mean, if we didn't love them we wouldn't eat them and it would just be our trash cans getting overloaded with sugar! But we sure do love to eat them and to share them!
Last year in one night we had three neighbor's stop by with "gifts" of goodies for us. The first plate brought grins and squeals of delight from my kids. The second brought comments like, "This is AWESOME! Two desserts in one day!" By the 3rd thoughtful delivery I swear my kids' eyeballs were swirling and I may have had to pry my preschooler off the ceiling!
The next night another sweet friend dropped by with a plate of frozen cookie dough. Attached was a card with the cooking instructions and cute little saying. I thought she was a genius. Here she was sharing one of her favorite treats, but in a way that gave me the option of when to enjoy it! I could cook them right away or throw them in the freezer until the sugar fairies had subsided a bit.
Believe me when I tell you that I enjoyed those cookies! Rather than tossing them in the treat plate graveyard that is my countertop, I saved them until all the other treats had been eaten or tossed out and on a night in January when I really wanted a sweet little fix, boy, did I enjoy those cookies!
Here are some ideas for savor-later Christmas goodies:
---
Chocolate Chip Cookie Dough
In addition to making chocolate chip cookies, you could make and freeze just about any kind of cookies you want. Peanut Butter, Sugar, White Chocolate, Chocolate Chunk, M&M's, Chocolate Chip Pecan… you name it! For now we will use this basic Chocolate Chip Cookie Recipe.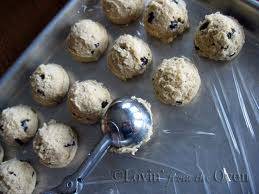 2 1/4 c. all-purpose flour
1 tsp. baking soda
1/2 t. salt
1 c. unsalted butter
3/4 c. sugar
3/4 c. light brown sugar
1 tsp. vanilla
2 eggs
1 12-ounce bag of semi-sweet or milk chocolate chips
In a small bowl, combine flour, soda and salt. Set aside. In large bowl beat butter until soft, then add sugar and vanilla and beat until creamy. Add eggs and beat just until blended. Gradually add flour mixture and blend well. Stir in chips and drop dough by rounded spoonfuls onto cool, ungreased cookie sheets. Bake for 10-12 minutes at 350 degrees until lightly browned, do not over bake. Cool on wire racks and store in an airtight container or freeze dough for cooking later.
When using the frozen dough, just scoop it out of the container by the spoonful and place onto the cookie sheet. Bake for 12 minutes in a 350-degree preheated oven. The cookies will be thicker than usual and absolutely delicious! You may want leave the container out on the counter for just a few minutes to let the dough soften if it is too solid to scoop. It will last in the freezer about 3-6 months and makes 24-36 cookies!
*You can also scoop it prior to freezing and freeze the dough balls individually if you prefer.
---
Cocoa Cones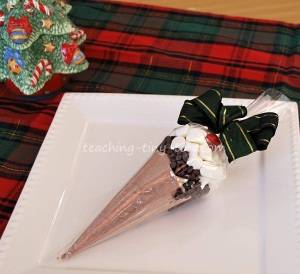 Homemade Cocoa Mix:
5 cups nonfat dry milk
1 cup cocoa
1-1/2 cups sugar
1/2 teaspoon salt (optional)
Toppings:
Marshmallows
Chocolate chips
Red gum drop (for cherry on top!)
Combine all ingredients for cocoa mix together in a large container. Mix well.
Yield: 7-1/2 cups of mix …these can be divided into several cone bags in ½ cup scoops.
Once you have your cocoa mix prepared scoop ½ cup into each of your plastic frosting bags. (You can buy these bags online or with cake decorating supplies at Walmart or craft stores!) After you have poured the cocoa in, pour a layer of chocolate chips, then a layer of marshmallows, and top it with a red gum drop before tying it off! Attach a decorative card with the following instructions:
To Make Hot Cocoa:
Mix 1/4 cup of Cocoa Mix (above) with 1/4 cup of tap water. Stir until well mixed. Finish filling cup with boiling water. Mix well. Makes 1 cup.
---
Canned Apple Pie Filling
Use cooking or baking type apples to make homemade, canned apple pie filling.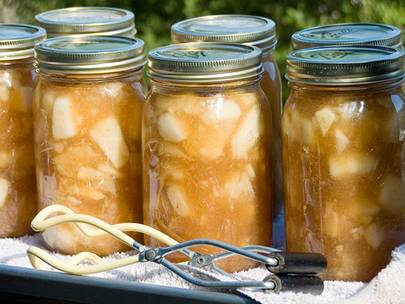 7 cups sugar
1- 3/4 cup cornstarch
3-1/2 tsp. cinnamon
1/2 tsp. nutmeg
3-1/2 tsp. salt
2-1/2 quarts water
1/4 cup lemon juice
10 pounds tart apples - peeled, cored and sliced
3 drops yellow food coloring (optional)
In a stockpot, mix the sugar, cornstarch, cinnamon, nutmeg and salt together. Add the water and stir to mix well. Bring to a boil and cook until thick and bubbly, stirring frequently. Remove from heat. Add the lemon juice and food coloring; set aside. Peel, core, and slice the apples into wedges (about 8 wedges per apple). Pack the apples into hot, sterilized canning jars, leaving a 1/2" headspace.
Fill the jars with the prepared hot syrup. Draw a non-metallic knife through the contents of each jar to remove the air bubbles. Wipe the rims and place the caps on the jars. Adjust the lids and process in a boling water bath canner for 20 minutes.
Label this with a fun tag and a recipe for your favorite apple crisp or apple pie. Your friends will love this treat!
---
And let's not forget jar gifts. Check out
Cook'n Gifts in a Jar
for many more fabulous gifts in a jar!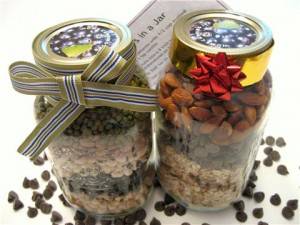 Minestrone Soup Jar Mix
¼ cup red lentils
¼ cup green split peas
¼ cup barley
1/3 cup beef bouillon powder
2 tbsp. parsley flakes
3 tbsp. onion flakes
1/3 tsp. thyme
1/3 tsp. pepper
1 tsp. basil
approximately ¼ cup alphabet macaroni
In a two-cup jar, layer from bottom in the order given, then seal the jar.
Include these instructions on your gift tag:
In a very large saucepan combine 8 to 10 cups of water, a 28 oz. can of crushed tomatoes, and soup mix. Add 2 chopped carrots, and 2 to 4 chopped potatoes (optional: 2 cups chopped cabbage). Bring to a boil, reduce heat, cover and simmer for one hour or until peas are tender. Enjoy!
---
Cowboy Cookie Mix
Jar Ingredients:
1 1/3 cups quick oats
1/2 cup firmly packed brown sugar
1/2 cup sugar
1/2 cup chopped pecans
1 cup chocolate chips
1 1/3 cups flour mixed with 1 tsp baking powder, 1 tsp baking soda and 1/4 tsp salt
Layer ingredients in order given in a 1 quart wide mouth caning jar. press each layer firmly in place before adding next ingredient
Tag Instructions:
1. Empty jar of cookie mix into a large mixing bowl, blend mix together
2. Add:
1 stick butter melted (4 ounces, approximately 125 grams)
1 egg slightly beaten
1 tsp vanilla
3. Mix until completely blended
4. Shape into balls the size of walnuts place 2 inches apart on sprayed baking sheets
5. Bake at 350 degrees for 11 to 13 minutes until edges are lightly browned. Cool 5 minutes on baking sheet. remove cookies to racks to finish cooling. makes 3 dozen cookies.
---
An unbeatable value with exclusive benefits for members only.
Get a newsletter like this each week when you join the Cook'n Club.