Appetizing Appetizers
Last year I was invited to a pot luck holiday party with some old college friends. The hostess was planning to provide the main meal and ask that each of those invited bring an appetizer or a dessert. The night arrived and we all gathered at her perfectly decorated home. There were three tables set up.
One was filled with the meal the hostess has provided, one was overflowing with desserts, and one was all but empty, with just a bag of chips and a bowl of salsa sitting on it. Apparently all but one of us had brought dessert! I am fairly sure more than one of us had to be rolled out of there that evening after eating a delicious meal followed by more desserts than any human body should ever be asked to consume!
That night I decided that next time I have the option, I am going with the appetizer! These delicious appetizer ideas will help add something special to your next gathering.
---
Veggie Pinwheels
These vegetable wraps are easy for little hands to hold and yummy enough to please picky eaters.
Yield: 4-8 servings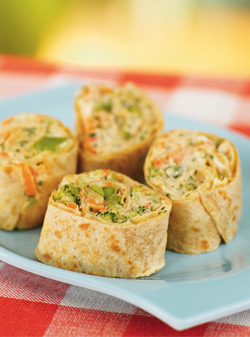 8 ounces regular or low-fat cream cheese, softened
1 tablespoon finely chopped fresh dill
1 tablespoon lemon juice
1/2 teaspoon paprika
1 garlic clove, minced
Salt and pepper to taste
1/2 cup grated carrot
1/2 cup finely chopped red bell pepper
1/2 cup tiny frozen peas, thawed
1 cup fresh broccoli, steamed, cooled, and chopped
6 (6- to 8-inch) white or whole wheat flour tortillas
1. In a bowl, blend together the cream cheese, dill, lemon juice, paprika, garlic, and salt and pepper using a rubber spatula. Gently fold in the vegetables.
2. Spread some of this mixture across each tortilla (1/4 cup for 6-inch tortillas, 1/2 cup for 8-inch), leaving roughly 1 inch bare at the top. Then, starting from the bottom, roll the tortillas up tightly (the filling will now spread right up to the bare edge).
3. If you're making these ahead, wrap each tortilla in plastic wrap and refrigerate. When you're ready to serve, slice each tortilla crosswise into as many pinwheels as you like.
---
Spinach Dip Bread Bowl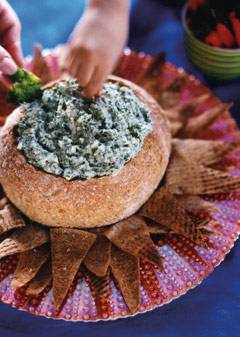 1 tablespoon olive oil
1 onion, chopped
1 1/2 teaspoons kosher salt
2 cloves garlic, minced
1 cup plain Greek 2 percent yogurt (if you can't get the Greek kind, then drain regular plain yogurt in a coffee-filter-lined sieve for a couple of hours so it gets nice and thick)
1/2 cup cottage cheese
1/2 cup mayonnaise
1 10-ounce box frozen spinach, thawed, drained, then squeezed dry by the handful
1 (8-ounce) can water chestnuts, coarsely chopped
Black pepper
Lemon
1 round loaf bakery wheat bread, the top sliced off and diced into 1-inch cubes, and the inside torn out and cut or pulled into pieces.
1. Heat oil in a wide frying pan over medium heat and saute onion with salt, stirring frequently, until it's very nicely browned, about 15 minutes. Add garlic right at the end, and saute, stirring, another minute before turning off the heat.
2. Meanwhile, in a food processor whir together yogurt, cottage cheese, and mayonnaise until smooth. Add the slightly cooled onion mixture and spinach, and whir until nearly smooth.
3. Scrape dip into a bowl, stir in water chestnuts, then season to taste with pepper, a squeeze or two of lemon juice, and more salt.
4. Scoop into the hollowed loaf or — good-bye germs! — individually hollowed-out rolls, and serve with raw veggies and the bread innards, or try pita chips or tortilla chips.
---
Red-Pepper Straws
1 shallot, finely chopped
2/3 cup(s) chopped marinated roasted red pepper
1 tablespoon(s) olive oil
1 1/3 cup(s) grated Parmigiano-Reggiano, plus more for sprinkling
2 sheets thawed frozen puff pastry
1. Preheat oven to 400 degrees F. Sauté shallot and roasted red pepper in olive oil, 4 to 5 minutes. Let cool. Stir in grated Parmigiano-Reggiano.
2. Roll 1 sheet puff pastry to 1/16-inch thickness. Trim to about a 16- by 8-inch rectangle. Spread red-pepper mixture over dough. Roll out the other sheet to same dimensions and place over first sheet. Press slightly to seal. Lightly brush with water and sprinkle with more grated cheese.
3. Cut dough into 24 eight-inch-long strips. Twist each strip and transfer to 2 parchment-lined baking pans. Chill for 20 minutes. Bake for 15 minutes. Makes 24 straws.
This year leave the desserts to everyone else and "wow" them with your appetizing appetizers!!!
---
---
An unbeatable value with exclusive benefits for members only.
Get a newsletter like this each week when you join the Cook'n Club.