Going Nuts!
Rich in energy, protein, packed with antioxidants, vitamins, minerals and the much discussed omega-3 fatty acids, a fistful of mixed-nuts is the perfect holiday snack. Raw or otherwise, nuts offer plenty of nutrition, are diet-friendly to the carb and calorie conscious, and full of crunchy, delectable flavor.
Each variety of nut has its own nutritional gifts to give and many tasty ways to be enjoyed so toss the cookies and go nuts this Christmas!
---
THE CASHEW: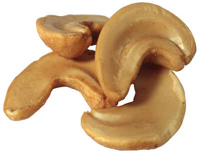 Mildly sweet and crunchy, delicious cashew nuts are loaded with soluble dietary fiber, vitamins, and minerals and packed with numerous health promoting phyto-chemicals; that help to protect against diseases and cancers.
You will never find raw or in-shell cashews in the supermarket because of the phenolic resin (a potent skin irritant toxin) contained in the outer shell but even roasted, salted, and sweetened, this nut is plenty nutritious and delicious.
Here is a tasty Christmas Cashew recipe:
---
Buttery Cashew Crunch
1 cup unsalted butter
1 1/4 cups white sugar
1/2 teaspoon salt
1 tablespoon light corn syrup
10 ounces cashews
Generously butter or grease a large baking sheet, and set aside.
In a saucepan over medium heat, combine the butter, sugar, salt and corn syrup. Cook, stirring until butter is melted. Stir in the cashews, and increase the heat to high. Heat to 300 to 310 degrees F (149 to 154 degrees C), or until a small amount of syrup dropped into cold water forms hard, brittle threads. Stir occasionally with a long handled wooden spoon so the cashews do not burn.
Pour onto a greased baking sheet, and allow to cool for about 10 minutes. Break into pieces, and store in an airtight container lined with waxed paper.
---
THE ALMOND: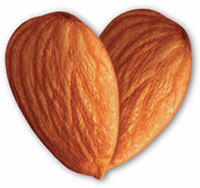 Among many other nutrients, almonds are full of vitamin E, containing about 170% of the recommended daily value. A handful of almonds a day will not only keep the munchies away (with excellent amounts of filling fiber and protein) but all that vitamin E will keep your skin smooth and healthy!
To receive the most nutritional value almonds have to offer, stay away from the processed and buy whole raw almonds in-shell or out.
Here is my absolute favorite almond recipe. I look forward to making these every Christmas!
---
Cinnamon-Roasted Almonds
1 egg white
1 teaspoon cold water
4 cups whole almonds
1/2 cup white sugar
1/4 teaspoon salt
1 teaspoon ground cinnamon
1/8 teaspoon ground cloves
Preheat oven to 250 degrees F (120 degrees C). Lightly grease a 10x15 inch jellyroll pan.
Lightly beat the egg white; add water, and beat until frothy but not stiff. Add the nuts, and stir until well coated. Mix the sugar, salt, and cinnamon, cloves, and sprinkle over the nuts. Toss to coat, and spread evenly on the prepared pan.
Bake for 1 hour in the preheated oven, stirring occasionally, until golden. Allow to cool, then store nuts in airtight containers.
Tip: bake these just before guests arrive to fill your house with deliciously spicy holiday scent.
---
THE PEANUT: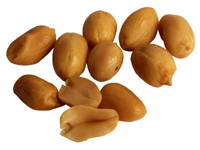 While actually a member of the legume family, the earthnut often gets lumped in the nut category due to its similar qualities. Among its many nutritional benefits, 100 g of peanuts provide about 85% of the recommended daily intake of niacin which contributes to brain health and blood flow to brain. Also,the polyphenol antioxidant contained in peanuts has been found to protect against cancers, heart-disease, Alzheimer's and many viral/fungal infections.
Although a handful a day of raw peanuts is the most beneficial way to consume them, there are many tasty peanut treats. Here is a party mix that is a family favorite:
---
Spicy Sweet Party Mix
1/4 cup butter
1/4 cup JIF® Creamy Peanut Butter or JIF® Creamy Peanut Butter & Honey
1 teaspoon vanilla extract
1 teaspoon ground cinnamon
4 cups honey and nut breakfast cereal
1 cup mixed nuts
1 cup mini pretzels
Cayenne pepper, to taste (optional)
Heat oven to 350 degrees F. Line rimmed baking sheet with foil.
Combine butter, peanut butter, vanilla and cinnamon in a microwave-safe bowl. Microwave on HIGH (100% power) 35 to 45 seconds, stirring until well blended.
Combine cereal, mixed nuts and pretzels in large bowl. Pour butter mixture over cereal mixture. Toss well to coat. Spread mixture evenly on foiled baking sheet.
Bake 10 to 12 minutes, stirring occasionally. Cool. Sprinkle lightly with cayenne pepper, if desired. Toss. Store in resealable food storage bag.
---
Raw, roasted, or sweetened, there are so many ways to go NUTS for the holidays. Wishing you and your family happiness and health!
---