Home Sweet

Gingerbread Home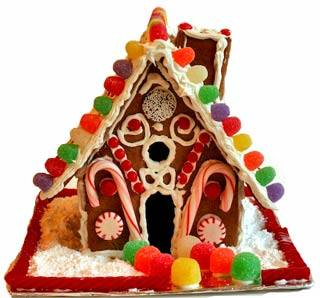 Gingerbread perfection is hard to come by, but with the right recipes and some patience you can have the perfect house for your perfect man!
---
Gingerbread House
Ingredients:
Sweets of your choice for the decorating
Gingerbread
6 Cups of Plain Flour
½ Teaspoon of Baking Powder
4 Teaspoons of Ground Ginger
4 Teaspoons of Ground Cinnamon
½ Teaspoon of Salt
½ Teaspoon of Allspice
2 Eggs
1 Cup of Dark Molasses
1 Tablespoon of Water
12 Tablespoons of Butter
1 and a ½ Cups of Light Brown Sugar
Icing
1 lb. sifted confectioner's sugar
3 Tablespoons Meringue powder
6-7 Tablespoons warm water
Directions for Icing:
Mix all ingredients in mixing bowl and using a heavy duty mixer beat 10 minutes on medium high speed.
You must keep this icing covered as it will start to harden.
How to Make the Gingerbread
1. Preheat oven to 170 degrees C
2. Whisk the dry ingredients together
3. Add in the butter and sugar and whisk until fluffy
4. Beat in the water, eggs and molasses
5. Beat in the flour bit by bit and knead once it's all in there
6. Add more flour if needed
7. Refrigerate the dough overnight
8. Measure out a front and back panel of the same size out of cardboard. These will need to have a point in the middle to create an apex with the 2 roof panels which are also the same size. Make 2 shorter sides of cardboard for the side panels.
9. Cut out these cardboard panels and lay them on top of the gingerbread dough. Cut out the various panels and lay on buttered parchment paper.
10. Place in the center of the oven making sure there is plenty of room all around your gingerbread pieces in case they spread.
11. Cook for about 6 minutes or until they brown around the edges and then remove small side panels
12. Cook for another 7-9 minutes and take out larger pieces when they start to brown around the edges
13. Lay the templates over the corresponding pieces and cut off any overhanging bits that have spread in the oven.
14. Peel off the parchment paper and leave to cool
15. You will want to make sure your gingerbread has time to harden before you start building. A cookie that is too fresh will lead to a crumbling house! Ideally cook the gingerbread at least a week ahead. Prepare your frosting when you are ready to assemble the house.
16. Arrange one of the short walls next to an apexed wall and stick edges together with icing. Stick other short wall on other side of apexed wall and bind with more icing then find the last remaining wall to the back. Leave to completely harden. It is critical that you leave it long enough to dry!
17. Once the walls are arranged and fixed, you can begin to construct the roof. For an added surprise, you could fill the house with various sweets before you stick the roof onto the mini construction. Put icing all along the top edges of the walls and arrange the two roof panels together and bind with icing. Leave to dry completely. If any pieces crack or break completely- don't worry as you can simply use the icing to bind back together. It will give the house an antique look!
18. Now for the fun part! It's time to decorate! Get your fudge and stick together with icing in a brickwork pattern. This will make your chimney and this can be laid against the back of the house. You could stick chocolate buttons onto the top of the construction in an overlapping style to create tiles. This looks particularly lovely with both milk and white chocolate buttons.
19. Finish decoration and place on a cake board. Cover the bottom of the board with more icing for a snowy affect and place fudge around the edge of the board to create a brick wall!
---
Extra Tips for Perfection
1. Make the gingerbread at least one week ahead.
One of the biggest mistakes people make when baking gingerbread is not letting it harden. If the gingerbread is too soft it won't hold up. Plan ahead and give it plenty of time to harden so you will have a sturdy house.
2. Let the icing dry completely.
If your icing is soft the walls and roof will slide around when you add candy and decorations. I have made this mistake and I can tell you that patience makes for a much prettier gingerbread house!
3. Make sure the house is square.
The pieces of gingerbread should be square to start with or your house will be crooked. You may choose to use a gingerbread house mold, taking care that all walls are an even thickness — about one fourth of an inch thick.
4. Make a Chocolate House if you don't like gingerbread.
Don't like the taste of gingerbread? Consider making a chocolate house instead. They take about half the time and are easier to assemble. Decorate it just like you would your gingerbread house.
5. Use an icing recipe with meringue powder.
Some recipes for icing call for egg white but they result in an icing that is not as firm or forgiving as one with meringue powder.
---
Sources:
http://EzineArticles.com/?expert=Katherine_Louise_James
and
www.chocolatebelles.com
---
An unbeatable value with exclusive benefits for members only.
Get a newsletter like this each week when you join the Cook'n Club.