Festive Holiday Brunches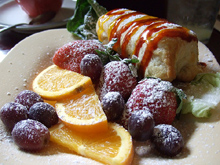 Brunches have become a big part of the holiday season, partly because we do more entertaining and partly because we have friends and family that visit from out of town. We often stay up late and sleep in the next morning. Brunch is served later than breakfast, but earlier than lunch.
Saturdays and Sundays are often good days for Brunches, many people have these days off and find a little more leisure time to visit and enjoy a meal together. Most recipes can be done the night before and cooked in the morning. Even if you do a lot of chores on Saturday, it is an opportunity to spend a little more time setting down together at the "brunch" table together.
Brunch is a great way to enjoy Christmas morning or to celebrate the New Year. When inviting friends to brunch to celebrate, often an invitation will be sent specifying that a light brunch will be served, but you can go all out and have a banquet. Here are some ideas to add to your brunch choices.
Cherry Latter Cake
½ cup of butter
½ cup sour cream
1 cup flour
1 can cherry pie filling
¼ cup sliced almonds
½ cup sifted powdered sugar
2 Teaspoons milk
In a large mixing bowl, beat butter on high speed. Add sour cream and beat the two ingredients until fluffy, mix in flour. Cover and refrigerate until dough is easy to handle (at least one hour). This dough could be made the night before.
Divide the dough in half. Roll each piece into a 10x8 inch rectangle on a greased cookie sheet. Spread half of the pie filling down the center third of the rectangle.
Sprinkle half of the chopped nuts over the pie filling. Make cuts 2½ inches deep at 1 inch intervals along both sides, folding strips over filling. Pinch into narrow points at the center and repeat with the remaining dough. Bake at 350 degrees for 30 minutes or until golden brown.
In a small mixing bowl stir together sifted powdered sugar and milk. Drizzle over the top and add remaining nuts.
---
Baked French Toast
10 slices thick bread
2 (8 ounce) packages cream cheese
1 dozen eggs
2 cups milk
½ Teaspoon cinnamon (optional)
Remove the crust from the bread, place ½ in a greased 9x13 inch glass pan. Cube the cream cheese into small piece and place them on top of bread cubes. Add remaining bread cubes. Combine eggs, milk, syrup, and cinnamon. Pour over top of cubed bread. Cover and refrigerate overnight. In the morning bake at 375 degrees for 45 minutes.
---
Christmas Cranberry Rolls
1 package refrigerator crescent dinner rolls
½ cup powdered sugar
¼ cup sweetened dried cranberries
1 Tablespoon orange juice
¼ cup finely chopped pecans or walnuts
2 Tablespoons brown sugar
Preheat oven to 350 degrees. Line a cookie sheet with parchment paper. Unroll the crescent dough to form a 12x7 inch rectangle; firmly press perforations to seal.
Sprinkle the dough with cranberries, brown sugar and nuts. Roll up starting at long side; pinch edges to seal. Cut into 12 pieces. Press slightly to form a round shape.
Place 2 inches apart on cookie sheet. Bake 12 – 15 minutes or until golden brown.
Mix powdered sugar and juice in a small bowl. Drizzle over warm rolls.
---
Lemon Pecan Sticky Rolls
½ cup white sugar
½ cup brown sugar
¼ cup butter
¼ cup lemon juice
½ Teaspoon cinnamon
½ cup finely chopped pecans
2 (8ounce) packages of refrigerator crescent rolls
Preheat oven to 350 degrees. In a small pan, combine sugars, butter, lemon juice and cinnamon. Bring to a boil for 1 minute. Reserve ¼ cup of this mixture for later in recipe. Pour ingredients into a 9 inch round cake pan. Sprinkle with nuts. Separate rolls into 8 rectangles; spread with reserved lemon mixture. Roll up like you would a jelly roll, beginning with short sides; seal edges. Cut in half. Place rolls, cut side down in pan. Bake at 350 degrees for 30 minutes or until golden brown. Loosen sides and immediately turn onto serving plate. Let stand upside down for 5 minutes and remove from pan. Serve warm.
---
Festive Streusel Brunch Cake
Cake:
2 cups pancake mix
½ cup sugar
8 ounce carton of sour cream
1 egg beaten
¾ cup milk
¾ cup chopped cranberries
1 cup chopped apple
Streusel:
½ cup chopped walnuts
¼ cup brown sugar
½ Teaspoon cinnamon
2 Tablespoons melted butter
Glaze:
1 cup powdered sugar
1½ Tablespoon milk
1 Teaspoon vanilla
Pre-heat oven to 350 degrees. Grease a 9x13 inch pan. Combine the pancake mix and sugar. Add sour cream, milk and egg; mix just until dry ingredients are moist. Spread into pan; top with cranberries and apple. Mix streusel in a bowl until crumbly and sprinkle over the top. Bake 30 – 35 minutes or until tooth pick comes out clean. Combine glaze and drizzle over warm cake.
---
Quiche Florentine
1 pie crust for 9 inch pie
1 cups shredded cheddar cheese
1 cup shredded mozzarella cheese
1/3 cup grated parmesan cheese
3 beaten eggs
¼ Teaspoon white pepper
¾ cup milk
¼ cup cooked crumbled bacon
1 (10 ounce) package frozen, chopped thawed and drained spinach
Prepare pie crust in 9 inch pan. In a large bowl, combine all ingredients and mix well. Pour into pie crust. Bake at 350 degrees for 30 – 35 minutes, or until inserted knife comes out clean. Let stand 10 minutes before serving.
---
---
An unbeatable value with exclusive benefits for members only.
Get a newsletter like this each week when you join the Cook'n Club.