Summer Chopped Salad with Ranch Dressing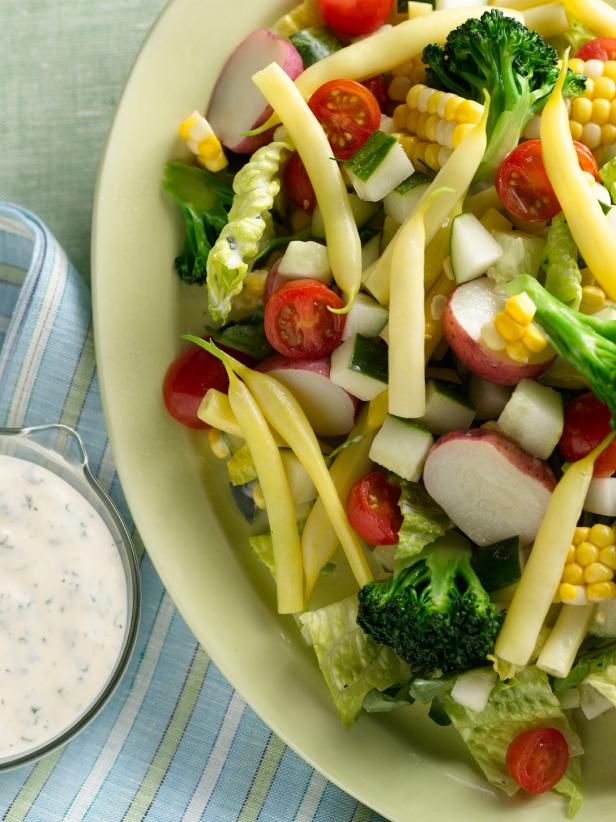 Serves:
4
Forget bottles and jars. Our homemade 1-2-3 ranch dressing turns this American classic into the real deal.
Use crispy, fresh farmers' market finds for this classic American salad. Immersing vegetables in boiling salted water and plunging them into ice water (called "blanching" or "refreshing") is the key to keeping this salad crunchy and bright.

Dovetailing Tip: Use the additional cup of corn you cooked on day 4 for todays Salad.
Prep Time:
Cook Time:
Total Time:
Ingredients:
8

ounces

small red-skinned

potatoes

, halved

kosher

salt

1

cup

fresh

corn kernels (from 2 ears of corn)

1

cup

chopped fresh green or wax

beans

1

cup

small

broccoli florets

1

cup

cherry

tomato

, halved

1

kirby

cucumber with peel, chopped

ranch dressing, recipe follows

freshly ground

black pepper

4

cups

torn mixed greens, such as arugula, romaine, and

watercress

1

cup

sprouts, such as alfalfa, broccoli,

radish , or pea, optional

1

clove

garlic

1/2

teaspoon

kosher

salt

1

cup

mayonnaise

1/3

cup

buttermilk

2

tablespoons

minced fresh flat-leaf

parsley

2

tablespoons

minced fresh

chives

1

scallion (white and green parts), thinly sliced

1

teaspoon

white wine

vinegar

freshly ground

black pepper
Directions:
Salad:

Put the potatoes in a small saucepan with enough cold water to cover and season with salt. Bring to a boil and then simmer, uncovered, until just tender, about 5 minutes. Drain and put in a large bowl.

Bring a medium pot of water to a boil and salt it generously. Fill a medium bowl with ice water and salt it as well. Add the corn, beans, and broccoli to the boiling water and cook until crisp-tender, about 2 minutes. Use a slotted spoon or strainer to scoop out the vegetables and plunge them immediately into the ice water. Drain the vegetables, pat them dry, and add to the bowl of potatoes along with the tomatoes and cucumber. Toss the salad with 1/2 cup of the dressing. Taste, and add more salt and pepper, if desired. (The salad may be prepared up to this point 2 hours ahead and refrigerated.)

When ready to serve, toss the salad with the greens and the sprouts, if desired, and with a bit more dressing if you like your salad on the well-dressed side. Pass the remaining dressing at the table.

Know-How: Immersing vegetables in boiling salted water and then plunging them into ice water is called blanching and refreshing. Having the water at a full rolling boil before adding the vegetables, as well as cooking uncovered, is the key to keeping green vegetables vibrant.

Ranch Dressing:

Smash the garlic clove, sprinkle with the salt, and, with the side of a large knife, mash and smear the mixture to a coarse paste. Scrape the paste into a small bowl, add the remaining ingredients, and whisk well to make a creamy dressing. Use immediately or refrigerate in a tightly sealed container for up to 3 days.

Source: foodnetwork.com