Take Your Ice Cream Cone To The Next Level
Summer is practically around the corner, and that means lots of ice cream! My kids love ice cream cones- and so do I because it means no dishes! Plus, they're just so much fun! While you can definitely buy a variety of cones from the grocery store, there are some fun ways to spruce up your cones on your own. You can even have your kids help and make it a fun summer day activity- with a cool treat to enjoy afterwards! ;)
*Dip cones in chocolate! You could just melt chocolate chips, but it could also be fun to try different colors! Use red and blue candy melts on the 4th of July, or bright orange candy melts for any bright summer day!
*Add sprinkles! What kid doesn't love sprinkles!? After dipping your cones in chocolate or candy melt, roll it in a variety of sprinkles to really make it pop! Little colored sugar crystals would look beautiful, or just the classic rainbow colored sprinkles would be a huge hit!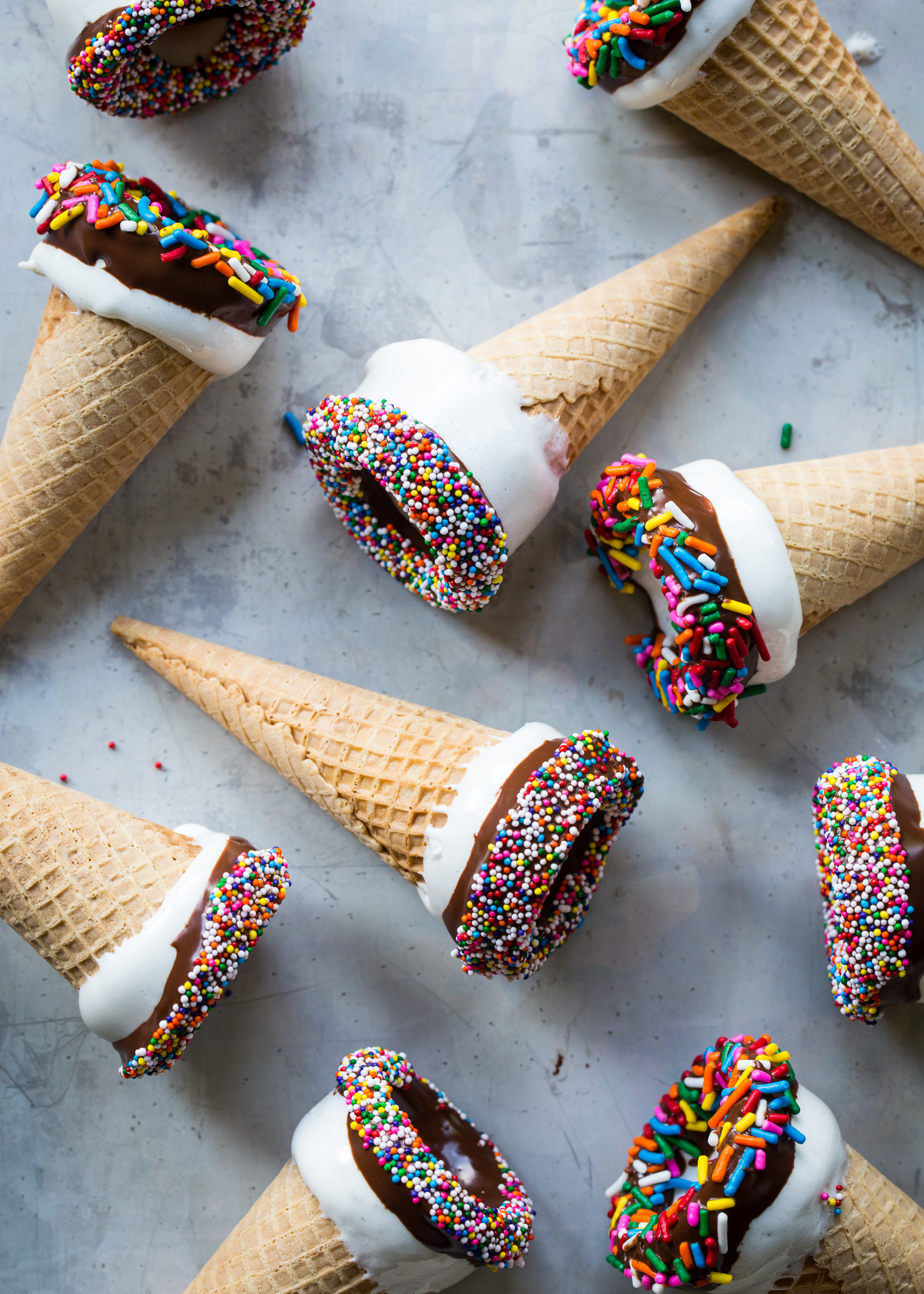 *Dip in marshmallow. As if chocolate and sprinkles weren't enough! These look heavenly. Dip the cone into melted marshmallow, and once they are firm and cooled dip them in melted chocolate. So beautiful!
*Pour melted chocolate at the bottom of the cone. This does 2 things: first, it makes those last couple bites of ice cream cone absolutely heavenly! Second, it minimizes messes because the ice cream can't slip through the soggy bottom of the cone!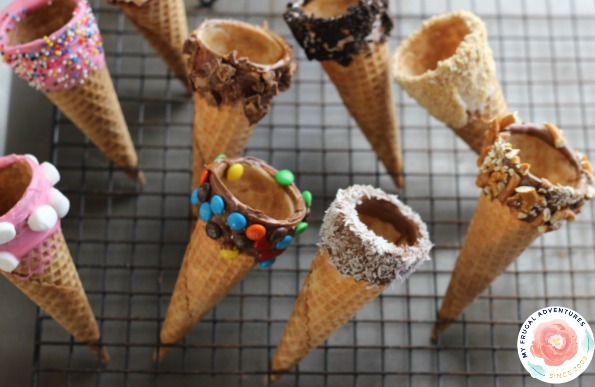 *Roll your cones in all kinds of crushed goodness! Sprinkles is obvious, but experiment with all kinds of fun things! Crushed pretzels, Oreos, sprinkled animal cookies, graham crackers, even potato chips!
*Add a maraschino cherry. These are so tasty on their own- why not add some to the ice cream? And kids will think their cone looks so fancy with a cherry on top! It's the ultimate luxury, right? ;)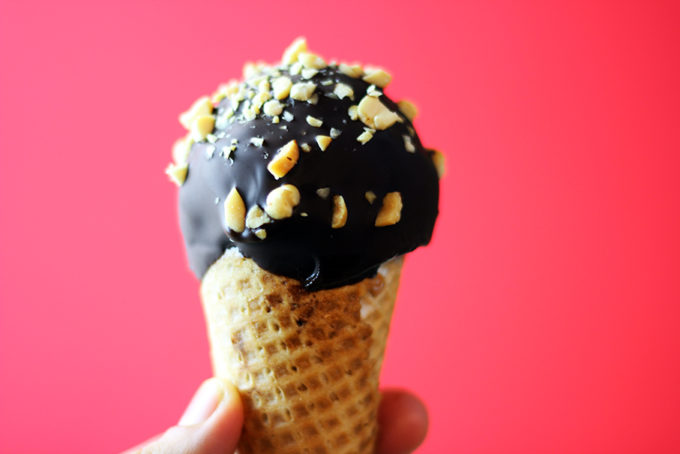 *Dip your ice cream in magic shell! Once you've put a nicely rounded scoop of ice cream on top of your cone, gently dip it in a bowl of magic shell- once it's dried you'll have chocolate covered ice cream!
*Add peanut butter! A great way to sneak in a little protein ;). You can put a little at the bottom of the cone and cover the rim as well! You could sprinkle it with toasted coconut, chocolate chips or even breakfast cereal for some added deliciousness!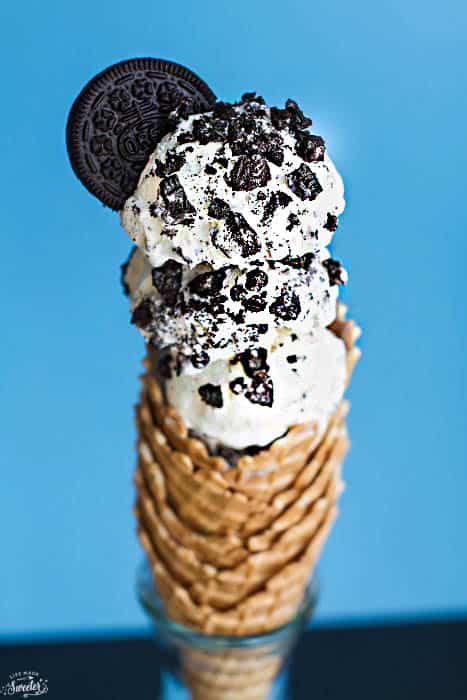 *Stack desserts! If you're really looking for a way to celebrate a special occasion, top off your ice cream cone with another dessert! A small slice of sheet cake, a cookie, a brownie square- any of these would be so much fun!
*Go crazy with Nutella! We all know a Nutella-lover ;). Instead of regular chocolate, coat the top half of the cone with Nutella! You can also place a little blob of Nutella at the bottom of the cone to make that last bite extra special!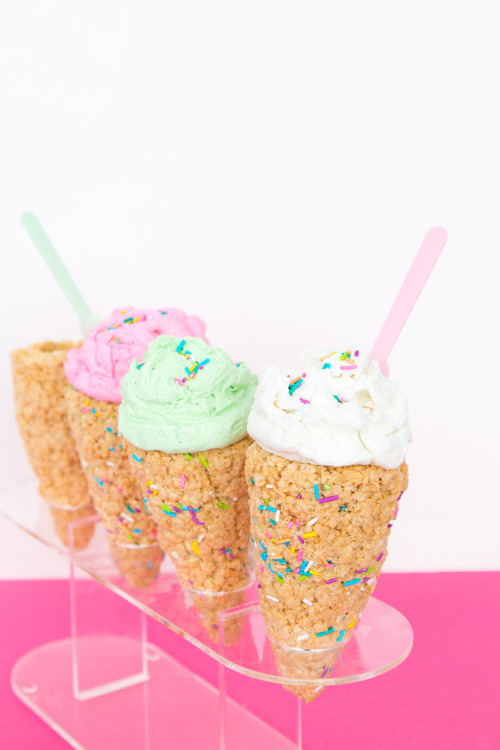 *Use a different cone medium. You could totally change up the cone all together and make them out of rice krispie treats! You could add a whole variety of sprinkles or little sweets to the krispie treats to make each cone really stand out! After that, try branching out and experiment with cookies, churros, doughnuts- whatever you can make and roll up like a cone!
Which of these has your mouth watering?
Sources:
http://sweetoothgirl.tumblr.com/post/170598986667/rice-krispie-treat-ice-cream-cones
http://myfrugaladventures.com/2016/03/spring-garden-ice-cream-party/
https://jellytoastblog.com/marshmallow-dipped-ice-cream-cones/
https://dinnerthendessert.com/drumstick-ice-cream-cones-copycat/
https://lifemadesweeter.com/no-churn-cookies-and-cream-ice-cream/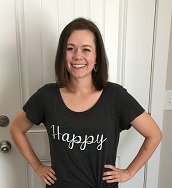 Camille Hoffmann
Weekly Newsletter Contributor since 2014
Email the author! camille@dvo.com