NO MORE Apple Confusion!
As a girl who grew up in Washington state and almost daily ate a Red Delicious apple for school lunch, I marvel at all the different apple choices we have now. In fact, there are more than 100 varieties grown commercially in the United States today. No wonder we can get confused when apple shopping.
My confusion, first, is based on taste. Is there really much difference in taste amongst all these different apples? And second, purposes. Do all these apples have any specific, special uses? I mean, we know a Granny Smith is the top pick for pie making, but are any of these other newer varieties suitable for pies (or applesauce, or apple butter, or…) as well?
I wanted to know. So I went to what might be the definitive source of apple information, the United States Apple Association (www.usapple.org). Their site gives not just a concise explanation of the 18 most popular varieties, they also share recipes for each variety. I'm passing this information on in case, like me, you get a little apple-confused, too.
At the conclusion of this terrific apple almanac you'll find US Apple Association's scrumptious and unusual apple dip recipe (that uses only 5 ingredients!).
MCINTOSH: This was discovered as a chance seedling by John McIntosh in 1811. It's juicy and tangy, and has a tender, white flesh. It's best as a snack and applesauce, but its tart flavor works in pies, too. It's typically available from September through May. Cook's hints: McIntosh cooks down easily; if pie making, cut slices thick or add a thickener.
FUJI: Developed in Japan in the 1930s and named after the famous Mt. Fuji, it's sweet flavor and firmness make it very popular. Available year-round (beginning in September), these are bi-colored, typically striped with yellow and red.
RED DELICIOUS: The most widely recognized of all U.S. apple varieties originated in Iowa in the 1870s. It's sweet, crispy, juicy and varies in color from striped red to solid midnight red. This apple is best eaten fresh or in salads.
GALA: From New Zealand, it was named in honor of Queen Elizabeth II, who deemed it her favorite during a visit to New Zealand. It appeared in the United States in the 1970s and is one of our most popular apples. Because it's crisp, juicy, and very sweet, it's ideal for snacking. Available year-round, Galas vary in color, from cream to red- and yellow-striped.
CRISPIN: Originally named Mutsu (reflecting its Japanese heritage), it was renamed Crispin in the 1960s and has been gaining fans ever since. Available year-round, they're sweet and super crisp, and are excellent for eating, baking (especially pies), freezing, cooking into sauce, or in salads.
BRAEBURN: Another New Zealand apple, this was a chance seedling, in the 1950s. Now grown in the United States, Braeburn is good for all apple uses. Its color varies from orange to red over a yellow background. Crisp, juicy apple, with a rich, spicy-sweet flavor, it's available October through July.
HONEYCRISP: This honey has a honeyed, mild flavor and a crispness deemed explosive. Juicy and sweet, with coarse flesh it's perfect for snacking, salads and sauce-making and stores well. Developed by the University of Minnesota, it's available starting in September.
JONAGOLD: A blend of Jonathan and Golden Delicious apples, it offers a honey-tart flavor and crispy, juicy, nearly yellow flesh. It debuted in 1968, a product of the New York State Agricultural Experiment Station. With yellow-green skin color and a red-orange blush, it's excellent for eating fresh and cooking. It's available October through July.
GRANNY SMITH: Discovered in Australia in 1868 as a chance seedling by "Granny" Anne Smith of Ryde, New South Wales, it's known for its distinctive green flesh and tartness. An all-purpose apple, Grannies are best in pies and sauce. Available year-round, U.S. harvest begins in August.
EMPIRE: Named after the Empire State of New York, they premiered in 1966. A cross between Red Delicious and McIntosh, they're crisp and juicy with a sweet-tart flavor and creamy white flesh. They're a good all-purpose apple and are available between September and July.
GOLDEN DELICIOUS: With an occasional pink blush, this is "Apple Lite" – loved by those who prefer a mild, sweet flavor. NO tartness; just a buttery, honey taste that works in baking if it's paired with tarter apples. It's available year-round.
CAMEO: Discovered as a chance seedling in a Washington State Red Delicious orchard about 30 years ago, it has bright red stripes on an orange background. Its flavor is brighter and more lemony than the Red Delicious. Available late fall through early spring, it is firm, sweet and a favorite for snacking.
JAZZ: Like its namesake music, Jazz is mellow with a bit of everything working together perfectly. Medium sized and scarlet red, with yellow-green patches, it's sweet and firm. Smells delicious and is refreshingly juicy – great for snacking and baking. Available year-round.
MACOUN: Great for snacking, and sweet enough for making apple cider and even applesauce. Dark red with a purple flush, tender and tart – with tough skin that gives way to a crunchy, white, juicy flesh. Available in the fall.
AMBROSIA: In Greek mythology, "Ambrosia" refers to "food or drink for the Gods." True to the reference, it has a tender-sweet, heavenly taste. With a smooth yellow-pink skin, floral aroma, and slight honey flavor, it's perfect for snacks, salads, and baking. Available fall through winter.
PAULA RED: With a red blush over a yellow-green background, they're a combination of sweet and tart that's ideal for snacking and applesauce. It's one of the earliest apples to arrive during harvest season (as early as August).
CRIPPS PINK: From Western Australia, it's reminiscent of a Golden Delicious. Available November to August, you'll usually find them under the name "Pink Lady."
CORTLAND: It was developed over 120 years ago by New York State horticulturists. It's tart, tender apple and browns slower than most when sliced, so it's a "smart" choice for serving as a snack or in a salad. It's mainly available in the East and Midwest in the fall through early winter.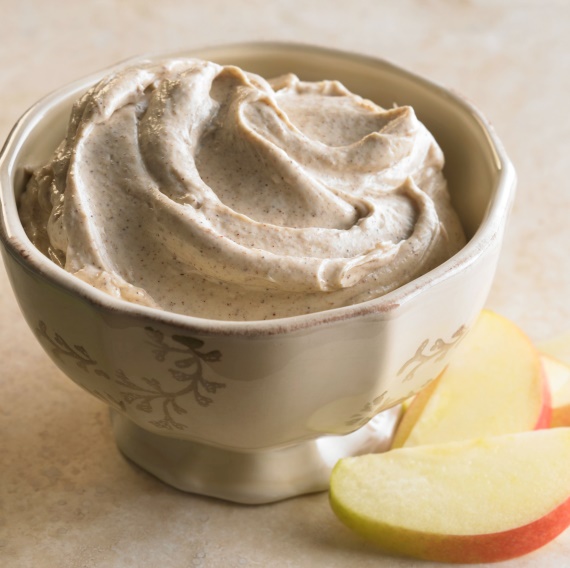 CINNAMON AND HONEY APPLE DIP
1 (8-ounce) package cream cheese, softened
3 tablespoons raw honey
1 teaspoon ground cinnamon
1 teaspoon freshly grated ginger
1 cup chopped pecans or walnuts
Apples, sliced (or other cut fruits) for serving
Graham crackers for serving
In medium mixer bowl, place all dip ingredients.

On high speed, mix dip until smooth and creamy (60 to 90 seconds).

Serve with assorted apple slices, pecans and favorite crackers.
Add Recipe to Cook'n

Alice Osborne
Weekly Newsletter Contributor since 2006
Email the author! alice@dvo.com