Soba Noodles with Salmon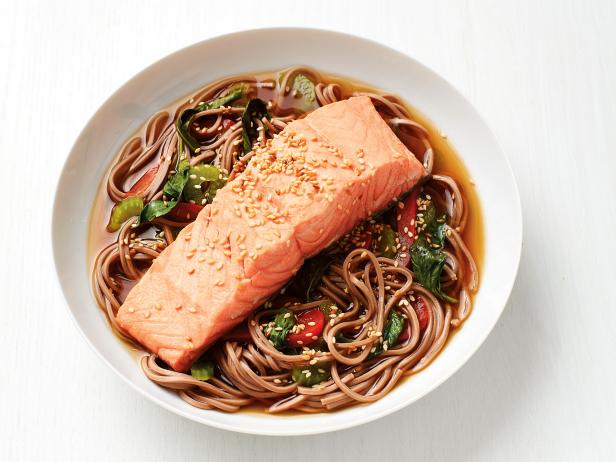 Serves:
4
When you want an easy dinner that tastes like it came from your favorite Japanese restaurant, look no further than quick-cooking salmon. Sauteed in a mirin-based sauce with bell peppers, the fish is ready for its noodle bed in minutes.

Dovetailing Tips: Set aside 1 1/4 pound salmon fillet to be used in Salmon-Apple Burgers on day 5.
Prep Time:
Cook Time:
Total Time:
Ingredients:
8

ounces

soba

noodles

3

cups

mushroom broth

1/4

cup

mirin or

white wine

2

tablespoons

low-sodium

soy sauce

2

teaspoons

fish

sauce

1 1/4

pound

center-cut wild

salmon fillet (1 inch thick), cut into 4 pieces

kosher salt and freshly ground

pepper

1

red bell

pepper

, thinly sliced

2

stalks

celery , thinly sliced

1/2

cup

fresh

basil

1

teaspoon

toasted

sesame seeds
Directions:
Bring a large pot of water to a boil. Add the noodles and cook as the label directs. Drain and rinse well under cold water; set aside.

Meanwhile, combine the mushroom broth, mirin, soy sauce and fish sauce in a medium skillet. Bring to a boil, then reduce the heat to a bare simmer. Season the salmon with salt and pepper and add to the skillet along with the bell pepper and celery. Cover and cook, carefully flipping once, until the salmon is cooked through and flakes at the touch, 21/2 to 3 minutes per side. Remove the salmon using a slotted spoon or fish spatula; discard the skin.

Return the broth mixture to a boil, then remove from the heat. Season with salt. Divide the noodles and basil among bowls. Ladle vegetables and broth into each bowl, top with the salmon and sprinkle with the sesame seeds.


Source: foodnetwork.com