Strawberry Treats and Tips You Need to Try
While I may not love the heat of summer, I am definitely a fan of strawberry season!! Strawberries are just the perfect fruit- you can eat them without cutting them or peeling them, they make a beautiful addition to any dish, and they can pass as a fruit or a dessert! What more could you ask for ? ;)
Here are some fun ideas you can try with strawberries- whether you need ideas for prep or for eating;).
*Slice your strawberries with an egg slicer. Probably way faster and easier than using a knife, and you can get beautiful equal slices!
*Try roasting strawberries. If you read my campfire desserts article, perhaps you've already tried dipping them in marshmallow crème before roasting them over the fire- deliciousness!!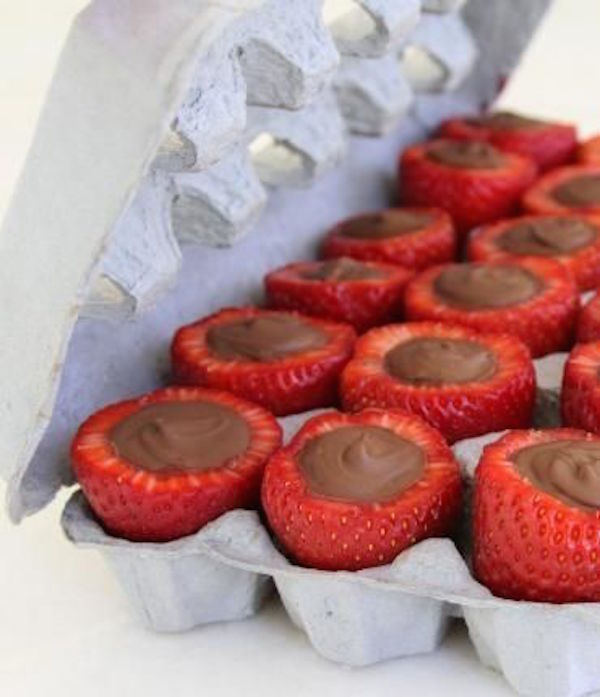 *I've seen this with raspberries, but this has to be amazing with strawberries! Beautiful and delicious- perfect for any BBQ;). You could also try a chocolate mousse or pudding for a different texture- this definitely sounds like something I will be trying;).
*I saw an idea for strawberries filled with Jello shots- I don't drink alcohol, but I don't see anything wrong with just filling the strawberries with Jello;). You could have a lot of fun varying the colors of Jello and topping it with different colored fruits.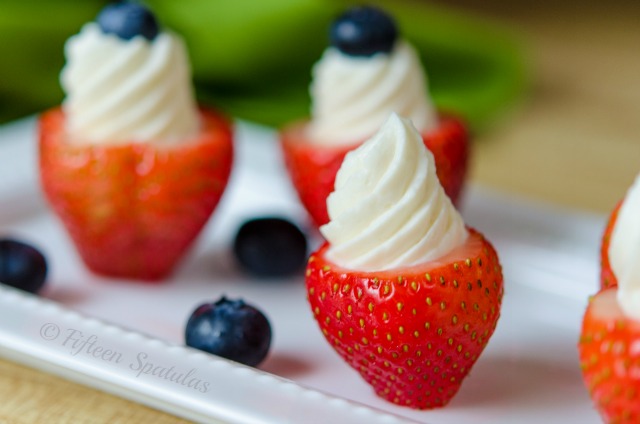 *And while we're talking about stuffing strawberries, why not try a cheesecake filling? You could top it with a blueberry, graham cracker stick, or sprinkle it with crushed graham crackers or Oreos. I'm pretty sure strawberries and cheesecake just go together;). May as well dip it in chocolate too ;).
*To make your strawberries last longer, rinse them in a vinegar and water solution. They won't get moldy nearly as fast and you'll be able to have more time to enjoy them (if they last longer than a day at your house;) ).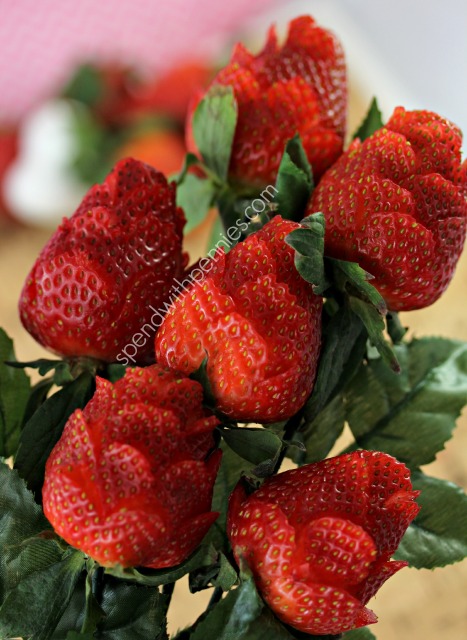 *For a truly unique and beautiful presentation you could make these strawberry roses. With a knife, gently cut close to the skin of the strawberry, being careful not to cut all the way through. Use the knife to carefully bend the top of the slice outward, so that it curls slightly. Continue all the way around the strawberry, moving from the stem to the bottom. I can't get over how darling these are!
*Dip them in sour cream and brown sugar. Sounds like a weird combination, but it's quite addictive, I promise:).
*For a cool treat and unique twist, dip your strawberries in yogurt and freeze them- cold and tasty! This is another treat you could experiment with by trying different flavors of yogurt. What a great way to cool down!
*Freeze your strawberries on a cookie sheet lined with parchment paper (after washing them of course!). Once they are frozen, throw them in a Ziploc bag and store them in the freezer for a couple months. You'll have strawberries on hand for smoothies, oatmeal, desserts, lemonades, or anything your strawberry-lovin' heart desires.
And of course, you can always toss them in a salad, on top of cookies, brownies, cakes, throw them in some lemonade, or just enjoy them plain;). What is your favorite way to eat strawberries, and do you have any cool recipes or hacks you would add here? Share below!
Sources:
www.spendwithpennies.com/how-to-make-strawberry-roses
www.smartschoolhouse.com/easy-recipe/strawberry-hacks/17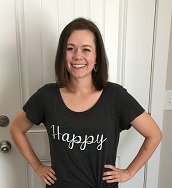 Camille Hoffmann
Weekly Newsletter Contributor since 2014
Email the author! camille@dvo.com