Tasty Ways to Enjoy Blueberries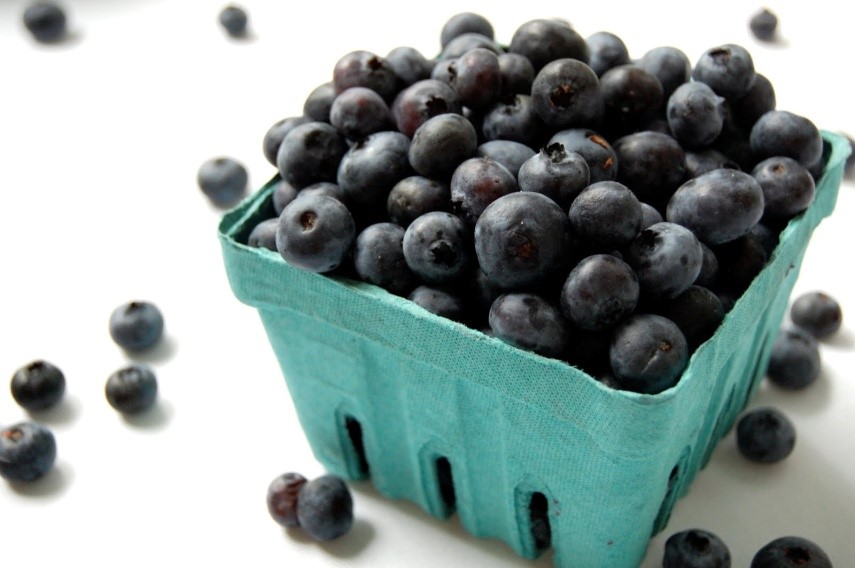 Since July is National Blueberry Month, let's talk about this super food. Blueberries rank as one of the best cancer-fighting foods available, due to their high concentration of antioxidants. They're high in vitamin C, dietary fiber, manganese, and low in calories (1 cup has less than 100 calories).
One issue to consider, however, is that they are among the most pesticide contaminated fruits we eat, so buy organic and make sure you rinse them thoroughly under cold running water before you eat them.
With all this said, now let's look at some TASTY ways to enjoy blueberries. Ways besides freezing them and eating them like candy. And ways besides adding them to muffins or building a pie around them, I mean. For instance, take a look at how you can work blueberries into almost every meal during blueberry season: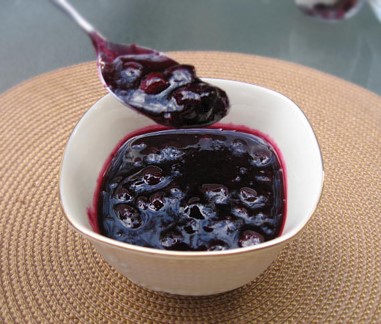 Start with SYRUP
(for pancakes, waffles, vanilla ice cream, etc.)
:
Combine 5 cups of blueberries with one cup of water. Mash the blueberries up and bring the mixture to a boil. Simmer for 15 minutes or so. While you can pour the simmered mixture through a sieve to strain out the solids, it's health-smart to keep the bits of skin that are left for the fiber they add. (If you do strain them out, save them and stir them into yogurt or a smoothie.) Professional chefs recommend including a few tablespoons of fresh lemon juice to add a flavor spike. Use the syrup immediately, or refrigerate for up to 6 months.
Then there's SMOOTHIES: My favorite method uses non-fat Greek, a few ice cubes, and at least 2 cups of blueberries. The addition of some raw honey sweetens the deal, but that's very optional.
And remember BREAKFAST: Whether it's cold cereal, hot oatmeal, pancakes or French toast, consider adding blueberries. If adding them to pancake batter, pour the batter into the skillet first, sprinkle on the blueberries, then drizzle a little more batter over the berries to coat so you can flip the pancakes without burning the berries.
Of course, they dazzle in FRUIT SALAD:
Fresh blueberries are a beautiful complement to strawberries, watermelon, red or green grapes, and nectarines. Garnish with mint leaves and serve with dollops of frozen vanilla yogurt or gelato. This berry salad is also a perfect foil for lemon sorbet. This is so good it can be considered dessert!
And they sparkle in LETTUCE SALADS, also: Folks are using lots of dried cranberries in lettuce salads, so why not substituting blueberries for the cranberries? Just about any combination of ingredients work well. I omit the tomatoes and along with the blueberries I add goat cheese. Delicious!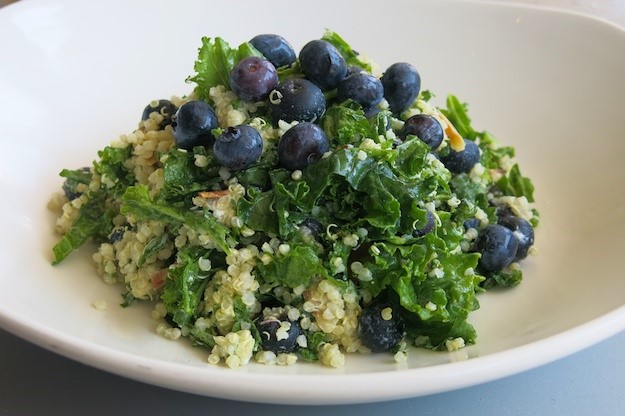 Then there's BLUEBERRY KALE QUINOA SALAD
(another suggestion from Care2)
:
It's perfect for summer because it's quick to make and delicious served cold. Cook quinoa according to package directions. Combine 2 cups of cooked quinoa (couscous works as well) with a cup of shredded kale, 3 tablespoons of fresh lemon juice, and 2-3 tablespoons of olive oil. Add freshly ground black pepper and sea salt to taste. Mix well until the quinoa and kale shine with the lemon juice and olive oil. Gently stir in one cup blueberries. Just before serving, toss in 3/4 cup crumbled feta cheese. Toast 1/2 cup sliced almonds and sprinkle on top.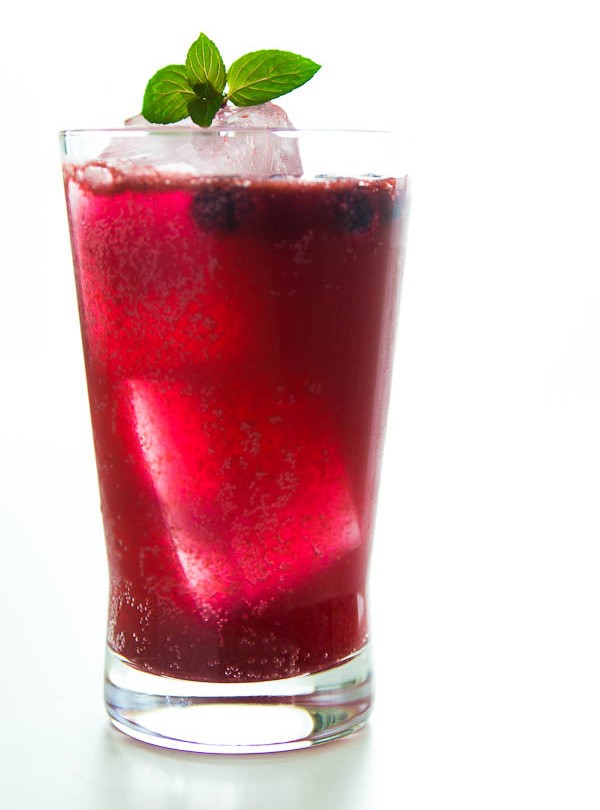 How about LEMONADE?
Blueberry lemonade, that is. Just make blueberry syrup (mentioned above), strain to remove the solids, and add to your traditional lemonade. For one glass of lemonade, squeeze the juice of two lemons. Add the juice to a 12-oz glass. Fill 3/4 full with cold water. Add 2-3 tablespoons of blueberry syrup (or to taste), stir, and add ice.
Why not try them in SCONES? Any scone recipe will work well, just substitute the blueberries for raisins or dried cranberries. I toss the blueberries in and a scant amount of flour before mixing them in the batter to prevent them from sinking. Fold the batter carefully so as not to mash or bruise the berries and cause them to "bleed" into the dough.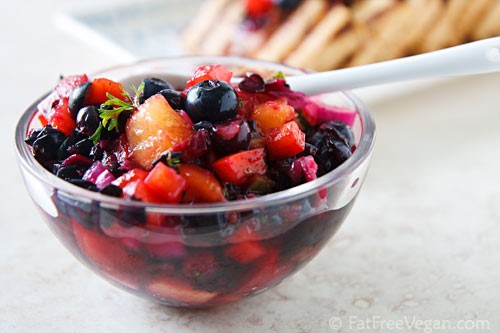 And BLUEBERRY-PEACH SALSA is superb: (
This suggestion is courtesy of one of my favorite sites, Care2.) Coarsely chop 3/4 cup fresh blueberries and toss with 3/4 cup whole blueberries, plus the juice and zest of one lime, no more than 1/4 cup finely diced red onion (add bit by bit until you get the taste just right), 1 tablespoon olive oil, 1 whole peach that's been peeled and chopped, and some chopped fresh basil and chives. You can add a little heat with hot pepper jelly or some squirts of hot sauce (taste as you mix). This is delicious on grilled snapper or other white fish, as well as grilled chicken or pork.
Finally, don't forget CREAM CHEESE desserts: Whether it's cheesecake bars or cream cheese pies or just cheesecake, adding fresh blueberries contributes gorgeous color and flavor that sets the dessert apart.
Sources:
www.truthinablog.organika.ca
www.dishmaps.com
www.johnstonhealth.org
www.kosherlikeme.com
www.pbs.org
www.blog.fatfreevegan.com

Alice Osborne
Weekly Newsletter Contributor since 2006
Email the author! alice@dvo.com