8 Must-Haves For Your Star Wars Party
Maybe I am the crazy one but I guess I didn't realize that Star Wars is like the BIGGEST. THING. EVER!!! My goodness, I had NO idea it would take over the world and anything and everything would be Star Wars related. I mean, I like Darth Vader and Chewbaca like the next person, but holy cow, I didn't realize how big of a deal this would be and the movie has not even come out yet!
Last night my little family drove around to look at Christmas lights and there was the most phenomenal area that was at least a square mile where almost every house was decked out to the nines with Christmas lights and nativities. (This is called in Hastings Ranch in Pasadena, California for anyone who lives in the area. You have GOT to check this place out!) Anyway, I saw so many different cute Star Wars blow ups for Christmas decorations and they were really cute/cool! Like I said, the stuff is EVERYWHERE! For good reason. Star Wars really is an epic set of movies and as far as I understand they were so ahead of their time when those first ones came out so I cannot believe how out of this world these new ones will be with the advancements in movie technology we have now.
I foresee many, many Star Wars parties whether you are having a marathon movie party catching up on all the classics with family or friends, or heck, this new generation seems to love it just as much as we all do so I wouldn't be surprised if some of your kids or grandkids want to have a Star Wars birthday party. Here are 8 ridiculously cute/cool ideas for an amazing Star Wars party!
1. Star Wars Party Cake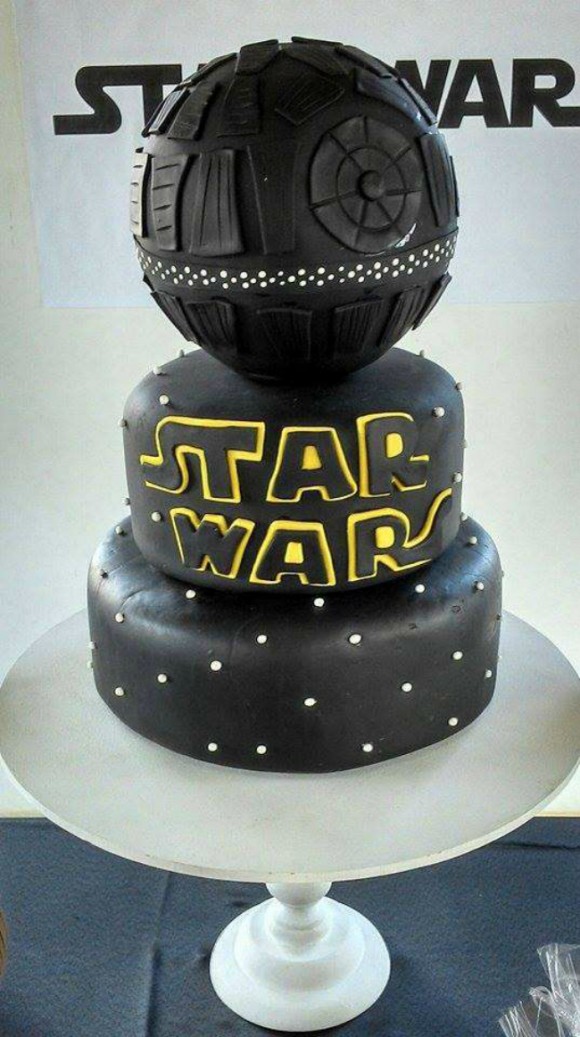 A fantastic cake is a great way to set the stage for your Star Wars party! Yours doesn't have to be this elaborate, of course, but this one has to be shown off!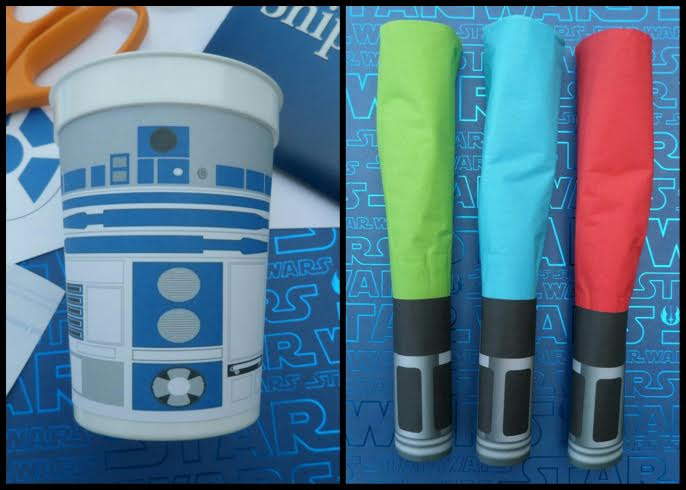 2. R2D2 Cups
I cannot get over how stinking cute these R2D2 cups are! There is a link where you can get the free printable to make these at the bottom of this article in the sources.
3. Lightsaber Napkin Wraps
These lightsaber napkin wraps are perfect for your Star Wars party. Simply print off the free printable (link also at the bottom) and pair them with different colored napkins and you are good to go!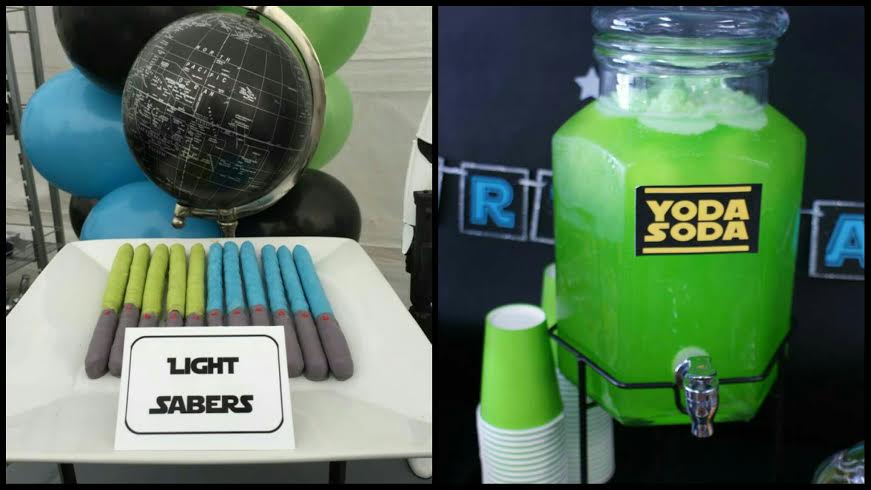 4. Yoda Soda
Any green soft drink like Mountain Dew will work well as this yummy Yoda Soda!
5. Light Saber Pretzels
How cute are those pretzel rod light sabers? Transform candy dipped pretzel rods into light sabers using candy melts.
6. Han Solo Jello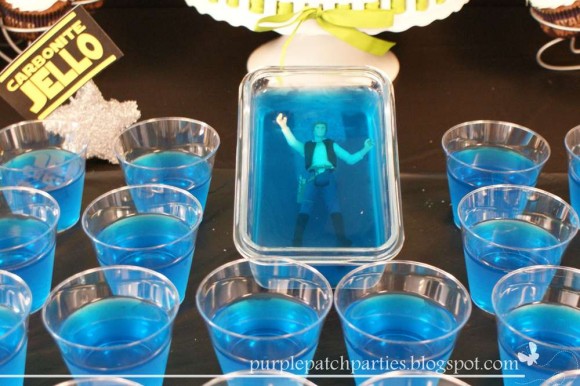 You can encase a cute little Han Solo figurine in Jello for a fun themed party treat!
7. Tie Fighter Treats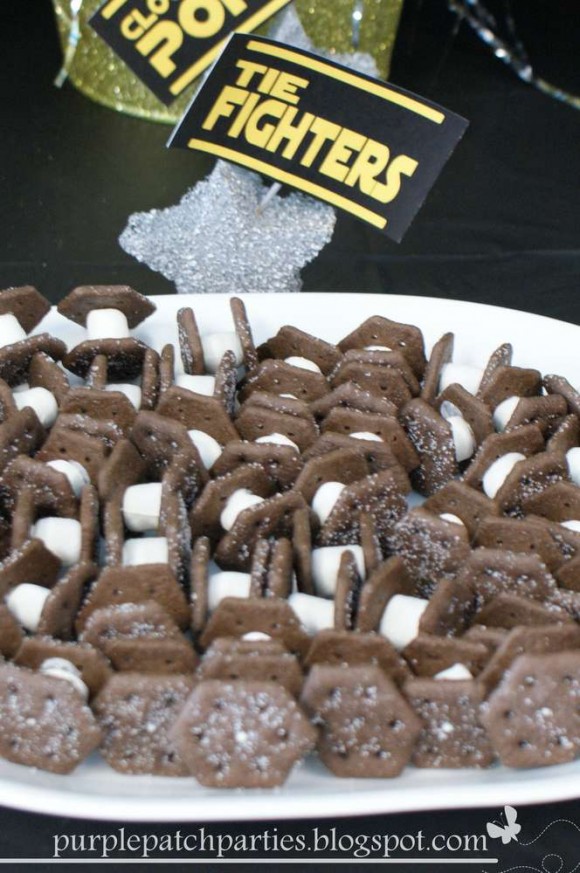 You can make these tiny TIE fighter sweets with two cookies and a mini marshmallow and some melted white chocolate for glue.
8. DIY Hutt Dogs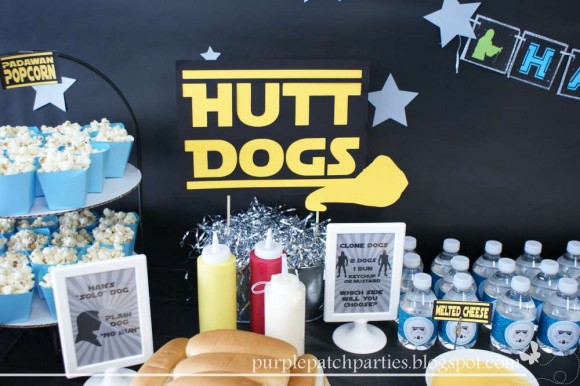 DIY bars are always great at party so how about a DIY Hutt dog bar and you can let your guests dress up their own hot dogs.
I hope you love these ideas! Let's cross our fingers that the movie coming out will be epic and exceed our high expectations! :) May the force be with you.
Sources:
www.catchmyparty.com
http://catchmyparty.com/blog/diy-tutorial-how-to-make-r2d2-cups-for-your-star-wars-party
http://catchmyparty.com/blog/diy-tutorial-how-to-make-lightsaber-napkin-wraps-for-your-star-wars-party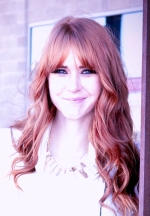 Mary Richardson
Weekly Newsletter Contributor since 2014
Email the author! mary@dvo.com