Avocados-Such a Delicious Break from Holiday Sweets!
How about some avocado talk? This glorious fruit has been a dietary staple for thousands of years in the Americas, and then early Spanish explorers discovered them and spread the word to the rest of the world. In 1750, the avocado was introduced to Indonesia, in 1833 to Florida, in 1908 to Israel, and they reached Australia in the late 1800s.
And did you know there were more avocado varieties available besides the Hass that we always see in our grocery produce departments? I wasn't aware that avocados come in more than 9 different forms. Here are 9 of the more common: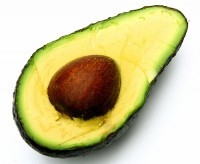 ANAHEIM:
This large and softball-shaped avocado can grow to two pounds. Anaheim has buttery, creamy, soft flesh and a mild, nutty flavor. Its season is June through September.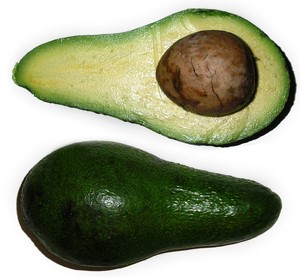 TONNAGE:
It's a classic avocado on the outside, with a pear-shaped figure and frog-green pebbly skin and a slender neck leading to the stem. But the Tonnage stands out when tasted because of its remarkably sweet flavor. While its oil content is on the low side (just 8- to 10-percent fat), it is nonetheless buttery, with a faint and savory taste of chestnut. Its season is September.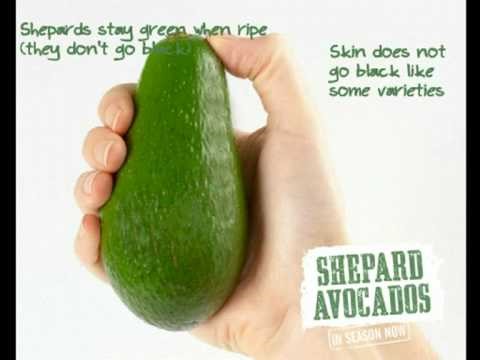 SHEPHARD:
This small avocado, an important commercial variety in Australia, has delicate smooth skin and a pointed, acorn-shaped pit embedded in rich, sticky flesh. A relative of the Hass, it has its obvious similarities in texture, but with a thicker - almost gluey - consistency. Its season is August through October.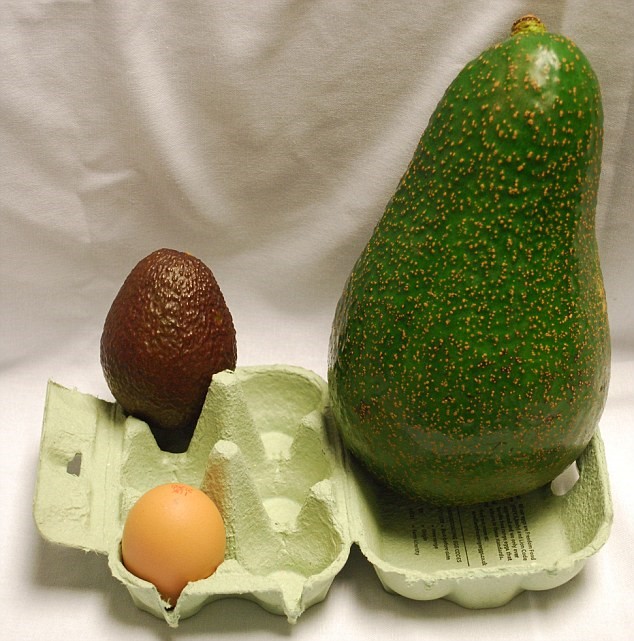 DAILY 11:
A huge avocado and a relative of the fatty Hass, the Daly 11 can weigh five pounds or more and bears a thick, armor-like hide with dense, flavorful, oily flesh inside. Its season is August through October.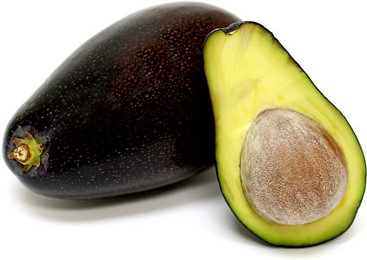 MEXICOLA GRANDE:
Small but beautiful, the Mexicola Grande has glistening black skin, almost as thin as paper. The light-flavored flesh is slightly fibrous, sweet and juicy. Its season is August through October.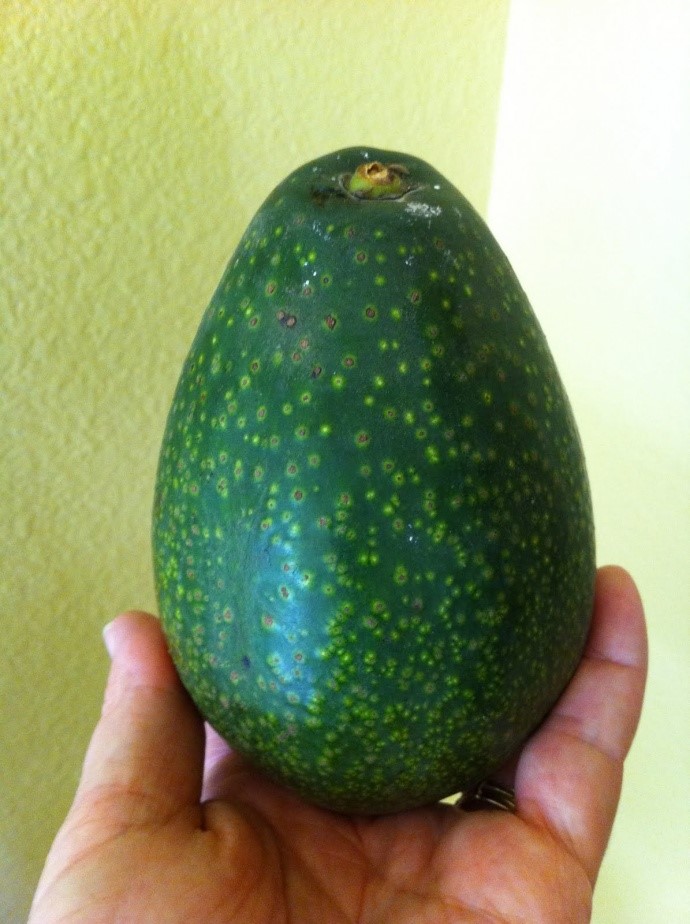 MACARTHUR:
This voluptuously shaped variety, with a bulbous bottom that curves deeply into the stem, has thick and creamy meat. Macarthur has a nutty flavor and is decadently smooth and buttery when fully ripe. Folks say it's simply
delicious
. Its season is August through November.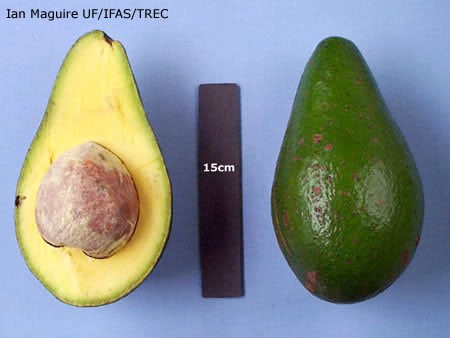 HALL:
A relative of the Choquette and similar in shape and size, the Hall avocado has nuttier, drier and thicker flesh, though still juicy and fruity. Its season is October through November.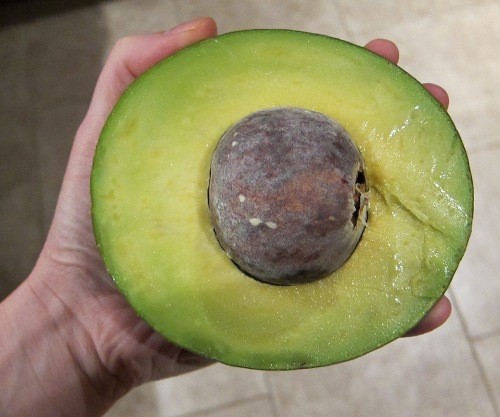 CHOQUETTE:
A popular Florida variety, the Choquette avocado can easily weigh two pounds (the average Hass is perhaps 6 ounces). But, more so than in many other varieties, the Choquette's weight is largely comprised of water. You can cut this fruit with a knife and it will bleed lime-green juice. Taste testers say this liquid tastes like "avocado rainwater." It's good to save this juice and add it to smoothies. The flesh is silken and the flavor extremely mild. Its season is October through December.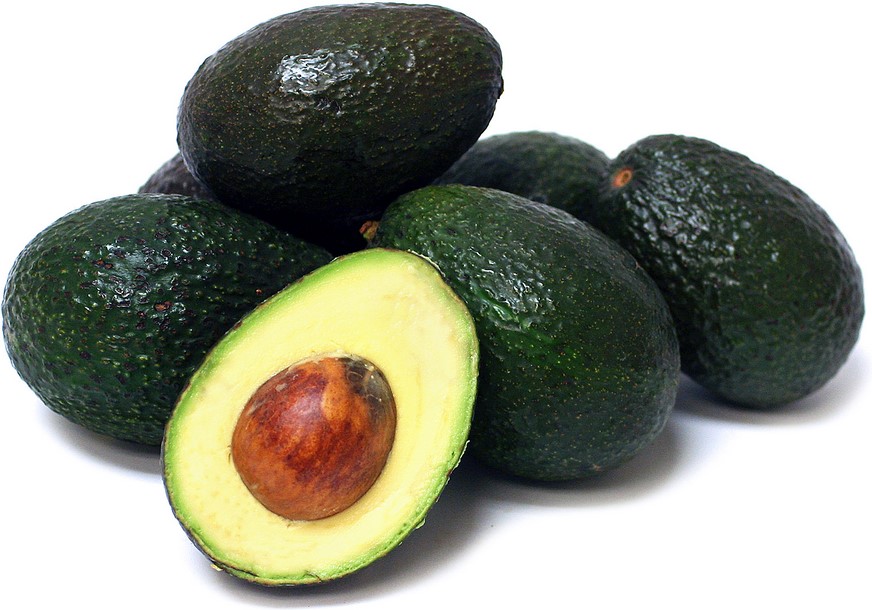 H ASS: High-fat flesh, a nutty taste, and almond butter texture make the Hass both the classic West Coast avocado and a favorite worldwide. Its oil content can be 20 percent or higher, and its skin is tough and durable - ideal for shipping, and for use as a scooping cup when preparing your favorite guacamole recipe. Its season is year-round.
Now that we're more familiar with all the avocado choices out there, let's close our avocado talk with a couple awesome recipes starring this beloved fruit. What with all the sweets that show up this time of year, a more savory option on the table is a nice break. See what you think: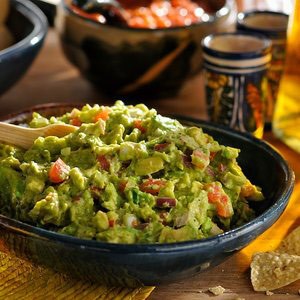 SUPER BOWL GUACAMOLE
(serves 4)
8 Haas (or other) ripe avocados
6 tablespoons freshly squeezed lemon juice
1 minced jalapeno pepper
1 cup finely diced red onions
3 large minced garlic cloves
2 teaspoons kosher salt
2 teaspoons black pepper
4 medium seeded and finely diced tomatoes
Cut the avocados in half, remove the pits, and scoop the flesh out of their shells into a large bowl. Add the lemon juice, jalapeno pepper, onion, garlic, salt and pepper and toss well.
Using a sharp knife, slice through the avocados in the bowl until they are finely diced. Add the tomatoes. Mix well and salt and pepper to taste.
And straight from the Hass Avocado Board and www.avocadocentral.com, comes a scrumptious soup recipe. Avocado replaces heavy cream in this rich and hearty tomato soup that is perfect for a chilly afternoon.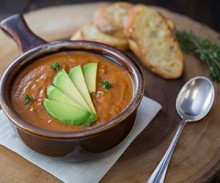 CREAMY AVOCADO TOMATO SOUP
(serves 6)
1 tablespoon olive oil
3/4 cup chopped onion
2 cloves garlic, minced
1 (28-ounce) can diced tomatoes in juice
2 tablespoon tomato paste
3 cups chicken broth
2 teaspoon. sugar
1/2 teaspoon salt
1/2 teaspoon pepper
2 ripe fresh Hass avocados (or other), peeled and pitted
1/2 teaspoon dried thyme
Heat oil in a large pot over medium heat. Add onion, cook, stirring frequently, about 5 minutes until translucent. Add garlic, cook 1 minute. Stir in tomatoes and their juice, tomato paste, broth, sugar, salt and pepper. Increase heat to medium high, bringing soup to a boil. Reduce heat; let simmer 5 minutes. Let soup cool 5 - 10 minutes.
Cut 1-1/2 of the avocados into cubes and add to cooled tomato mixture. Puree the tomato and avocado mixture in batches in a food processor until smooth. Add pureed soup back to pot and reheat before serving. To serve, pour soup into shallow bowls. Slice remaining avocado half and place on top of soup.
Add Recipe to Cook'n
Sources:
www.thecrossinganaheim.com
www.dadychery.org
www.youtube.com
www.dailymail.co.uk
www.avocadodiva.blogspot.com
www.trec.ifas.ufl.edu
www.melaniecooks.com
www.specialtyproduce.com
www.recipe.com
www.avocadocentral.com

Alice Osborne
Weekly Newsletter Contributor since 2006
Email the author! alice@dvo.com