Notes from "Famous" Folks
The 10 Commandments of a Perfect Pie Crust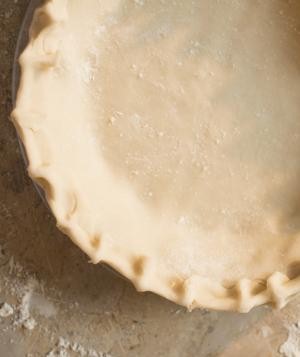 Making your first (or hundredth) pie? You don't have to be intimidated with these simple hacks.
Everyone knows that a pie is only as good as its crust. But consistently achieving a tender, flaky texture, buttery flavor, and golden glow can be challenging for even the most seasoned baker. What's an amateur to do? Start by following these 10 simple rules:
1. Be cool: Before you begin, make sure everything—your flour, your butter, your lard (if you're using it)—is icy cold. Why? When you mix your dough, you want it to remain studded with unmelted nuggets of fat. When they hit the heat of the oven, those cool nuggets will create steam pockets—the building blocks of flakiness.
2. Stay thirsty: Always add water drop by drop and use the minimum that's called for in a recipe. Water is what jumpstarts gluten formation, and too much of it inevitably results in a tough crust.
3. Drop some acid: Try replacing a bit of the water in a recipe with lemon juice or vinegar: Acid impedes the growth of gluten and keeps crust tender.
4. Don't touch: Take care not to over-handle the dough. Both the heat from your hands and excess stretching can make gluten production go into overdrive—and the pastry seize up.
5. Chill out: Before rolling it out, chill your dough again—for at least 30 minutes, preferably longer. This "resting period" gives the gluten that's formed an opportunity to relax, which prevents dramatic shrinking during baking and makes the dough easier to handle during shaping and rolling.
6. Roll right: Sandwiching dough between sheets of parchment paper before rolling keeps your workspace neater (less flour to scatter about!) and helps prevent fragile dough from sticking and tearing.
7. Let off steam: If you're making a double crust pie, make sure to slice or cut vents into the top. These will let excess juices and steam escape from the pie and keep the bottom crust from getting soggy.
8. Brush up: For a rich, golden hue and a bit of shine, brush the top of your pie with a wash made from egg and a splash of cream.
9. Get hot: When your oven's not hot enough, your crust stews in the pie's juices—and never crisps up. The solution: Always start baking at 425 degrees F, then reduce the temperature after about 30 minutes. Make sure your oven is completely up to temperature before placing your pie inside.
10. Protect and shield: Often fillings and crust cook at a different pace. To prevent burnt bits and scorched spots, place a pie shield or a ring of aluminum foil over the edge of the crust during the last few minutes of baking.
Source: Sarah Karnasiewicz – realsimple.com