The New Kid on the Bakeware Block I Can't Live Without!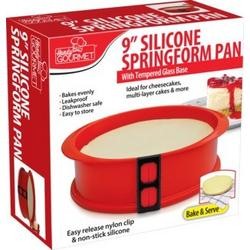 I'm talking about the Candy Apple Red Silicone Springform Pan . I first heard about it in the newsletter I got from our friends over at Prepared Pantry ( www.preparedpantry.com). They said this pan is hands-down the most-used baking pan in their kitchen.
I was intrigued, so I continued to read about this pan's features:
· It has a double gasket which does an excellent job of stopping the leaks that are so typical of springform pans. (This leaking business is why folks only use the springform pan for cheesecakes—the crust catches the leaks).
But because of the double gasket feature, there's no more burnt-on mess on the oven floor, so this pan can be used for oodles of things. It opens up a whole new world of baking. You can bake brownies, cakes, desserts, cornbread, artisan breads, and even entrees in this. Without a hint of a leak!
· It has an unbreakable, scratch-proof glass base, so your presentations can be perfect. There's no need to slide the dessert onto a pretty plate. You simply peel the soft ring away from your dessert, just like a candy wrapper and cut beautifully neat slices right on the glass.
· It can be used in temperatures up to 500°F.
· Cleaning is a breeze. Truly no muss, no fuss.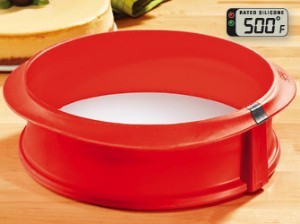 The Prepared Pantry article concluded by saying how convinced they were that "…once you see what you can do with it, it'll become the most-used baking pan in your kitchen as well." In fact they are so convinced of this that they offered a no-strings-attached return policy—if you don't like it you can return it for 100% of your money back.
Well, I was sold. I found my Candy Apple Red Silicone Springform Pan on Amazon.com ($15,99). And sure enough, the claims of the Prepared Pantry folks were justified. I can't believe all that this amazing pan can do.
For instance, the first thing I tried was our favorite brownie recipe. Lately I've been lining my pan with foil and spraying it well, then adding the batter. That way I could simply lift out the baked square of brownies, pull the foil aside for quicker cooling and easy slicing. But the silicone springform pan saved me those steps. I just placed the batter in the ring, baked it, and popped the ring off when baking was complete. A perfect circle of brownie on a nice glass plate and the slicing was easy easy and I was amazed.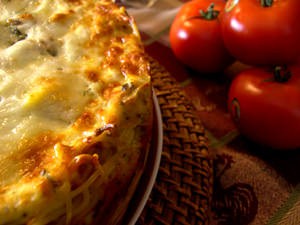 But the amazement didn't stop there. Next I tried the Prepared Pantry's recipe for American Spaghetti Pie:
1/2 pound spaghetti noodles
1/2 medium onion, diced
1/2 green bell pepper, diced
1 pound ground Italian sausage
1 1/2 cups, about 12 ounces, ricotta cheese
1/2 cup grated mozzarella cheese
3 large eggs
1 tablespoon Italian seasoning
1/4 teaspoon salt
1/4 teaspoon black pepper
2 1/2 cups spaghetti sauce
1 cup grated mozzarella cheese
Preheat oven to 375°F. Cook the spaghetti until it is al dente, cooked but still firm. (You want it undercooked; it will continue to cook in the oven.)
Sauté the onion, green pepper, and sausage until browned. Mix the ricotta cheese, the 1/3 cup mozzarella cheese, eggs, oregano, salt, pepper, and basil together in a large bowl. Add the cooked meat and vegetable mixture.
Assemble the pie by placing one half the noodles in the pan. Pour one half of the spaghetti sauce over the noodles. Spoon one half of the cheese and meat mixture over the spaghetti sauce. Cover the mixture with the other half of the noodles, then the rest of the spaghetti sauce, and finally, the rest of the cheese and meat mixture. Top the dish with the remaining 3/4 cup mozzarella cheese.
Cover the pan with aluminum foil and set it on a baking sheet or splash guard to catch any dribbles while baking. Bake for 45 minutes or until just set or the center of the casserole measures 165 degrees with an insta-read thermometer.
Remove the foil and bake for another five minutes. Remove from the oven and let stand for ten minutes. Remove the ring and serve the pie.
This entrée was not just delicious, but so pretty to look at. Honestly, I was in awe.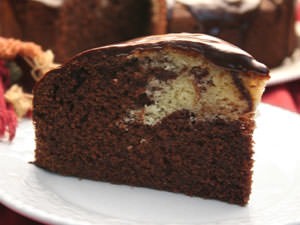 Since then I've gone on to try a cake mix, a chiffon pie, a cookie pizza, and a coffeecake. Everything has come out perfect. Tonight it's a zucchini quiche, and I bet it'll be gorgeous also.
This is definitely the new kid on the bakeware block, and it's fast becoming, just as the Prepared Pantry folks said, my most-used baking pan in my kitchen. I think once you give this a try, it will be yours, too.
Sources:
www.thefind.com
www.kaboodle.com
www.preparedpantry.com

Alice Osborne
Weekly Newsletter Contributor since 2006
Email the author! alice@dvo.com