Say Hello to Aioli and You Might Say Good-bye to Mayonnaise!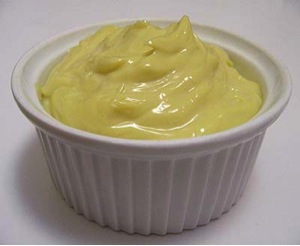 Aioli. You see it on menus and as an ingredient in gourmet-type sandwiches. The popular TV chefs use it and show how to make it. It's delicious, spreadable, dippable, and seems like it would make a great homemade ranch dressing. It looks like mayonnaise but it's not mayonnaise. So what is the difference between mayonnaise and aioli?
Mayonnaise is made in a blender, and loosely defined, is an emulsion of neutral-flavored oil like canola, egg yolk, vinegar and/or lemon juice and sometimes a dash of powdered mustard to bring out the flavor and help the emulsion stay together.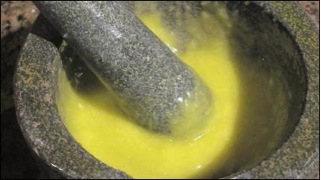 Aioli has been around since the days of Columbus and history says it originated in the southern French region of Provence. But unlike mayonnaise, aioli begins not in a blender but with a mortar and pestle and several cloves of garlic. The garlic is pounded to a paste, then whisked into the traditional preparation of egg yolk, lemon juice, and mustard. But besides the garlic, the other important difference is the use of olive oil rather than canola oil. Olive oil brings a distinct fruity aroma and flavor snap to the mixture.
Aioli was originally served as a dip for vegetable crudité, boiled eggs, and shellfish. But thanks to today's chefs experimenting with it, it is now widely used as a sandwich and burger spread (it's amazing on BLTs), an ingredient in casseroles, and other main dishes. I had my first taste of aioli on a veggie and sprouts sandwich at our local whole foods store, Good Earth. All it took was on bite and I was bitten-I'm hooked on the stuff and have been experimenting with it ever since.
Famous chef, Jamie Oliver is crazy about aioli as well. On his website I read, "…the great thing is that you can take the flavor in any direction. Try adding some pounded or chopped basil, fennel tops, fresh dill, or roasted nuts. It's also wonderful when adding lemon zest to the lemon juice called for in the recipe." Chef Oliver recommends using two types of olive oil which he says results in a "lovely rounded flavor."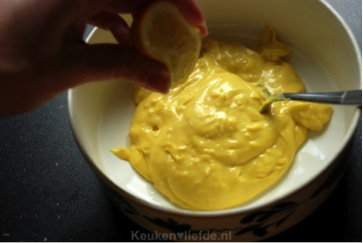 Now for your dining pleasure, here is a recipe I developed from experimenting with Jamie Oliver's aioli recipe, one found on Chow Hound, and another found on All Recipes. And that's the beauty of aioli, really. You can experiment until you find the flavor combinations that
you
prefer (unlike a jar of mayonnaise, where you're stuck with the manufacturer deciding what your spread should taste like).
In closing, I'll just mention that there is always debate over the difference between mayonnaise and aioli. Some folks say it's just garlic-infused mayonnaise. Purists point out the difference in the oils used. All I say is, "Blah blah blah. Who cares?" Aioli is amazing and it's worth the little time it takes to make your own fresh batch. Once you try it you just might find it hard to go back to Hellman's (Best Foods, out west).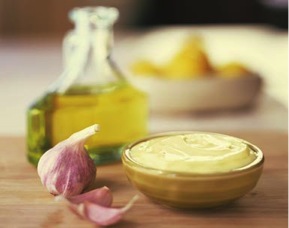 BASIC AIOLI
(yield: 1 1/4 cups)
2 medium garlic cloves
1 teaspoon Dijon mustard
2 egg yolks (from large eggs)
1/2 cup extra-virgin olive oil
1/2 cup olive oil
2 teaspoons freshly squeezed lemon juice
3/4 to 1 teaspoon sea salt (or to taste)
Place the garlic, mustard, and egg yolks in the bowl of a food processor fitted with a blade attachment. Process until evenly combined, about 10 seconds.
With the motor running, slowly add the olive oils in a thin stream, until completely combined, about 2 minutes. Stop the processor, add the lemon juice, season with salt, and pulse until thoroughly mixed. Stop and scrape down the sides of the bowl with a rubber spatula, then pulse until all ingredients are evenly incorporated. Let sit for at least 30 minutes before using. Refrigerate in a container with a tight-fitting lid for up to 3 days.
Add Recipe to Cook'n
Sources:
www.smilepolitely.com
blip.tv
americanfood.about.com
www.keukenliefde.nl

Alice Osborne
Weekly Newsletter Contributor since 2006
Email the author! alice@dvo.com