NESCO and Cook'n Is a Match Made in Heaven!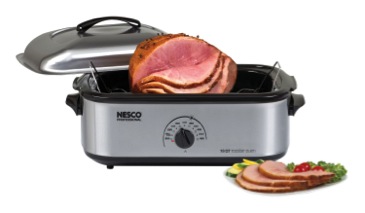 Were you aware that DVO and Cook'n have partnered with one of the most popular appliance companies in the country? Nesco, the maker of the reliable and versatile home roaster, now offers
Cook'n 11
along with 500+ of the best Nesco recipes around (with purchase of their roaster).
Nesco has been the leader in roaster ovens since their invention in 1931. My aunts all had the Nesco roaster in their kitchens. Aunt Annie used hers every week, especially in the winter. My mom and dad owned a fast food restaurant and the Nesco was part of the line-up of appliances they relied on heavily.
They range in size from the compact 5 quart and 6 quart Roasters, to the mid-size 12 quart appliance, to the grand-daddy of them all, the 18 quart Nesco Roaster. And besides coming in an assortment of sizes, Nesco's various size roasters will cook anything from a pot of chili to a 22 pound turkey!
While they have a long history as a favorite wedding gift, they are the most popular appliance around for cooking for large groups at church, picnics, and community gatherings. And it's not uncommon to see a Nesco Roaster as part of the set-up at county and state fair food booths (they are workhorses that can stand up to heavy-duty usage).
I was reading on a favorite blog the other day, "The Garden Web" (the Internet's largest home and garden community), and lo and behold, there was some chat around the Nesco Roaster: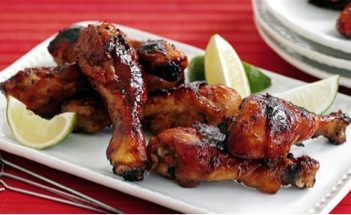 Teresa
said: "I LOVE the Nesco Roaster! It's the better choice for roasting, baking, and long cooking than a crock pot. I have made the 5 hour @ 250 degrees Sticky Chicken recipe in the Nesco that I originally baked in my large oven and it actually took a little less than 5 hours. I use the crock pot now for recipes that are more liquid (soup, stew, spaghetti sauce, pepper steak, etc.) because I can confidently go off to work and let the crock pot cook away for 8 hours. The Nesco is a hotter appliance, so I have not gone off and left it unattended - although maybe I could do so, but just not for 8 hours."
And get what cilantro shared: "I have several older 6 qt Nescos; the youngest one is 20-25 years old. I have used the even older ones for keeping the dogs' water from freezing in the winter when we had to be away overnight for hockey tournaments. I found that I could set the control to keep the water just a tad bit warm, leaving it in an uninsulated/ unheated garage in central Wisconsin. In January."
Annie jumped into the conversation with another idea: "I have the small Nesco crockpot and a large Nesco Roaster. The Roaster is relatively new; I got it for Christmas last year and love the thing. I have left both the 6 quart Nesco and the larger 18 quart Nesco going while I've been at work. In the large Nesco Roaster I will roast a collection of chicken, turkey, or beef bones, then add water and vegetables and simmer all day. This makes a big batch of broth that I then can.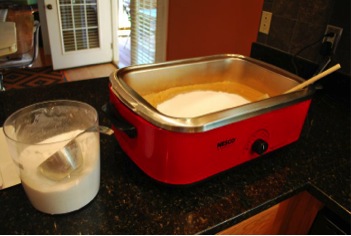 "I also use the big Nesco to make apple butter (no sticking or scorching and it works like a charm). And I've used the smaller one for roasting chickens and pork roast, etc., but I've also simmered beans all day, and I made borscht in it last week as well as a batch of oxtail soup. It worked great for both of those things."
Now I really understand why all my aunts loved this appliance. Well, I need to buy a wedding gift soon and I think it'll be the Nesco Roaster. What a screamin' deal to get not just a versatile appliance and their perfected 500+ recipes, but the can't-live-without Cook'n 11! This is definitely a match made in heaven.
Sources:
www.amazon.com
www.nesco.com
www.dailymail.co.uk
www.justtherightsize.blogspot.com

Alice Osborne
Weekly Newsletter Contributor since 2006
Email the author! alice@dvo.com