Jazzing Up Your Jams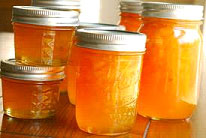 Many of you have probably made jams, such as apricot or peach. If you have a fruit tree, you might have made a lot, so you have endless jars (and then some) of jam. The same flavor, although good, can get boring at times. Don't ever get tied down to original. Try spicing things up. It's easy, but it makes a huge difference.
If you have a batch of peach or apricot, add 1 tsp. of any extract you like. I LOVE almond extract, but you could definitely use others, such as coconut (I know many who like this one the best, and I've personally seen it used as a much-appreciated Christmas present). If you do coconut, use 2 tsp. extract instead of one. I'm curious to see which ones you like, let us know!
Also, mix up your jams with a variety of fruits. My amazing cook of a mother has made tons of different kinds. I love raspberry strawberry or 4-berry (blueberry, strawberry, blackberry, raspberry). Just make sure you use the right amount of fruit that your specific recipe calls for, but it doesn't matter what fruit you use. There's also a cranana (cranberry and banana) jam she makes. Let your toast spice up your mornings!
Here is the Cranana Jam recipe:
---
Cranana Jam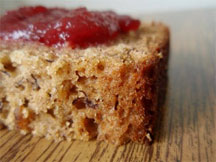 A very pretty jam
Ingredients:
3 cups
cranberries
1 1/2 cups
water
2 cups

mashed

bananas
7 cups

white

sugar
1/2 (6-ounce) container
liquid pectin
1 teaspoon
lemon juice
Directions:
In a large saucepan over medium heat combine cranberries and water; simmer for 10 minutes. Stir in mashed banana and sugar. Increase heat to medium-high; boil 1 minute. Stir in pectin and lemon juice.
Sterilize the jars and lids in boiling water for at least 5 minutes. Pack the jam into the hot, sterilized jars, filling the jars to within 1/4 inch of the top. Run a knife or a thin spatula around the insides of the jars after they have been filled to remove any air bubbles. Wipe the rims of the jars with a moist paper towel to remove any food residue. Top with lids, and screw on rings.
Place a rack in the bottom of a large stockpot and fill halfway with water. Bring to a boil over high heat, then carefully lower the jars into the pot using a holder. Leave a 2 inch space between the jars. Pour in more boiling water if necessary until the water level is at least 1 inch above the tops of the jars. Bring the water to a full boil, cover the pot, and process for 10 minutes.

Recipe formatted with the Cook'n Recipe Software from DVO Enterprises.
---
Recipe:
http://allrecipes.com/recipe/cranana-jam/
Peach jam image:
http://www.asweetpeachef.com/wp-content/uploads/2011/06/fresh-peach-jam.png
Coconut image:
http://farm4.static.flickr.com/3124/3537053540_3de29cb16d.jpg
Cranana jam image:
http://2.bp.blogspot.com/_ETNc90p_gd8/Sj9LtZ0rv6I/AAAAAAAALbE/Hsx2dEQabRY/s400/serving+corner+2.jpg