Super Duper Soups!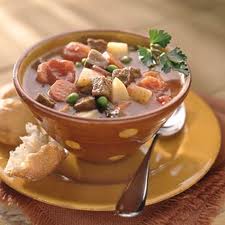 Soup's not just delicious and easy to make, it's a proven weight-loss aid. "Soups and stews are incredibly filling because of their very high water content," says Dawn Jackson Blatner, RD.
Foods with high water content are your friend. With soup you get full on fewer calories than if you eat something like, say, a casserole, which has much less water in it. This is one good reason it's a savvy meal strategy to serve soup before the entree - research says doing so means you'll consume 20 percent fewer calories.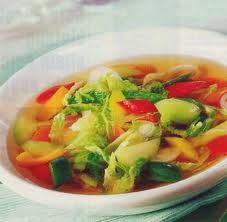 But the great thing about soup is that it can be a meal in itself - there's no need for an entree, actually. Notice how so many soups and stews are a mix of whole grains, lean protein, and vegetables, so you're able to get a complete meal (as much as two servings worth of veggies) in just one bowl.
And there's more - soup is one food that responds well to fat-deduction, which makes it healthier still. Because of all the hearty, tasty, and eye-appealing ingredients you can include, the removal of some of the fat isn't even missed. Yet another reason soup is such a super weight-loss aid.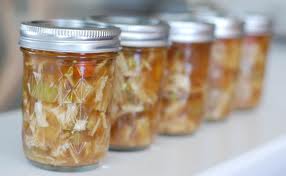 Then there's the convenience of soup. Don't you love how easy it can be to make? And isn't it neat that you can make a huge pot and freeze it in single-serve portions if you like? It's perfect for toting in your workday lunch, pulling out for a fast and easy meal, or grabbing when the munchies strike.
And soup is tops on the "Comfort Foods" list. It warms us up on a cold day, it fills the home with wonderful aromas, and it is the perfect companion to a favorite sandwich. For instance, finish the phrase: Tomato soup and ____________. How many of you said "Toasted Cheese Sandwich?" There's a comfort meal we all know and love.
Finally, soup is fun. It can be served in mugs, pretty dishes, thermoses, and bread bowls. And it's so easy to garnish - with oyster or soda crackers, with croutons, with shredded cheese, with chopped nuts, with a sprinkle of ground flax seed, with toasted wheat germ, with finely chopped fresh herbs, with a dollop of sour cream or guacamole, with... The sky's the limit on garnishes!
Bottom line, soup is just super duper! So all this said, get ready to be bowled over with this filling and delicious soup (found in a 2011 issue of Fitness Magazine) that will satisfy your fall cravings - without the fat and calories, no less!
---
Meatball Escarole Soup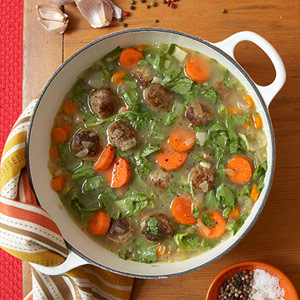 This yummy soup takes 20 minutes to prepare and only 20 minutes to cook. Life is good.
Ingredients:
1/2 pound

93% lean

ground beef
6 tablespoons

grated

Parmesan cheese
6 tablespoons

plain

bread crumbs
1/4 cup

parsley

finely chopped
1/4 teaspoon
salt
1/8 teaspoon
pepper
2

eggs

lightly beaten
2 tablespoons

cold pressed, extra virgin

olive oil
2 cups

finely chopped

onions

(approximately 2 large)
2

large

carrots

cut into coins
2 cloves

garlic

finely chopped
8 cups

escarole, shredded , rinsed and drained
3 (14-ounce) cans

low-sodium

chicken broth
Directions:
Combine beef, 4 tablespoons of the Parmesan cheese, bread crumbs, parsley, salt, pepper, and eggs in a large bowl. Form into 24 meatballs, using about 1 level tablespoon for each. Heat 1 tablespoon of the oil in a stockpot over medium-high heat. Add meatballs; cook on each side until nicely browned and transfer to a plate. Add the remaining tablespoon of oil to the pot with the onions, carrots, and garlic. Cook 10 minutes, or until vegetables are soft. Stir in escarole; cook 3 minutes. Add meatballs and broth. Bring to a boil; reduce heat and simmer for 5 minutes. Serve soup with remaining Parmesan cheese sprinkled on top.

Recipe formatted with the Cook'n Recipe Software from DVO Enterprises.
---
Sources:
http://aceoflifewellbeingblog.com/comforting-your-soul-with-a-bowl-of-soup/
http://www.mycabbagesoupdiet.com/
http://www.breuer.ca/Bakery/bakerslunch/L2.htm
http://www.100daysofrealfood.com/2011/08/19/real-food-tips-21-ways-to-plan-ahead-for-school-lunches/
http://www.fitnessmagazine.com/recipes/quick-recipes/dinner/healthy-hearty-soup-recipes/?sssdmh=dm17.551147&esrc=nwfitdailytip100811&email=1753121182