Desserts to Die For:
Butterscotch Pillows
A pastry with a warm cream cheese filling and a soft, dense dough always hits the spot for me. This also uses up some apricot jam (or any jam, really) that you might have just made from your fruit trees. I definitely vouch for this dessert (or even breakfast if you'd like).
---
Butterscotch Pillows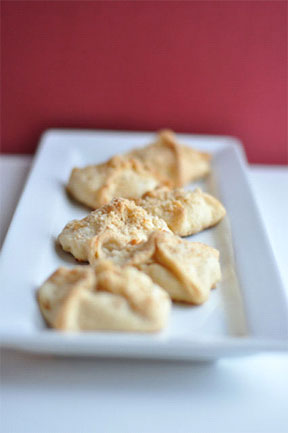 Ingredients:
Bread:
1 package

active dry

yeast
1/4 cup

warm

water

(105-115 degrees Fahrenheit)
1/3 cup

butter

, softened
1/4 cup
sugar
1 teaspoon
salt
1/2 cup

milk

, scalded
2
eggs
3 cups

all-purpose

flour

, divided
Filling:
(We 1 1/2 the filling, Each pillow gets a little bit more of the good stuff)
2 (3-ounce) packages

cream cheese

, softened
1 tablespoon
sugar
1
egg yolk
1/2 teaspoon
vanilla extract
1/2 (12-ounce) package

(1 cup)

butterscotch chips
Glaze:
1/2 cup
apricot jam
Directions:
Bread: In cup, combine yeast and water; stir to soften. Set aside. In large bowl, combine butter, sugar, and salt. Add scalded milk; stir until butter is melted. Cool to room temperature. Add eggs and 1 cup flour; beat well. Stir in yeast. Gradually stir in remaining 2 cups flour; mix well. Cover bowl with damp cloth; refrigerate dough about 4 hours.
Filling: In small bowl, combine cream cheese, sugar, egg yolk, and vanilla extract; beat until creamy. Stir in butterscotch flavored morsels.
Divide dough into 4 pieces. On floured board or counter, roll 1 piece of dough into a 12X8 inch rectangle. Cut into 4 inch squares. Spoon 2 tsp. filling onto the center of each square; bring opposite corners to center. Pinch to seal (don't let edges of dough touch filling, or it will not seal properly). Place 2 inches apart on a greased cookie sheet. Repeat with remaining dough and filling. Let rise uncovered in warm place for 30 minutes. Preheat oven to 400 degrees. Bake for 7-9 minutes
Glaze: In small saucepan, heat apricot jam over low heat, stirring constantly, until melted. Brush pillows with melted jam. Be sure to completely coat the tops of the pillows. This allows them to moisten.

Recipe formatted with the Cook'n Recipe Software from DVO Enterprises.
---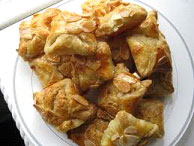 I like these days after they're made. If you store them in a closed container, the dough really softens. I just reheat it to melt the filling and you get a warm, moist, wonderful dessert.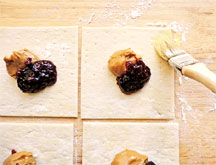 Switcher-Upper Tip: Get creative while mixing and matching. Use cinnamon chips with apple jam, or white chocolate chips with strawberry or raspberry jam. I'm sure you can think of a million combinations to make an extra-tasty pastry. You could even try filling it up with coconut and top with coconut apricot jam (see article Jazzing Up Your Jams).
Top image:
http://www.thisheartofmineblog.com/wp-content/uploads/2012/01/DSC_0485.jpg
Half-finished image:
http://www.refrigeratorsoup.com/wp-content/uploads/noid-DSC_0639-500x332.jpg
Butterscotch chips image: http://1.bp.blogspot.com/_fz7LdT_jpMA/S_dlSFhn2AI/AAAAAAAABHg/cSiYBLrNx4w/s1600/butterscotch+praline+butterscotch+chips.jpg
Topped with almonds image:
http://pragmaticattic.files.wordpress.com/2011/05/img_2935.jpg
Switcher-upper PB and J:
http://gingerbreadbagels.com/wp-content/uploads/2011/12/61.jpg