Grilled Meatballs
Serves 6
---
Ingredients:
3 cloves garlic, finely minced
4 cups plain yogurt
3 tablespoons olive oil
1 tablespoon lemon juice, or to taste
1/4 cup chopped fresh mint
salt and freshly ground pepper
1 pound red onion, thinly sliced
1 tablespoon salt
1/2 cup chopped fresh flat leaf parsley
1 teaspoon ground coriander
1/2 teaspoon ground turmeric
2 pounds ground beef
1 1/2 cups grated onions
2 minced garlic cloves
2 eggs, lightly beaten
1 tablespoon chopped fresh thyme
1 teaspoon freshly ground black pepper
1/2 teaspoon salt, or to taste
olive oil for brushing
6 pita breads, warmed
sliced tomato
Make yogurt sauce:
Line a large sieve with cheesecloth and place it over a bowl. Spoon the yogurt into the sieve and refrigerate for 4 to 6 hours to drain off the excess water. You should end up with 1 1/2 to 2 cups drained yogurt. Place the yogurt in a bowl and stir in the garlic, olive oil, and lemon juice. Fold in the mint and season to taste with salt and pepper. Cover and refrigerate until needed.
Make the onion salad:
Place the onion slices in a colander and sprinkle with salt. Toss and let stand for 15 minutes. Rinse well and pat dry. In a bowl, combine the onions, parsley, coriander, and turmeric. Toss well and set aside.
Preheat the grill or broiler.
In a bowl, combine the beef, onions, garlic, eggs, thyme, pepper, and 1/2 teaspoon salt. Mix until mixture holds together well. Form into twelve 3-inch ovals, about 1 1/2-inches wide and thread them onto metal skewers.
Brush the meatballs with olive oil and sprinkle with salt. Place the skewers on an oiled grill rack or broiler pan and grill or broil, turning to brown on all sides, until cooked through, about 8 minutes.
Remove the skewers from the grill or broiler and slip the meatballs off the skewers. Cut the pitas into halves and place a meatball into each half. Serve with the yogurt sauce, onion salad, and tomato slices on the side
Source:
foodnetwork.com
---
---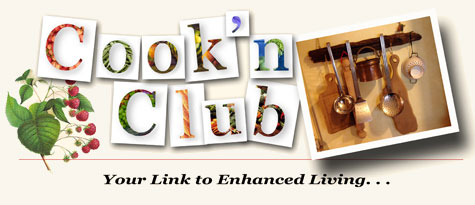 Contribute to the Cook'n Club!
DVO would love to publish your article, prose, photography and art as well as your cooking, kitchen and nutrition tips, tricks and secrets. Visit the Newsletter Submission / Win Win for All section in our Forum for more information and details.