REALLY CREEPY Treats
Yeah, I know, Halloween is a month away, but when I saw this I thought you might just want to know about it NOW so you can start planning and preparing for the creepiest party ever. Take a look at these ultra-creepy treats as found on cooking.com and kraftrecipes.com. I don't know if these people are the food artists here, or the photographers, but whatever their role, we can thank them for some of the creepiest ideas out there. (This is probably the dumbest article I've ever written...)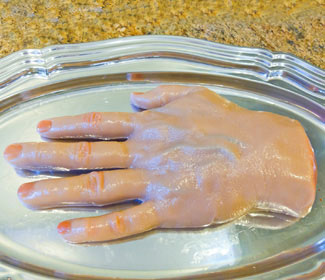 Severed Hand (Matthew Grimm): Light blue veins and darkened knuckles - the artful products of diluted food coloring in gelatin - make this gory dessert eerily realistic. [Sure, like I'm gonna eat this!] Oh, you can find this and other creepy molds on amazon.com.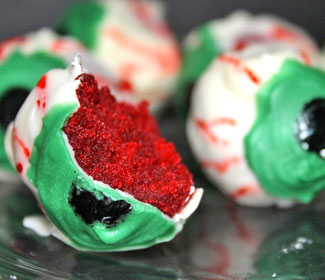 Caked and Baked Eyeballs (Amanda Whitelaw): Red velvet cake mixes delicious with disturbing in these edible eyeballs. [Ummm, that's one way to put it.]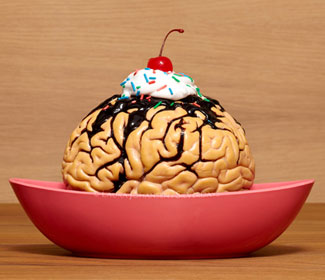 The Smart Choice for Dessert (Laura Johansen): Soft, creamy, and deceptively nutrient-rich, this brain sundae is one wise - albeit creepy - treat. [Whose brainy idea was this!]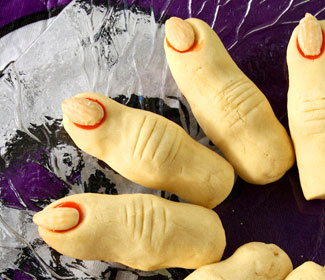 Witch's Fingers (Suzie's Blog): "Double, double, toil and trouble," cried the witch, "My evil fingers have been reduced to stubble!". [This is one way to lose yourself in your work!]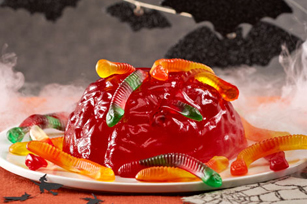 Wormy Brain. [CREEPY.] I found a couple varieties of brain molds on amazon.com: The Zombie Brain for $9.99 and the Human Brain for $6.98.
To make, spray the brain mold with cooking spray; set aside. Add boiling water to 2 boxes of gelatin mixes in medium bowl; stir 2 min. until completely dissolved. Stir in only 1 cup cold water; pour into mold. Drape some gummy worms over edge of mold. Refrigerate 3 hours or until firm. (Be sure to warn everyone that there's a brain growing in the refrigerator!) Unmold the gelatin onto plate just before serving. Poke holes in gelatin with a straw; insert remaining worms into holes.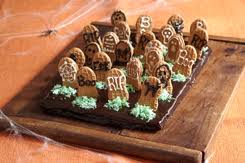 Graveyard Brownies: Kraft Foods came up with this one. Just make and frost a pan of brownies, poke Nutter Butter Cookies into them and decorate. This is more cute than creepy, don't you think?
Sources:
http://www.cooking.com/Recipes-and-More/creepy-treats-photo-gallery.aspx?a%3dcknwfhne01350ff%26s%3ds0053460027s%26_mid%3d1049932%26_rid%3d1049932.27400.1162801#axzz277N1N41N
http://www.kraftrecipes.com/recipes/holidays-and-entertaining/holidays/halloween/halloween-desserts.aspx?cm_mmc=Srch-_-Google-_-traffic-_-halloween+treat_43000000437055131
http://www.kraftrecipes.com/recipes/graveyard-brownies-114050.aspx