Tired of Packing PB&J?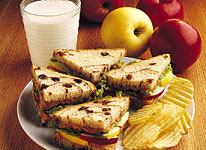 Although a timeless classic sandwich, I do often get worn out of PB&J sandwiches. I'm ready for something new, aren't you? Okay, yes there's the ham sandwich, but that's also old news. A lady I know recently gave me some fresh ideas. I'd heard of some, but hadn't taken the time to use, let alone think of all these. I sat down and thought of some more. So many things taste good with peanut butter! Hopefully this is a breath of fresh air to you and your kids when you all pack those lunches.
First off, you can switch up the bread. Try: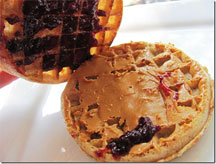 Cinnamon raisin
Whole Wheat
Bagel
Waffle
English Muffin
Doughnut! (Okay, maybe not that one)
Croissant
Pita Pocket
Tortilla
Roll
Rye
Then, mix up what you put with the PB! Try: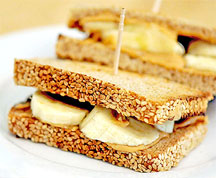 Bananas
Strawberries
Sliced Apples
Cereal
Raisins
Sprinkles
Marshmallow creme (So good! Really fun to do every once in a while)
Whipped honey
Chips (nacho Doritos are really good with a PB and J. I discovered that in 4th grade after I told a friend it was gross. I tried it and found I was definitely in the wrong.)
Chocolate chips
Goldfish
Nutella
almond cocoa spread
Celery
Bacon
Pickles (not sure how bacon and pickles taste, but someone might like it)
Pretty much, look in your pantry or fridge. If it's edible, it might be worth a try.
Top image:
http://quick-dish.tablespoon.com/files/2011/08/2011-09-01-after-school-snacks-peanutty-apple-sandwiches.jpg
Waffle image
http://theprocessofhealing.files.wordpress.com/2011/06/june27011_thumb.jpg?w=491&h=373
Banana sandwich image:
http://sites.tufts.edu/balanceyourlife/files/2011/09/peanut-butter-banana-sandwich-480.jpg