3 Ways to Use Our Delicious Summer Fruits!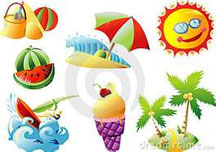 I really am not crazy about the realization that summer is almost over. For those of us who live in the mid-west, the end of summer means the end of fresh fruit; either our own picked from our garden, or the delicious fruit that beckons us from the numerous road-side fruit stands.
We still have a few more weeks of good fruit left, which encourages many of us to stock up by canning, dehydrating, and/or freezing the last fruit of the summer. I personally have peach freezer jam done, which will be lovely to eat during the winter snows!
Below are some good recipes to help summer linger a little longer on our tongues.
---
Almond Cake with Berries and Cream

Almond Cake
4 ounce(s) almond paste
1/2 cup(s) granulated sugar
1/2 cup(s) (1 stick) butter or margarine, softened
3 large eggs
1/2 cup(s) all-purpose flour
1/2 teaspoon(s) baking powder
1/4 teaspoon(s) salt
Cream Cheese Topping
4 ounce(s) cream cheese, softened
1/4 cup(s) confectioners' sugar
1/2 cup(s) heavy or whipping cream
1/4 teaspoon(s) almond extract
Sweetened Berries
1/2 pound(s) strawberries, hulled and sliced
1 cup(s) raspberries
1 cup(s) blackberries
2 tablespoon(s) confectioners' sugar
1/4 cup(s) seedless raspberry jam
1. Prepare Almond Cake: Preheat oven to 375 degrees F. Grease and flour 9-inch round tart pan with removable bottom or nonstick 9-inch round cake pan. (If using tart pan, wrap outside of pan with foil to prevent leakage.)
2. Crumble almond paste into food processor bowl with knife blade attached. Add granulated sugar and pulse until almond paste is finely ground. Add butter and process until smooth. Add eggs and process until combined, occasionally stopping processor and scraping side of bowl. Add flour, baking powder, and salt, and process until blended. Spoon batter into prepared pan and spread evenly.
3. Bake 20 minutes or until cake is browned and top springs back when lightly pressed with finger. Cool cake completely in tart pan on wire rack. If using cake pan, cool cake in pan 10 minutes, then invert onto rack to cool completely.
4. Meanwhile, prepare Cream Cheese Topping: In medium bowl, with mixer at low speed, beat cream cheese until smooth. Add confectioners' sugar and beat until blended. Add cream and extract; increase speed to high and beat mixture until thick and fluffy. Cover and refrigerate until ready to use.
5. Prepare Sweetened Berries: In large bowl, combine strawberries, raspberries, blackberries, and confectioners' sugar. Toss gently to combine. Let stand 10 minutes to allow sugar to dissolve and flavors to blend.
6. Assemble cake: Remove tart pan side from cake. With knife or metal spatula, loosen cake from pan bottom. Place cake on serving plate. Spread jam on top of cake to 1/2 inch from edge. Spoon cream topping over jam, spreading to cover. Spoon berry mixture over cream. Serve immediately.
---
Fresh Raspberry Parfait
2 cup(s) cranberry-raspberry juice
3 tablespoon(s) sugar, (see step 1)
1 teaspoon(s) sugar, (see step 6)
1 envelope(s) unflavored gelatin
2 cup(s) raspberries
1/3 cup(s) heavy or whipping cream
1. In 2-quart saucepan, combine 1/2 cup juice and 3 tablespoons sugar. Evenly sprinkle gelatin over juice mixture; let stand at least 2 minutes to soften gelatin slightly.
2. Meanwhile, in food processor with knife blade attached, pulse half of raspberries until pureed. Pour puree into medium-mesh sieve set over bowl; press with back of spoon to remove seeds. Discard seeds.
3. Cook juice mixture over low heat about 3 minutes or until gelatin and sugar dissolve, stirring frequently. Stir in raspberry puree and remaining 1 1/2 cups juice.
4. Set saucepan in bowl of ice water. Stir mixture frequently with rubber spatula 5 to 6 minutes or until it begins to mound when dropped from spoon. Remove saucepan from water.
5. Reserve 12 raspberries for garnish and refrigerate. Gently stir remaining raspberries into gelatin mixture. Spoon mixture into four 7- to 8-ounce parfait glasses or dessert bowls. Cover and refrigerate until set, at least 4 hours or up to overnight.
6. Just before serving, in small bowl, with mixer at medium speed, beat cream and remaining 1 teaspoon sugar until soft peaks form. Spoon whipped cream onto parfaits and sprinkle with reserved raspberries.
---
Date Drop Scones
Makes 10 Scones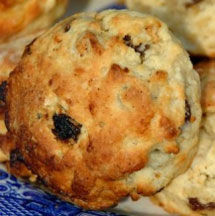 2 cups all-purpose flour
1/4 cup granulated sugar
2 1/2 teaspoons baking powder
3/4 teaspoon salt
1/2 teaspoon baking soda
1/2 teaspoon ground nutmeg
1/2 cup chilled unsalted butter, cut into 1/4-inch pieces
1/2 cup chopped dates
1 egg, beaten
2/3 cup buttermilk
Preheat oven to 425 degrees F. Lightly spray a large baking sheet with vegetable-oil cooking spray.
In a large bowl, sift together flour, sugar, baking powder, salt, baking soda, and nutmeg. With a pastry blender or two knives, cut butter into flour mixture until particles are the size of small peas; stir in dates. Add egg and buttermilk; stir just until mixed. NOTE: When making scones, work the dough quickly and do not over mix.
Note: Scones can be cut into any shape you desire. Use a drinking glass to make circles, or cut into squares or wedges with a knife. Dip the edges of the cutter in flour to prevent the dough from sticking. Do not pat the edges of the scone down; instead leave the cuts as sharp as possible to allow the scones to rise in layers.
Drop by heaping tablespoonfuls onto prepared baking sheet, 2 inches apart to allow for spreading, making 10 mounds. Bake 15 to 18 minutes or until golden brown. Remove from oven and serve warm.
Yields 10 scones.
---
Freezing Scones
Courtesy of Debbie Anderson of Victorian House Scones LLC.
Freezing baked scones: When the scones are cool, wrap airtight and hold at room temperature for up to one day or freeze to store longer. To reheat, unwrap scones (thaw wrapped, if frozen) and place onto a baking sheet. Bake in a 350 degrees oven 8 to 10 minutes or until warm.
Freezing unbaked scones: When the dough is made and patted into circles or cut into 8 wedges/circle, place on a cookie sheet and place, uncovered in the freezer. It will take about an hour for the dough to freeze firm. Once the dough is firm, put frozen scones into a zip-lock bag and return them to the freezer.
When you are ready to bake the scones, simply take out as many as you want to bake and let them sit on the kitchen counter on aluminum foil or parchment paper while you preheat the oven. They should only be allowed to thaw as long as it takes the oven to preheat. Once the oven is preheated, place the scones onto a fresh sheet of aluminum paper or parchment paper and bake. It will be necessary to extend the baking time by a few minutes (it could easily add up to 4 to 5 minutes to the baking time - just add it in 2 minute increments until you are sure of your times).