Take Me to the Fair!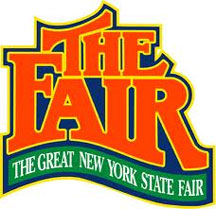 From New York to Alaska, it's county and state fair time. Don't you love this time of year? I have lots of great fair-time memories because our family has always been enthusiastic fair goers. Most children love fairs for the carnival rides, but not me. I joined my Mom, Aunt Annie, and Aunt Toots in submitting our handiwork to the home economics division in hopes of walking away with blue ribbons. Those home-ec displays were what caused my heart to skip a beat (well, along with the food vendors - bring on those corn dogs!) Honestly, heck with the Ferris wheel!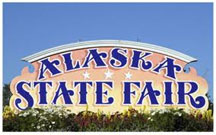 All this said, it's no surprise that one of my Aunt Annie's favorite cookbooks was Blue Ribbon Recipes: County Fair Winners. The introduction says, "…Fairs have been a part of the American scene almost since the beginning of this country. Farmers gathered there to talk over the year's successes and failures. Their wives compared cooking and swapped recipes... Now for the first time, the cream of blue ribbon recipes throughout the country has been assembled in one volume, and they represent far more than the combination of a few simple ingredients. They are a part of our American heritage."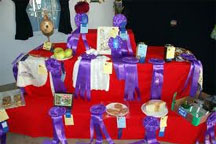 And of course, it's no surprise that most of the food entries were created around the fruits and vegetables of the season—fair time coincides with harvest time after all. It was also understood that chances for a blue ribbon were far greater if season ingredients were featured in a recipe - Aunt Annie knew this and capitalized on it. She especially loved sweets and loved working fresh fruits into cookies, bars, and cakes.
Here is a recipe that won her not a blue ribbon, but the sweepstakes ribbon for best cake in the Spokane County Fair sometime in the early 1950's. Meanwhile, I know it sounds corny, but "Take me to the fair!" (And bring on that corn dog!)
---
Cherry Cake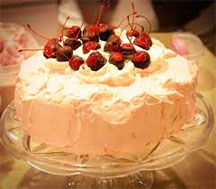 3/4 C soft butter
1 1/2 C sugar
3 eggs
1 tsp soda
1/2 C sour milk
1/2 tsp allspice
1/2 tsp cloves
1 C fresh cherries (Bing are preferable; pitted)
2 C sifted flour
Preheat oven to 350 degrees. Grease and flour 9x13 cake pan. Cream butter; add sugar and cream until smooth. Add eggs; beat well. Add soda to sour milk; add to creamed mixture and beat well. Add spices and cherries. Add flour and mix well. Bake 35 min. or until lightly browned and toothpick inserted into cake center comes out clean. Frost with favorite cherry-flavored butter cream frosting. Garnish with stemmed fresh cherries, if desired.