Cook on the Run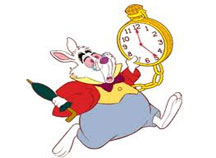 In 2000, Holly Clegg wrote a cool cookbook for the cook on the run, titled Meals on the Move: Rush Hour Recipes. She dedicated the book to all the busy people who never have enough time in the day but recognize the importance of eating healthier. This dedication is too close to home, so I knew this book was for me (another one I found at SAVERS).

We probably all would like to have more healthy, easy-to-make, and QUICK recipes to draw from. And after we get the clutter out of the kitchen and stock the pantry with healthy ingredients, easy-to-make and quick recipes truly can help us when we're on the run.
So let's look at a typical on-the-run day: Usually mine starts out by me dashing around in the morning getting ready to go here or there, and too often, breakfast is skipped. Not a good thing because of the binging on junky stuff that my ravenous hunger eventually leads to. I'm ultra-interested then, in quick breakfast ideas, especially anything that can be prepared the night before while I'm cleaning up after dinner.
Besides recipes we can fix the night before, having a menu or a solid meal plan available also saves us time and frenzy because we're not frantically digging around through cupboards, fridge and freezer trying to figure out what to prepare. A week's menu usually insures that I have ingredients on hand, so throwing any of the listed meals together is a lot easier.
Now let's look at a couple killer breakfast recipes (not literally, of course) - easy, quick, and so good, courtesy of Holly Clegg:
---
Fruit Salsa Quesadillas
Serves 12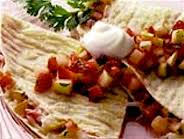 12 (8-inch) whole wheat tortillas
1 1/2 C shredded mozzarella cheese
Fruit Salsa (recipe follows)
Preheat oven to 475 degrees. Top half of each tortilla with 2 Tbsp cheese and 1/4 C Fruit Salsa. Fold over and place toothpick at end to hold tortilla together. Place filled tortillas on baking sheet and bake for 4 to 7 min. or until lightly browned and cheese is melted. Eat immediately.
Fruit Salsa
1 C chopped peaches (with peel for added nutrients)
1 quart fresh strawberries, hulled and diced
1 C fresh blueberries
1 Tbsp chopped fresh cilantro
1 Tbsp raw honey
1/4 C sliced green onions (also known as scallions)
Combine peaches, strawberries, blueberries, cilantro, honey, and green onions in medium bowl. NOTE: Frozen fruit works well—thaw in fridge, drain well, then use in recipe. I make this salsa the night before; the cheese is pre-shredded. All I have to do in the morning is assemble and bake.
---
Avocado Cucumber Soup
Serves 4 to 6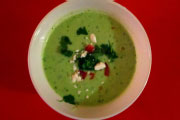 1 large avocado, peeled and cut into chunks (about 1 cup)
2 cucumbers, peeled and seeded (I don't peel or seed—I prefer the extra nutrients they add)
1 C fat-free, low sodium chicken broth
1 C skim milk
2 Tbsp lemon juice
Salt to taste
1/4 C chopped green onions
1/2 C chopped tomatoes
In food processor blender, place avocado, cucumbers, chicken broth, milk and lemon juice. Blend until smooth. Season to taste with salt and pepper. Refrigerate, covered, until chilled. If soup gets too thick, add more milk or broth. Sprinkle each cup of soup with green onions and tomatoes before serving. NOTE: I prepare the ingredients the night before (except for the avocado—I peel it in the morning) and in the morning I just blend and top with the already chopped onions and tomatoes. This makes an excellent quick breakfast along with a couple pieces of whole grain toast.