Simply Scones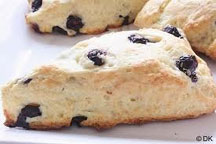 The Mirriam-Webster dictionary says a scone is "a rich quick bread cut into usually triangular shapes and cooked on a griddle or baked on a baking sheet."
As time has gone by, all sorts of variations on the scone idea have evolved. In the British Isles, regional variations have interesting names such as Singing Hinnies, Fat Rascals, and Rock Cakes. In Utah and south-eastern Idaho, the things they call scones are most "unsconelike." They are a fried, puffy yeast dough. These "scones" are often served with honey and butter, and occasionally served as the buns for Sloppy Joes.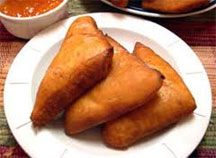 Oh yeah, do I remember the "unsconelike" scones from my early college days at Ricks College, Rexburg, Idaho. We'd travel 15 minutes to a neighboring town, Rigby, just to go to Walker's Restaurant for their fried "scones" that we drenched in honey and real butter. I'm drooling as we speak.
But back to the point—a true scone actually is a light, fluffy baked sweet bread. They should be neither too dry nor too moist. The bottom line, however? The best scones are the ones YOU like to eat. Here are a few tips (plus a recipe) on how to create delicious scones that, chances are, you will like to eat:

Mix dry ingredients together; cut in CHILLED butter with pastry blender until mixture resembles coarse meal. This helps produce a flaky texture.

Mix liquid ingredients together; add to dry ingredients; stir until combined. NEVER over-mix or over-knead—tough, stone-like scones will result. A high butter or sugar content in the dough helps inhibit gluten formation and produces a tender product.

Use fresh, double-acting baking powder. Baking powder loses its potency if stored past its expiration date, so always check your can.

Bake in a fully preheated oven for specified time. But because oven temperatures vary, watch carefully — just as in baking cookies, cakes, breads, etc., over-baking ruins the whole deal. No new news, I know.
---
Chocolate Chip Orange Scones
Makes 8 Scones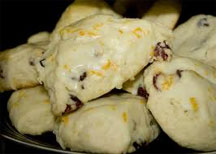 2 C flour
1/3 C sugar
2 tsp baking powder
1/2 tsp salt
1/2 C unsalted butter, chilled
2 large eggs
1/4 C orange juice
1 tsp vanilla
1/2 - 1 tsp grated orange peel
3/4 C miniature semi-sweet chocolate chips
1 egg white mixed with 1/2 tsp water (for glaze)
Sugar (for sprinkling onto glaze)
Preheat oven to 425 degrees. Grease a 9-inch-diameter circle in the center of a baking sheet. In large bowl, stir together flour, sugar, baking powder, and salt. Cut butter into 1/2-inch cubes and distribute them over the flour mixture.
With pastry blender, cut in butter until mixture resembles coarse crumbs. In small bowl, stir together eggs, orange juice, vanilla, and orange peel. Add egg mixture to flour mixture and stir to combine. The dough will be sticky. With lightly floured hands, knead in chocolate chips until evenly distributed.
With lightly floured hands, pat dough into an 8-inch-diameter circle in the center of prepared baking sheet. With serrated knife, cut into 8 wedges. Brush egg white mixture over top and sides of dough and sprinkle with sugar. Bake for 20 to 25 min. Serve warm with favorite jam, a dollop of sweetened whipped cream, or my favorite, honey and butter!