No-Bake Desserts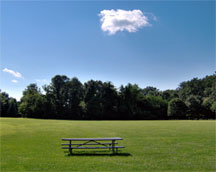 The temperature outside is beastly right now, so the last thing I want is to fire up the oven and add extra heat to the inside. Thus no-bake desserts are the perfect summertime delight. All we need is a refrigerator, a little time, and the right recipe.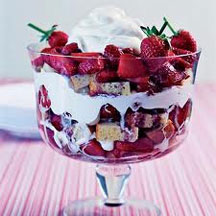 There are some basic ingredients—staples—to have on hand through the summer that many no-bake desserts call for: graham crackers and chocolate wafer cookies (for crusts), sour cream and cream cheese, unflavored gelatin, whipping cream, instant pudding mixes, fresh or frozen berries, canned crushed pineapple, jams, lemons, yogurts, pre-baked pastry shells, flavored gelatins, bread, nuts, chocolate chips, canned mandarin oranges, and milk. If you've got even a few of these things around, you're set.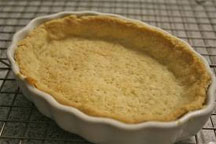 As far as pre-baked pastry shells go, these are a good thing to make ahead and freeze during the colder parts of the year. I tend to do this when I'm making my pies for Christmas dinner. I'll make a few extra pie shells, prick the bottoms, bake, and when thoroughly cooled, I gently place each one in a plastic zip-loc bag and freeze. They will keep for about six to seven months.
I also like to grind the graham crackers and chocolate wafer cookies ahead of time. When stored in air-tight containers, these crumbs keep well in the freezer for about a year—they've never been around long enough for me to know that for sure, though.
Here are a couple of our family's favorite no-bake desserts that have never failed—now we can have our dessert and keep our cool no matter what the temperature is outside!
---
Pineapple Apricot Squares
Makes 16 Squares

1 C graham cracker crumbs
1/2 C sugar, divided
1/3 C butter, melted
1 C sour cream
4 oz cream cheese, softened
1/4 C apricot jam or fruit spread, divided
1 can (20 oz) crushed pineapple, undrained
1 envelope unflavored gelatin
Combine cracker crumbs, 2 Tbsp sugar and butter in 8-inch square glass baking dish; pat mixture firmly and evenly onto bottom of dish. Freeze 10 min. Beat sour cream, cream cheese, remaining 1/2 C sugar and 1 Tbsp jam in medium bowl until smooth and blended; set aside.
Drain pineapple; reserve 1/4 C juice. Sprinkle gelatin over reserved juice in small sauce pan; let stand 1 minute. Cook and stir over low heat until gelatin dissolves. Beat gelatin mixture into sour cream mixture until well blended. Spoon mixture evenly over crust. Stir together pineapple and remaining 3 Tbsp jam in small bowl until blended. Evenly spoon over sour cream filling. Cover and refrigerate 2 hours or until firm. NOTE: Marmalade jam is also a nice touch, in place of the apricot jam.
---
Lemon Chiffon Pie
Makes 8 Servings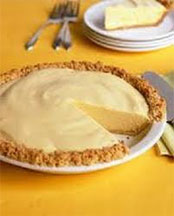 2/3 C boiling water
1 pkg (4-serving size) lemon gelatin
2 tsp grated lemon peel
2 Tbsp lemon juice
1/4 C cold water
Ice cubes
3 1/2 C whipped sweetened whipping cream, divided
1 prepared graham cracker crumb crust
Stir boiling water into gelatin in large bowl at least 2 minutes or until completely dissolved. Stir in lemon peel and juice. Mix cold water and ice to make 3/4 cups. Add to gelatin, stirring until slightly thickened. Remove any remaining ice.
Stir in 2 1/2 C whipped cream with wire whisk until smooth. Refrigerate 20 to 30 minutes or until mixture is very thick and will mound. Spoon into crust. Refrigerate 6 hours or overnight until firm. Top each serving with small dollop of remaining 1 C of whipped cream.