Portobello Mushrooms - Not Just for Salads!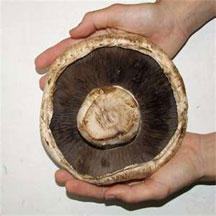 I happen to love the firm, meaty taste of Portobello (por-toh-BEHL-loh) mushrooms. Some people call it a small crimini mushroom "in disguise": meaning it is a larger version of the smaller mushroom we are more familiar with. It has been suggested that when the small crimini mushrooms grows to be about 4" to 6" in size, it becomes a Portobello. Yes, they do grow to be that big in diameter! In fact, should you ever dine in Northern Italy, these mushrooms are called "cappellone", which means "big hat". Seems appropriate!
Buying and Storing
Choose Portobello's that are plump and firm—not limp or dried out looking. We all know that vegetables that have a slippery feel are in a state of decomposition, and these mushrooms are no different. Also, smell them. They should have what is called an "earthy" smell to them.
When you get them home, remove the wrapping and spread the mushrooms on a tray. Cover with a paper towel. Disregard any inclination you may have to moisten the paper towel. Put the tray in the refrigerator that will allow air to circulate around it. Stored this way, the mushrooms should keep for about 5-6 days.
Once cooked, Portobello's can be frozen in freezer containers or freezer bags for several months. Just be sure to compress all of the air out of the freezer bag!
Grilled Portobello's
Brush mushrooms on both sides with olive oil and season with salt and paper. Grill for 5-6 minutes on each side until cooked through.
Oven Roast
Brush Portobellos with oil. Place them on a baking sheet cap sides down. Roast in a pre-heated 425 degree oven for about 20 minutes.
Saute
In a skillet, cook sliced, chopped or whole mushrooms in a little oil or butter over medium high heat. Stir and/or turn until tender about 5-6 minutes. You may add other vegetables to the mushrooms such as onions, peppers, garlic, etc. Season to your liking.
---
Grilled Portobello with Basil Mayonnaise Sandwich
Makes 6 Sandwiches
1/3 cup balsamic vinegar
1/4 cup olive oil
1 tablespoon minced garlic
6 Portobello mushroom caps
1/2 cup mayonnaise
1 tablespoon Dijon mustard
1 teaspoon lemon juice
2 tablespoons chopped fresh basil
6 Kaiser rolls, split, toasted
1 tablespoon butter
6 leaves lettuce
6 tomato slices
1. Preheat an outdoor grill for medium heat, and lightly oil the grate. Whisk together the balsamic vinegar, olive oil, and garlic in a small bowl.
2. Arrange the Portobello mushrooms gill-side up on a tray or baking sheet. Brush the mushrooms with some of the vinegar mixture, and allow to marinate for 3 to 5 minutes.
3. Place the marinated mushrooms on the preheated grill, gill-side down. Grill mushrooms until tender, brushing both sides of the mushrooms with the remaining marinade, about 4 minutes on each side.
4. Mix the mayonnaise, dijon mustard, lemon juice, and basil in a small bowl. Butter the toasted Kaiser rolls, then spread with the mayonnaise mixture. Divide the mushrooms, lettuce, and tomato slices evenly to make 6 sandwiches.
---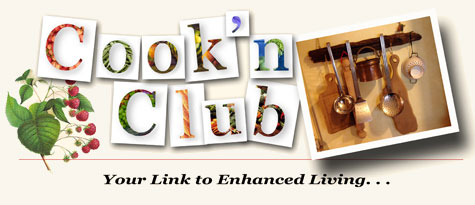 Contribute to the Cook'n Club!
DVO would love to publish your article, prose, photography and art as well as your cooking, kitchen and nutrition tips, tricks and secrets. Visit the Newsletter Submission / Win Win for All section in our Forum for more information and details.