No Time to Bake? Go for No-Bakes!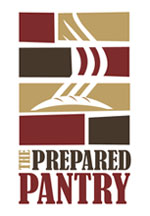 One of my favorite websites, www.PreparedPantry.com, recently shared their favorite no-bake cookie recipes, for which I'll be eternally grateful. Don't you just love it when you have no time to bake, but can come up with a terrific cookie anyway? That's what these cookie recipes are all about.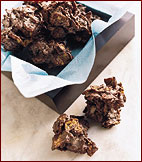 Besides being a time-saver, another great thing about a no-bake cookie is that they're fairly easy to make, so it's reasonable to delegate their making to a family member. I did this often when my children were home. We'd typically decide at the last minute to go for a picnic, but for this to be possible, everyone had to pitch in and help put the meal together. No bake cookies were a typical answer to the "What'll we have for dessert?" question. Finally, one of the coolest things about a no bake cookie is that they tend to use ingredients we generally have on hand—no Martha-Stewartish rare ingredients or expensive gourmet items are needed here.
So if you're looking for a few good additions to favorite cookie collection, consider these:
---
Tropical Orange and Coconut Balls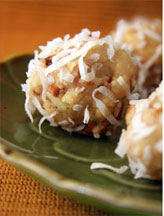 3 1/2 cups vanilla wafer cookie crumbs
2 cups powdered sugar
1 1/2 cups pecans, chopped
1/3 cup frozen orange juice concentrate, thawed, undiluted
1/2 cup butter, melted
1 1/2 cups sweetened flaked coconut
In the mixing bowl of your stand-type mixer, combine the cookie crumbs, powdered sugar, and chopped pecans. Mix in the orange juice and melted butter. Mix for 1 to 2 minutes. Shape into one-inch balls and roll in the coconut. Place the cookies in the refrigerator to become firm.
---
Cranberry Coconut Bars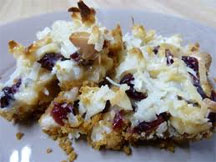 1/2 cup butter
1/2 cup brown sugar
1 1/2 cup quick rolled oats
1/4 cup light corn syrup
1/2 cup dried cranberries
1/2 cup sweetened flaked coconut
1/2 cup walnut pieces
Place butter in an 8-inch square, microwave-safe baking dish. Microwave until the butter is melted. Stir in the brown sugar until dissolved. Stir in the rest of the ingredients. Press the mixture firmly into the dish. Microwave for three to five minutes or until lightly browned. If your microwave does not have a rotating carousel, rotate the dish twice during cooking. Let the cookies cool and then cut them into bars with a sharp knife. Wrap them individually to pack in a lunch.
---
Peanut Butter No-Bakes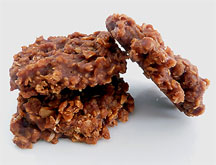 2 cups brown sugar
1/2 cup evaporated milk
1/2 cup butter
1/2 teaspoon vanilla extract
1 cups peanut butter
3 cups quick rolled oats
Add the brown sugar, evaporated milk, and butter to a heavy saucepan. Cook over medium-high heat, stirring continually, until the mixture comes to boil. Cook for one minute longer. Remove from heat, stir in peanut butter, quick oats, and vanilla. Stir until the mixture begins to cool. Drop the cookies by the spoonful onto a nonstick baking sheet or waxed paper. Cool completely in the refrigerator.
---
Buckeyes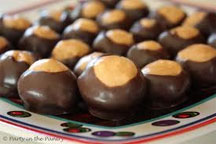 1 cup peanut butter
1/4 cup butter
1 1/2 cups powdered sugar
6 ounces of dark chocolate wafers or other coating chocolate
Mix the peanut butter, butter, and sugar together adding more powdered sugar if necessary to reach the desired consistency. Form little round balls the size of a large marble. Refrigerate the balls until firm. Melt the chocolate. Dip the peanut butter balls in the chocolate using toothpicks as skewers to hold the balls. Cover all but the top portion of the balls. Set aside until the chocolate sets. Store leftover buckeyes in the refrigerator.
Baker's note: This recipe was tested with 100% peanut butter, the kind that needs to be refrigerated after opening. If you use shelf stable peanut butter, the buckeyes may not need to be refrigerated. We prefer the 100% peanut butter.
---
Cranberry & White Chocolate Rice Cereal Treats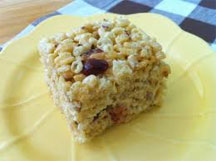 4 tablespoons butter
4 cups miniature marshmallows
1/2 tablespoon good quality vanilla
1 1/2 cup white chocolate chips
6 cups Kellogg's Rice Krispies cereal or equal
3/4 cup dry cranberries
Butter a 9 x 13-inch baking pan. In a large pan on the stovetop, melt the butter over low heat. Add the marshmallows. Stir until the mixture is melted, hot, and smooth. Add the vanilla. Add the white chocolate chips, rice cereal, and cranberries. Stir until the cereal is uniformly combined with the marshmallow mixture. Remove the mixture to the buttered pan. Evenly distribute the mixture and press it down into the pan with buttered fingers, a piece of waxed paper, or a spatula. Let cool and cut into squares.
Baker's notes: The white chocolate chips will melt in the hot marshmallow mixture.
---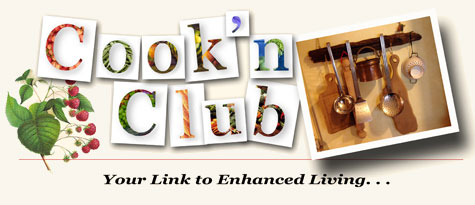 Contribute to the Cook'n Club!
DVO would love to publish your article, prose, photography and art as well as your cooking, kitchen and nutrition tips, tricks and secrets. Visit the Newsletter Submission / Win Win for All section in our Forum for more information and details.