What's Up Doc?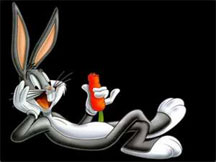 When that wonderful cartoon character, Bugs Bunny, gave his famous "What's up Doc"? line, he was usually munching on a large, carrot. We know that bunnies like carrots as do horses and other animals. However, we forget that what is good for bunnies is also very good for us as well.
Carrots contain a lot of nutrition that is central to our health. They are an excellent source of antioxidant compounds, as well as beta-carotene which contributes to our healthy vision - and gives the carrot its bright color - vitamin K, B6, C, potassium, thiamine and a large amount of dietary fiber.
According to urban legend, (and Wikipedia) eating large amounts of carrots will allow one to see in the dark. The legend developed from stories of British gunners in World War II, who were able to shoot down German planes in the darkness of night. The legend arose during the Battle of Britain when the RAF circulated a story about their pilots' carrot consumption as an attempt to cover up the discovery and effective use of radar technologies in engaging enemy planes, as well as the use of red light (which does not destroy night vision) in aircraft instruments. It reinforced existing German folklore and helped to encourage Britons - looking to improve their night vision during the blackouts-to grow and eat the vegetable.
Because they are relatively inexpensive, and can be bought in bulk, carrots can keep in the refrigerator for some time. The shelf life of small carrots is approximately 2 weeks, while more mature carrots have a shelf life of 3-4 weeks. If you remove the tops before storing, the carrots will keep even longer.
---
Carrot Salad
By Chef Bobby Flay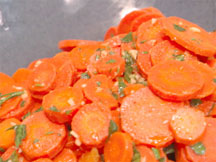 6 large carrots, peeled
1/4 cup fresh lemon juice
2 cloves garlic, finely chopped
2 teaspoons ground cumin
1/2 teaspoon cayenne pepper
1 teaspoon salt, plus more for water
1/4 cup olive oil
1/4 cup finely chopped flat-leaf parsley
Bring a large pot of salted water to a boil. Add the whole carrots (cut them in half if they don't fit in the pot) and cook until just cooked through, about 8 to 10 minutes. Drain and cut carrots into 1/2-inch thick slices.
Whisk together the lemon juice, garlic, cumin, cayenne, and salt in a large bowl. Slowly drizzle in the olive oil until emulsified and stir in the parsley. Add the cooked carrots and toss to combine. Serve cold or at room temperature.
---
Baby Carrots With Ginger Butter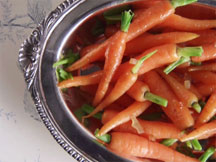 2 pounds fresh baby carrots, cleaned, tops trimmed to 1/2-inch
Sea salt, or other good finishing salt
3 tablespoons butter
2 tablespoons finely diced crystallized ginger
Freshly ground white pepper
In a shallow saucepan, over low heat, add the carrots and cover with water. Add a pinch of salt and bring the water to a simmer. Cover them with a parchment round set over and touching the simmering water to get a perfect steam. Remove carrots from the water when they are almost fork tender and drain.
In a medium saute pan, over low heat, add the butter and stir in the chopped crystallized ginger. Allow the sugar from the ginger to melt into the butter, and then transfer the steamed carrots to the pan. Toss gently for approximately 2 minutes until the carrots are completely coated with the ginger butter. Finish with a pinch of salt and a crack of freshly ground white pepper. Serve immediately.
---
Good Morning Carrot Muffins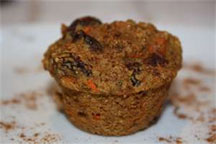 2 cups all-purpose flour
1 1/4 cups white sugar
2 teaspoons baking soda
2 teaspoons ground cinnamon
1/4 teaspoon salt
2 cups shredded carrots
1/2 cup raisins
1/2 cup chopped walnuts
1/2 cup unsweetened flaked coconut
1 apple - peeled, cored and shredded
3 eggs
1 cup vegetable oil
2 teaspoons vanilla extract
1. Preheat oven to 350 degrees F (175 degrees C). Grease 12 muffin cups, or line with paper muffin liners.
2. In a large bowl, mix together flour, sugar, baking soda, cinnamon, and salt. Stir in the carrot, raisins, nuts, coconut, and apple.
3. In a separate bowl, beat together eggs, oil, and vanilla. Stir egg mixture into the carrot/flour mixture, just until moistened. Scoop batter into prepared muffin cups.
4. Bake in preheated oven for 20 minutes, until a toothpick inserted into center of a muffin comes out clean.
---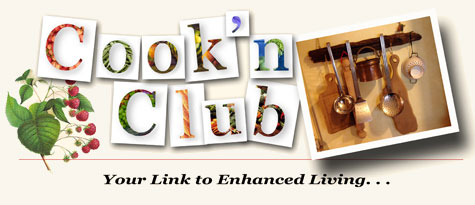 Contribute to the Cook'n Club!
DVO would love to publish your article, prose, photography and art as well as your cooking, kitchen and nutrition tips, tricks and secrets. Visit the Newsletter Submission / Win Win for All section in our Forum for more information and details.