Artichokes 101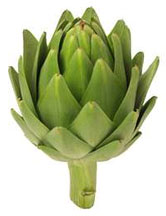 Ever since I wrote the article about my culinary brother-in-law and his wonderful artichokes, several readers have wanted to learn more. I have therefore come up with some information that I hope will satisfy those who wrote to me, as well as those who may just be curious.
I believe I have mentioned before, that I would like to meet the person who saw this odd looking vegetable and said, "Yum! I want to eat THAT!" Nonetheless, once cooked, this is exactly what people exclaim.
Can I Freeze an Artichoke?
According to a couple of sites I checked out, the short answer is, Yes! That said, the artichoke most probably will turn a brown color, which won't affect the taste once it is cooked.
The upside is that you can pick up a bag full during May and June, when they are in the supermarkets and farmer's markets. Freeze them, and you can have a little summer during the cold winter months.
Freezing Cooked Artichokes.
Trim tops from artichokes. Rub cut surfaces with lemon.(this will prevent discoloration)
Cook artichoke "al dente" (in other words—still firm, not mushy) in water flavored with lemon juice.
Drain upside down thoroughly. Place upside down on tray and freeze quickly in coldest part of the freezer. When frozen, place in plastic bags for storage.
To thaw and cook: Wrap each artichoke in aluminum foil, sealed tightly. Place on rack above boiling water. Cover and steam until hot and cooked through.
How Do I Cook an Artichoke?
There are a variety of ways to cook an artichoke. You can steam them, bake them, and bar-b-que them. In all instances you will know they are "done" when you pull on one of the leaves, and it comes out easily.
Steaming:
Rinse the artichoke in cold water
With a kitchen scissors, trim the tips of the artichokes of their little "thorn"
The tip of the artichoke can be bitter, so many people use a knife to cut off about one inch from the tip of the artichoke
In a large pot, put a couple inches of water, a clove of garlic, a slice of lemon, and a bay leaf (this adds wonderful flavor to the artichokes). Insert a steaming basket. Add the artichokes. Cover. Bring to a boil and reduce heat to simmer. Cook for 25 to 45 minutes or until the outer leaves can easily be pulled off. Note: artichokes can also be cooked in a pressure cooker (about 15-20 minutes cooking time). Cooking time depends on how large the artichoke is, the larger, the longer it takes to cook.
Baking
---
Baked Artichoke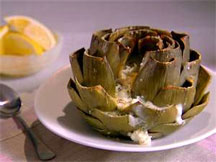 1 whole artichoke
2 garlic cloves, quartered
1/2 lemon, juice from
2 tablespoons olive oil
1/2 teaspoon sea salt
3 tablespoons broth
Total Time: 1 1/4 hr
1. Rinse and trim the artichoke, cutting the stem off straight so that the artichoke can stand up on it's own without tipping over.
2. Spread artichoke petals open as far as possible without snapping.
3. Between the petals: squeeze lemon juice, drizzle olive oil and broth and stuff garlic. Sprinkle the top of the artichoke with sea salt.
4. Tightly double wrap and seal the artichoke with heavy-duty aluminum foil.
5. Place artichoke, making sure that it is standing up straight so the liquid doesn't come out (I put them packed together in a baking dish) in a pre-heated 425 oven and bake (medium-sized for 60 minutes, large for 90 minutes).
6. Remove from oven and remove wrapping.
Grilling
---
Grilled Artichoke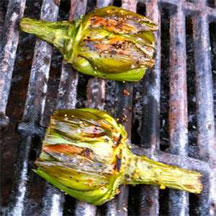 8 small artichokes, trimmed and halved
1 lemon
3 garlic cloves
3 sprigs thyme
2 tablespoons olive oil, plus more for brushing
salt to taste
Preheat grill.
Cut lemon in half and squeeze out the juice in a bowl. Save for later.
Cut lemon into quarters. Boil artichokes in water with 2 tablespoons olive oil, garlic, lemon quarters, thyme.
Cook until artichokes are just tender. Remove from water, set aside for about 5 minutes allowing them to dry.
Brush with more olive oil and place on grill. Grill for about 3 minutes or until they start to brown. Sprinkle with lemon juice and salt.
---
Baked Artichoke with Gargonzola and Herbs
By: Giada De Laurentiis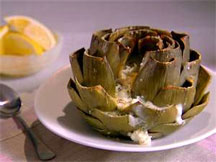 Salt
4 artichokes
3 lemons, plus 1 lemon
10 ounces mild Gorgonzola cheese, room temperature
2 tablespoons cream
2 teaspoons chopped fresh thyme leaves
2 teaspoons chopped fresh parsley leaves, plus 1 tablespoon
1 clove garlic, minced
1/2 teaspoon freshly ground black pepper
3 tablespoons bread crumbs
1 tablespoon olive oil
Bring a large pot of salted water to a boil over high heat. Trim the artichokes by cutting off the top 1-inch or so. Cut the stem close to the base of the artichoke so the artichoke can sit up straight, and remove some of the bottom leaves. Using kitchen shears, trim the sharp points off of any remaining outer leaves. Add the artichokes to the boiling water. Halve the lemons and squeeze the juice into the boiling water. Toss in the lemons. Cook the artichokes until tender, about 30 minutes. Drain the artichokes and let cool.
Meanwhile, in a small bowl stir together the Gorgonzola, cream, thyme, 2 teaspoons parsley, garlic, salt, and pepper. In another small bowl stir together the bread crumbs and remaining 1 tablespoon of parsley.
Preheat the oven to 400 degrees F. Remove the center choke of the artichokes using a small spoon. Stuff the cheese mixture into the center of the artichokes. Place the artichokes into a baking dish. Sprinkle the bread crumb mixture over the top of the artichokes. Drizzle the tops of the artichokes with olive oil. Bake until the artichokes are heated through, the cheese is melted, and the bread crumbs are crisp and golden, about 25 minutes. Transfer the artichokes to a serving dish and serve.
---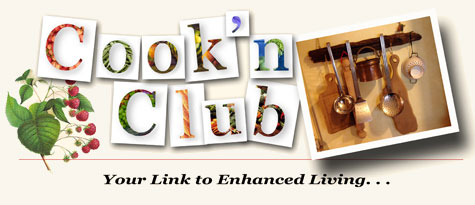 Contribute to the Cook'n Club!
DVO would love to publish your article, prose, photography and art as well as your cooking, kitchen and nutrition tips, tricks and secrets. Visit the Newsletter Submission / Win Win for All section in our Forum for more information and details.