Let's Talk Pasta (Move OVER, Italian Food)!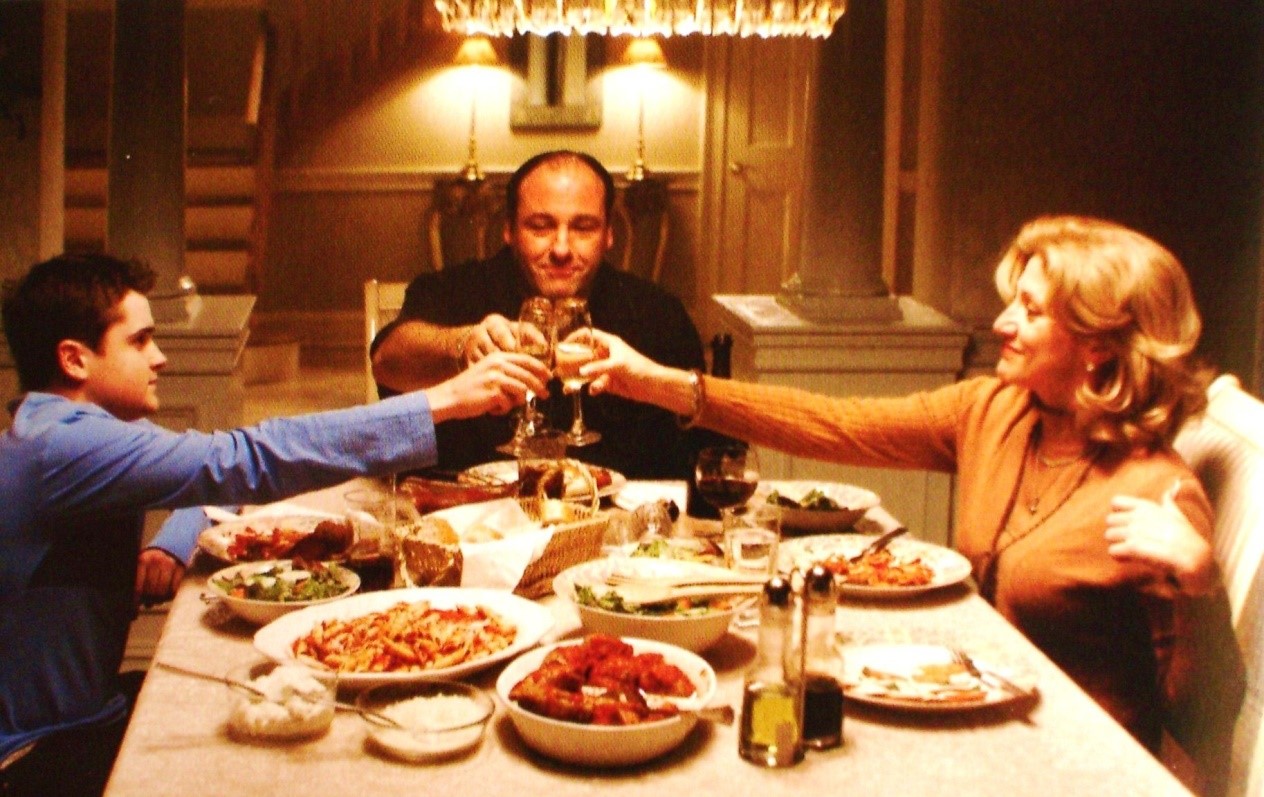 "The trouble with eating Italian food is that five or six days later, you're hungry again." George Miller said that. I have no idea who he is, but don't you think that's so funny? And in a lot of ways, too true.
It got me to thinking, "Are there other uses for pasta besides Italian food?" Sure enough, pasta can shine in many ways. I found these ideas in one of Aunt Annie's vintage Better Homes and Gardens magazines and thought you'd be inspired.
For instance, swapping pasta shells for tortillas gives you tender taco bites just in time to revamp taco night. Fill jumbo cooked shells with cheesy ground beef, then bake for 15 minutes in your favorite salsa.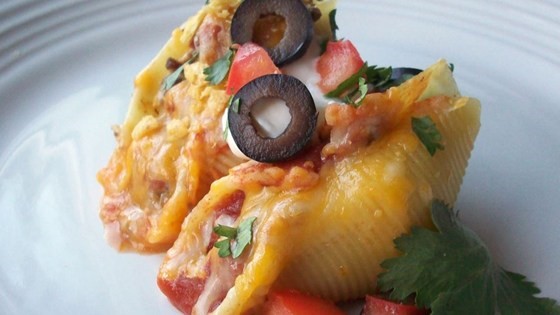 TACOS IN PASTA SHELLS
1 (12 ounce box) dried jumbo pasta shells
2 (16 ounce) jars salsa
2 ½ pounds ground beef
1 (6 ounce package) cream cheese, cut up
2 teaspoons chili powder (or to taste)
1 ½ cups shredded cheddar cheese
Chopped tomato (optional)
Preheat oven to 350 degrees F. Cook pasta according to package directions; drain. Rinse with cold water; drain again.
Meanwhile, divide about 1 cup of the salsa between two ungreased 2-quart rectangular baking dishes, spreading evenly. Set aside. In an extra-large skillet cook ground meat over medium heat until brown. Drain off fat. Stir in cream cheese and chili powder. Cool slightly.
Spoon meat mixture into cooked pasta shells. Arrange filled shells on top of salsa in dishes. Top with the remaining salsa.
Bake, covered, for 15 minutes. Sprinkle with cheddar cheese. Bake, uncovered, about 15 minutes more or until heated through. If desired, sprinkle with tomato.
Add Recipe to Cook'n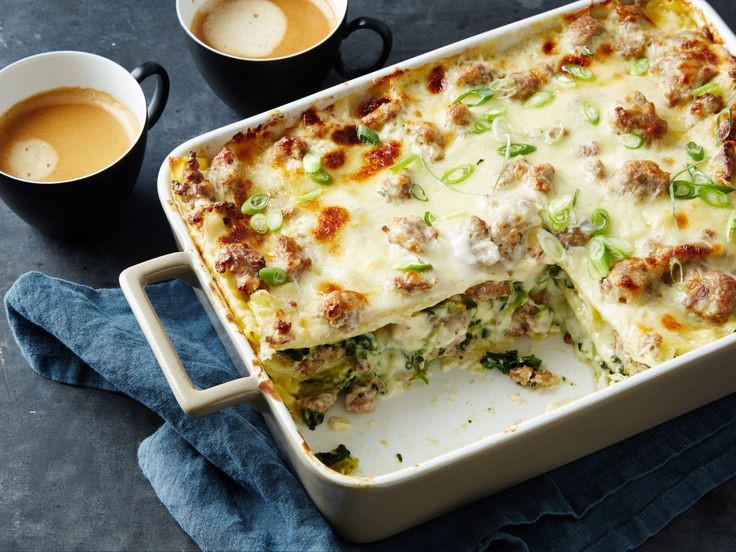 If you want to shock hungry guests, take pasta off the dinner menu and put it into breakfast. Layers of lasagna noodles sandwich spicy Italian sausage, eggs, and hash browns for a company-worthy breakfast or brunch feast.
And have you ever thought of using pasta to make a pie crust? With pasta as the crust, you'll want to have your pie and scarf it, too. Pasta forms an eggy crust with hints of Parmesan -- the perfect base to layers of creamy ricotta, fresh basil, and saucy meatballs.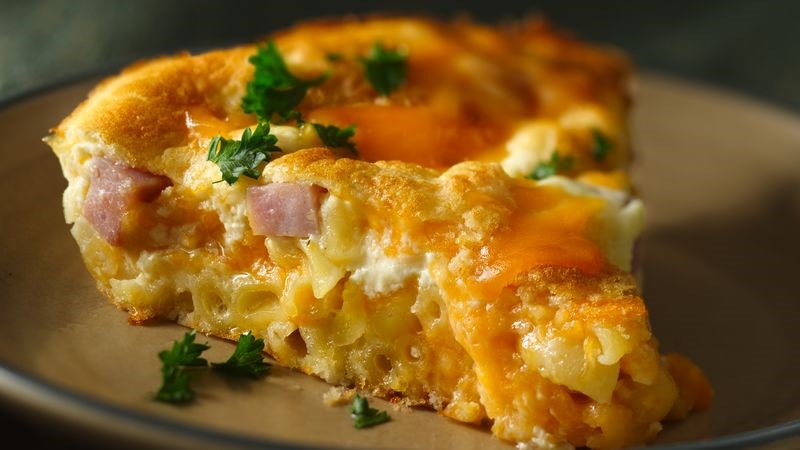 HAM AND CHEESE PASTA PIE
3 eggs, lightly beaten (2 eggs in one container, 1 egg in another container)
1 cup grated Parmesan cheese
1 (8 ounce package) dried bucatini, or elbow pasta or spaghetti
3 cups thinly sliced sweet onions (2 large)
2 tablespoons butter
1 cup ricotta cheese
2/3 cup shredded Cheddar cheese
2 tablespoons snipped fresh basil or 2 teaspoons dried basil, crushed
¼ teaspoon black pepper
2-3 cups cooked, diced ham
1 (24 ounce jar) tomato and basil spaghetti sauce or marinara sauce
1 ½ cups shredded mozzarella cheese (6 ounces)
Small fresh basil leaves
Shaved Parmesan cheese
Grease a 10-inch spring-form pan. Line bottom of pan with parchment paper or foil. Grease parchment or foil; set pan aside. Or grease a 2-quart square baking dish.
For pasta crust, in a small bowl stir together two of the beaten eggs and the grated Parmesan cheese; set aside. In a large saucepan cook pasta according to package directions. Drain pasta; return to saucepan. Add egg mixture, tossing to coat. Press pasta mixture into bottom of prepared spring-form pan, building up side slightly. Set aside.
Meanwhile, in a large skillet cook onions, covered, in hot butter over medium-low heat about 15 minutes or until onions are tender and lightly browned, stirring occasionally. Uncover; increase heat to medium. Cook about 5 minutes more or until onions are golden brown, stirring occasionally. Remove from heat.
Preheat oven to 350 degrees F. In a small bowl stir together the remaining beaten egg, the ricotta and Cheddar cheeses, the snipped basil, and the pepper. Spread cheese mixture over pasta crust. Top with caramelized onions. Place spring-form pan on a large pizza pan or baking sheet (if using a baking dish, place it directly on the oven rack). Bake for 15 minutes. Spoon 3/4 cup of the pasta sauce over layers in pan. Sprinkle with 1/2 cup of the mozzarella cheese.
Toss ham with 3/4 cup of the pasta sauce and 1/2 cup of the mozzarella cheese. Arrange ham mixture over layers in pan, forming a mound. Top with 1/2 cup of the remaining pasta sauce (reserve remaining pasta sauce and mozzarella cheese).
Tent pie lightly with foil; bake for 45 to 50 minutes more or until heated through. Sprinkle with remaining mozzarella cheese. Let stand, uncovered, on a wire rack for 15 minutes. Using a serrated knife, cut pie into wedges. Garnish with basil leaves and shaved Parmesan cheese before serving. Heat and pass remaining pasta sauce.
Add Recipe to Cook'n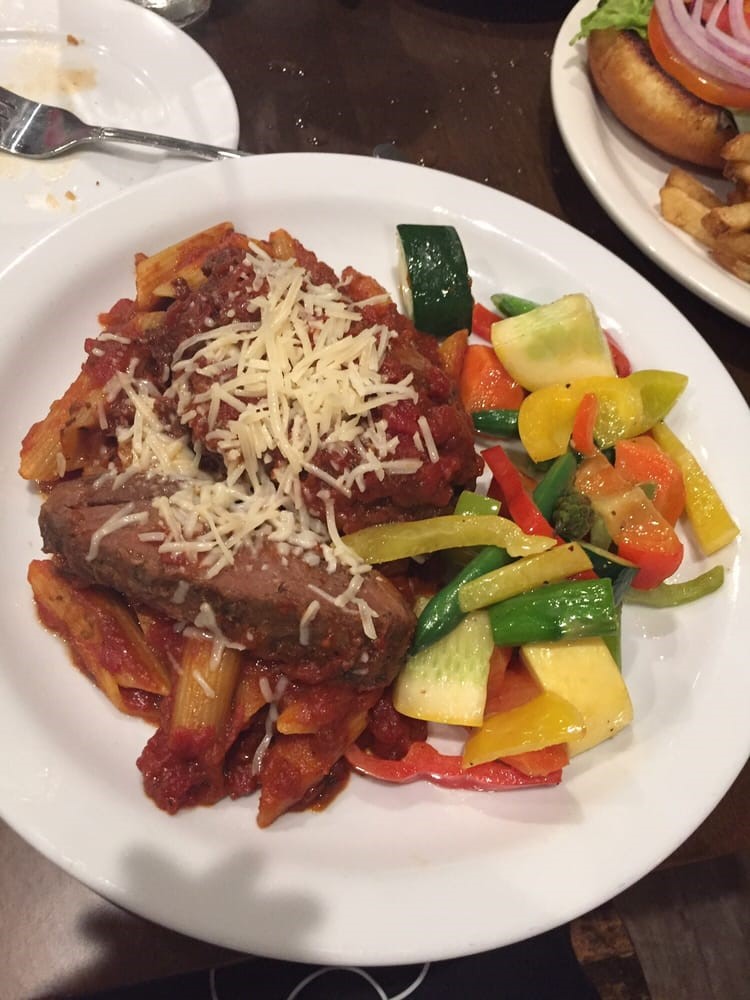 Another way to use pasta to add some sparkle to a proverbial favorite? How about substituting penne pasta for the potatoes when serving pot roast? The trick is to serve the sliced roast and pan-drippings gravy atop the cooked pasta (as shown in the photo). Serve steamed veggies alongside and you have a hearty and satisfying meal that's a pleasant break from the norm.
I'll close with a little talk on how to cook pasta. Your Cook'n authors have treated this subject more than once, but a little reminder doesn't hurt. For pasta to fill its full potential, it absolutely must be cooked properly. There's no fudging on this technique.
Start by filling an 8 quart stockpot three-quarters of the way full with water. LOTS of water is the secret to proper pasta cooking. Bring the water to a full rolling boil. Season generously with 2 tablespoons salt. Then add your dried pasta and cover the pot with a lid. Be sure to leave a steam vent (meaning the lid will sit ajar atop the pot), and stir occasionally. Typical directions say to cook dried pasta for length of time as noted on its box. But these instructions aren't always adequate because where you live (aka elevation) can play a role. Not sure why on that, but it's been our experience that the best and most accurate instruction it to cook your pasta until it's al dente (meaning "to the tooth," or slightly chewy).
So there you have it. Cook it right and get creative. When you're talkin' pasta, Italian food need to move over!
Sources:
www.denofgeek.com
www.allrecipes.com
www.pininterest.com
www.bettycrocker.com
www.yelp.com
www.getmecooking.com

Alice Osborne
DVO Newsletter Contributor since 2006
Email the author! alice@dvo.com