Parmesan Vegetables + Sausage: A Single Pan Family Meal
Are you hanging on to your goals to eat healthy now that it's March?! I am on the hunt for a few more creative, yet easy meals for my family of 4. We have gotten in a routine and have the same 10ish meals a lot lately. My husband loves when I try new recipes, so I headed to Pinterest for some inspiration. And here is a Pinterest WIN for both of us adults and our girls. It cooks in 1 pan (Yay!) and is customizable for what your family likes and will eat. Introducing: Italian Sausage and Veggies!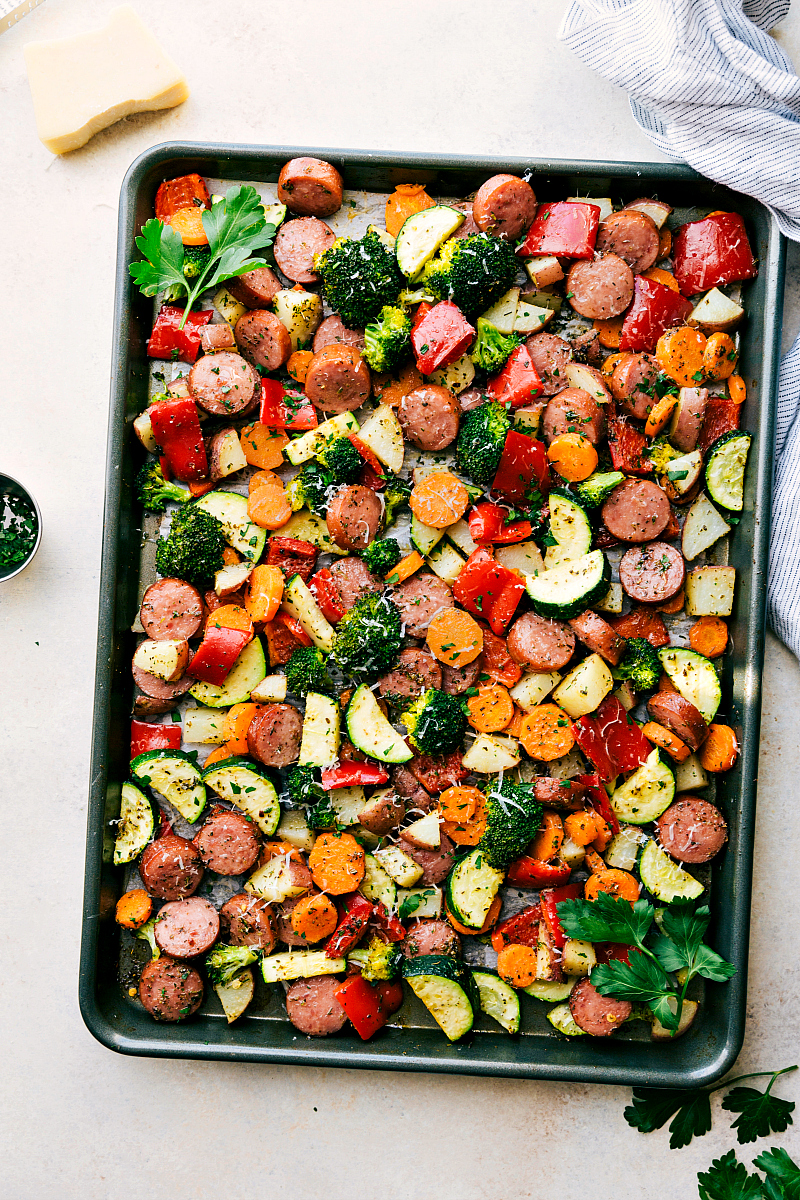 Add Recipe to Cook'n
Start by preheating the oven to 400 degrees and washing and chopping the vegetables. The recipe suggests peeling and cutting 2 carrots into rounds, and 2 red potatoes into quite small bite-size pieces. You can cut more or less depending on how much you want, keeping in mind that this makes great leftovers! Chop 1 medium zucchini and 2 red bell peppers, which give the dish color and flavor! Cut up 1 head of broccoli and about 16 ounces of sausage—Italian or chicken sausage are both good, but I'm sure you could try anything! Be sure you cut the vegetables to the right size to ensure that they cook through in the same amount of time. Nobody wants a crunchy carrot in their vegetable bake! Chop your sausage into thick coins.
Next combine your spices in a small dish. A half Tablespoon dried oregano, dried basil, dried parsley and garlic powder. Then add a half teaspoon dried thyme and onion powder. If you want to add a little heat, include 1/8 tsp red pepper flakes! Add salt and pepper for good measure!
Now, add 4.5 Tablespoons olive oil to your seasoning mixture and stir to combine. Pour it over your meat and veggie mix and toss to coat! From personal experience, it's a good idea to cover your baking pan with tin foil for easy and quick clean up! Put in the preheated oven for about 35 minutes, taking them out to stir about half way. Test vegetables for doneness before taking them out of the oven, and top with fresh grated parmesan cheese- this makes the dish! You can serve it over rice or quinoa!
If your family hates broccoli but loves yellow squash, substitute that instead! This recipe is really a launching point for any vegetable meal your family will love. Get creative! This meal also transfers well to eat outside in the backyard, or deliver to a friend! You can also make it ahead for lunches, and just portion it out over rice or quinoa into Tupperware to eat throughout the week!
Sources:
http://www.chelseasmessyapron.com/one-pan-healthy-italian-sausage-veggies/

Stefanie Hathaway
Monthly Newsletter Contributor since 2016
Email the author! stefanie@dvo.com