Pizza Pasta
This is one of my husband's favorite recipes! After we got married, this was one of the first recipes he requested I create. We based it off of a dish served at a pizza buffet restaurant, and together we tweaked it until it was perfect! After I changed to eating gluten free, this was one of the first recipes we adapted for me. Enjoy!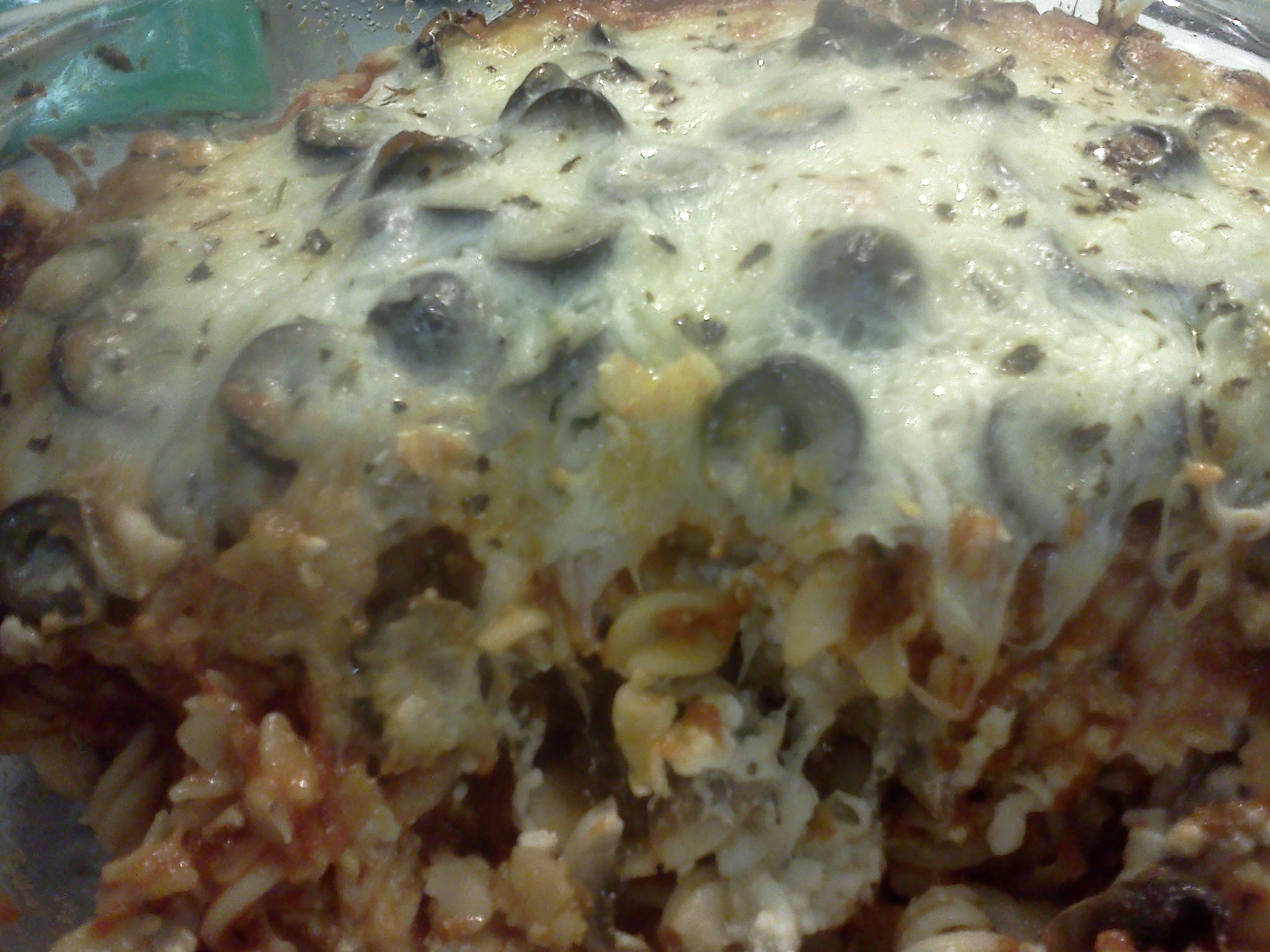 Pizza Pasta
Ingredients:
12 oz. pasta- rotini or penne work great (use gluten free if needed!)
1 lb. ground hamburger or ground turkey or sausage
½ chopped onion
1 15 oz. can petite diced tomatoes
1 8oz can tomato sauce
1 tbsp. Italian seasoning
1 t. minced garlic
Salt and pepper to taste
2 cups shredded mozzarella
1 cup freshly grated parmesan
1 small can sliced olives
Pizza toppings as desired (We like to use tons of stuff! Pepperoni, chopped vegetables like mushrooms, green pepper, onion, whatever YOU like on a pizza.)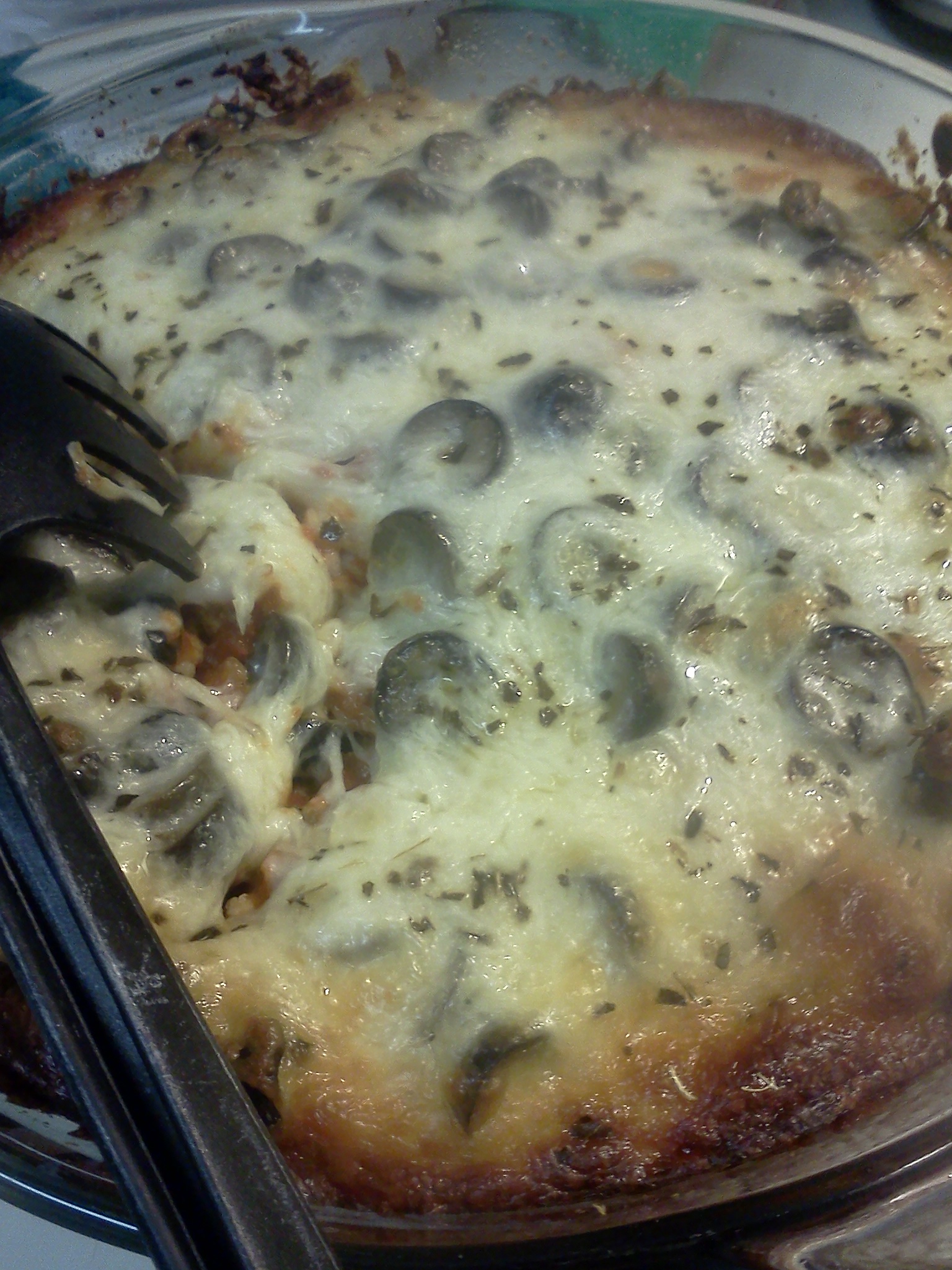 Instructions:
Preheat oven to 350 F. Prepare 2 quart baking dish by spraying with cooking spray. This recipe can fit in a 9x9 square pan, but something just a little bigger is better.
Boil water for the pasta. Once water is boiling, add pasta and cook until al dente- do not overcook! This will be baking in the oven! Drain pasta.
While pasta is cooking, brown the hamburger, turkey or sausage with the chopped onion. When no pink remains, drain fat of the meat. Add tomatoes, tomato sauce and seasonings. Add addition seasonings according to taste. Heat through and simmer until pasta is done.
Once sauce and pasta are both done, gently toss them together. Pour about half the mixture into your baking dish. Top this with your pizza toppings: pepperoni, veggies, whatever you like! Place about ¾ cup of the mozzarella next. Then add the rest of the pasta and sauce mixture. Sprinkle with olives, and then the rest of the mozzarella and the parmesan.
Hint: This recipe also freezes really well! Once you get it to this point, let the casserole cool. Then wrap well for the freezer (Tin foil followed by two layers of plastic wrap). Place in freezer. On the day you plan to use it, let it thaw for several hours before you bake it. Then proceed with normal directions!
Cover with a lid or tin foil if the cheese isn't high enough to touch the tin foil. If cheese is too high, just leave off the tin foil. Bake for about 30 minutes in the oven. For the last 5 minutes, remove the lid or tin foil to gain a nice golden toasting to the cheese on top. Let set for 5 minutes before eating.
Enjoy!
Add Recipe to Cook'n

Brenda Lower
Monthly Newsletter Contributor since 2015
Email the author! brenda@dvo.com