Greens and Grains on the Deep Blue Sea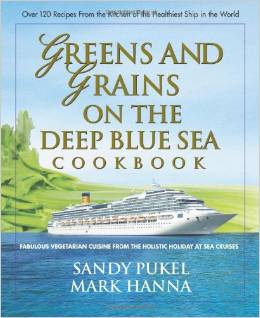 Have you ever been on a cruise? I actually haven't, so I don't have a lot to say from personal experience. From what I hear, one of the highlights of a cruise is the fine dining and delicious cuisine. I'd imagine that most people eat a lot and don't care too much about what they are eating. As a result, people often come back from their cruise with a few extra pounds, feeling less than healthy. The authors of this cookbook, Sandy Pukel and Mark Hanna, wanted to create a different type of cruise experience. Their cruise ship, the Holistic Holiday at Sea, is a cruise experience that focuses on health and healthy eating. This cookbook is a compilation of recipes from the Holistic Holiday at Sea.
All of the recipes in this cookbook are natural food, vegetarian recipes. There are taste-tempting appetizers, sensational soups, five-star salads, satisfying entrées, flavorful side dishes, and delectable desserts. Each recipe in this cookbook, even the desserts, is free of refined sugars, saturated fats, and bleached processed flours.
Even though this is a "healthy" cookbook, it is not a boring cookbook by any stretch of the imagination. The food in this cookbook was created to impress and satisfy. So why not sit down to a bowl of delectable Carrot-Apple-Walnut salad followed by a decent helping of Penne Pasta with Pesto? Don't forget to finish off your meal with some Blueberry-Peach Crinkle. If blueberries and peaches are out of season, try the Cream-Filled Orange Poppy Seed Cake with Orange Glaze... you won't be disappointed. And you won't feel sick either. This cookbook will leave you feeling better with every meal!

Cristina Duke
Monthly Newsletter Contributor since 2014
Email the author! cristina@dvo.com