Oats and Oat Flour, a Great and Healthy Substitution
The health benefits of oats are great. The information provided below has been gleamed from The Whole Grains Council, for more information regarding the benefits of using oats, please see link at the end of this article, including links to individual studies and data.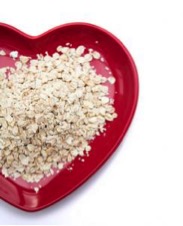 Here are some reasons why you should start using more oats in your diet;
OATS MAY REDUCE ASTHMA RISK IN CHILDREN
OATS MAY BOOST NUTRITION PROFILE OF GLUTEN-FREE DIETS and may boost antioxidant values
OATS INCREASE APPETITE-CONTROL HORMONES and weight loss
OAT BETA GLUCANS IMPROVE IMMUNE SYSTEM DEFENSES
OATS HELP CUT THE USE OF LAXATIVES
OATS MAY HELP REDUCE THE RISK OF TYPE 2 DIABETES
OATS MAY IMPROVE INSULIN SENSITIVITY
OATS LOWER BAD CHOLESTEROL
OATS HELP CONTROL BLOOD PRESSURE
OATS #3 OVERALL, #1 FOR BREAKFAST, IN SATIETY INDEX
If all that great stuff for your health wasn't enough, oats are yummy. Did you know that you can use oats, or blended oats in many recipes to boost nutritional value of the foods you are eating? One easy way to do this is to substitute oats for part of the flour in recipes. It is important to note that oatmeal does not have gluten in it, so in order to keep baked goods stuck together it is still essential to combine oat flour with a gluten free substitute or regular flour (even try rice flour), more on that later. It takes about 1 1/3 cups of oats, when ground to yield 1 cup of ground Oat Flour.
How do I substitute then?
For most recipes use a 1:1 ratio, meaning if a recipe calls for 1 cup of wheat flour, use 1 cup of Oat flour. However, I don't recommend starting with a complete substitution as Oat Flour can take on a gummy and very dense texture. Try replacing at half to a third of the regular flour with oat flour at first and increase as you see fit. Or try looking for recipes that call for Oat Flour, as they have been formulated correctly for the lack of gluten and the density of the oat.
Another option is using non ground oats using 2 times rolled oats as the portion of refined flour you're replacing. If you are replacing one cup of regular flour, use 2 cups of rolled oats.
What about changing the batter stickiness?
Since oat flour can change the consistency of batter, try adding 1-2 tablespoons tapioca starch or potato starch per cup of non-wheat flour used, or using Xanthum gum.
What if I can't find Oat Flour?
Make it yourself. Really. Making Oat flour is so simple! I can't believe I have been buying it. I use my food processor and grind the oats. My processor can handle two cups of oats at a time. I grind for 30 seconds at a time then give the machine a few seconds rest, and pulse again. Continue grinding to flour consistency (though you can break the oats down less for some recipes).
I find the best recipes to use oat flour in are fruit crisps, muffins, pancakes, waffles and quick breads. I have also used it in meatloaf and meatballs with great success.
http://wholegrainscouncil.org/whole-grains-101/health-benefits-of-oats
Sources:
http://www.blogto.com/toronto/the_best_hot_pot_restaurants_in_toronto/
http://hypalace.com/?p=537

Sharon Ng
Monthly Newsletter Contributor since 2012
Email the author! sharon@dvo.com